SMC Entertainment Group Expands List of Licensing Partners For The Jungle Book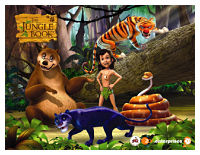 May 7, 2013 – Los Angeles-based SMC Entertainment Group, Inc. (SMC), a brand owner and fully integrated brand management and licensing company, continues to grow their diverse portfolio of licensees for the 3D, CGI animated series, The Jungle Book. Currently airing in 165 countries around the world, the hit property continues to expand and diversify its licensing offerings with five new partners. The Jungle Book and SMC's other properties including; Angry Little Girls!, H20 Just Add Water and Dance Academy will be on display at the 2013 International Licensing Show, booth #G161 at Mandalay Bay, Las Vegas June 18-20th.
"As we expected, since we launched The Jungle Book brand with the new animated series and most recently the DVD, we've experienced an overwhelming interest in the classic property from parents and children alike," said Lisa Streff, Executive Vice President of Consumer Products, SMC Entertainment. "This has given us the ability to expand our licensing program into new categories including furniture, room décor, blankets, amusement plush and stationery."
SMC Entertainment has recently signed the following U.S. licensees including: Inkology for stationery and activity products; KellyToy USA, Inc. for amusement plush characters; Newcastle Fabric for fleece blankets and kits; Newco International for children's upholstered furniture, bean bags, bean bag chairs, toy boxes, foam furniture, adult furniture, nightstands, desks and dressers; and LA Rugs for Children's Play Rugs.
Almost 120 years after the original release of Rudyard Kipling's classic 1894 story, The Jungle Book series returns for the first time in 3D CGI 52×11 minute television series and a 60 minutes television feature in Hi-definition CGI animation. Drama, excitement and adventure mixed with a high element of comedy tell tales of how Mowgli lives and survives in the jungle, where his only companions are animals. His escapades reflect his daredevil, fearless, high spirited and fun loving tales. Helped by Baloo the Wise Bear, his best friend Bagheera – the Black Panther and (sometimes!) mighty Kaa – The Rock Python. Mowgli learns to overcome adversity and progress his life by using his, quick wit and natural curiosity, with his constantly optimistic outlook on life. This is predominantly very challenging for the little man-cub with an evil enemy like Shere Khan, the royal Bengal Tiger.