Snickers Bites Partners with Bite-Sized Female Jockey Rosie Napravnik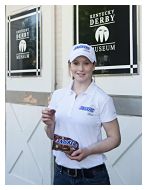 May 1, 2013 – Today, Mars Chocolate North America officially partnered with Rosie Napravnik, one of the nation's leading jockeys. It was also announced that Snickers Brand will give away 1 million Snickers Bites – which are unwrapped, bite-sized versions of the candy bar – if she wins America's most famous horse race in Kentucky on May 4.
"Rosie Napravnik is a great athlete who is a lot like Snickers Bites – they may be small, but they're substantial," said Roy Benin, Chief Consumer Officer at Mars Chocolate North America. "Rosie is already chasing history, so fans shouldn't need additional reasons to root for her – but we're giving them 1 million new ones anyway."
Napravnik, 25, is one of the leading jockeys in wins in North America and has quickly become a fan favorite around the world in the sport of kings. Should she win Saturday, she will become the first woman to do so in the prestigious event's history. A High Bridge, NJ, native, she spent much of her life around the stables and began riding professionally in 2005. Her partnership with Snickers Bites stands as her first endorsement with a national consumer brand.
"Riding in such a prestigious event is definitely an honor, but make no mistake, I'm out to win," said Napravnik. "Winning on Saturday would fulfill a life-long dream, but knowing fans would be rewarded by Snickers would make it even more satisfying."