SOBEWFF 2016 Preview: A Good Time for A Good Cause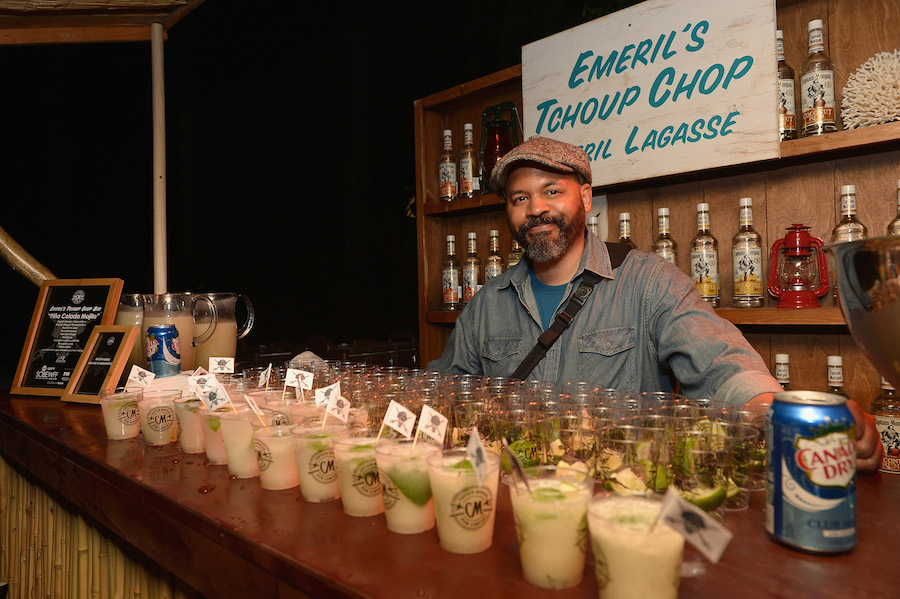 By Janice Hoppe
Ticket sales were red hot for last year's Food Network & Cooking Channel South Beach Wine and Food Festival (SOBEWFF) and organizers are expecting a similar turnout this year. The must-attend event has become so popular that one more day has been added to the usually four-day festival.
Even record-cool temperatures in Miami last year couldn't keep attendees away. "Passionate fans led the way to record-breaking ticket sales," Festival founder and director Lee Brian Schrager says. "Between a completely rejuvenated Grand Tasting Village, the debut of Meatopia and our first tiki-inspired cocktail competition it was a great success on many levels."
SOBEWFF returns to Miami Beach Feb. 24-28 with more than 80 events spanning Miami-Dade and Broward counties. This year, attendees will see returning fan-favorite events, as well as plenty of new ones to feed any appetite.
"Adding an extra day to SOBEWFF this year is the kick-off to the festival's inaugural Taste Fort Lauderdale Series on Wednesday, Feb. 24," festival organizers say. "Longtime festival friend, cookbook author and star of Food Network's Restaurant: Impossible and Chopped: Impossible, Robert Irvine, will host 15 of south Florida's best chefs at the historic Bonnet House Museum & Gardens for this walk-around tasting, featuring pours from Chateau D'Esclans and Marques de Riscal."
SOBEWFF caters to everyone's taste buds this year by hosting events that will thrill the midnight muncher, the cheese lover, the bubbly imbiber and those with an appetite for knowledge. Some of South Beach's signature events return, including Lucky Chopsticks: An Asian Night Market, Goya Foods Grand Tasting Village, Meatopia and Fontainebleau Miami Beach presents Wine Spectator's Best of the Best.
New York Wine and Food Festival
In October, Retail Merchandiser attended a variety of events during the New York Wine and Food Festival held by Food Network chefs. We listened to them share life experiences that shaped their culinary careers and tasted some of the greatest food and beverages on the market today.
Although the parties were amazing, it was just as important to remember why the festivals exists: to raise funds for No Kid Hungry Campaign, the Food Bank for New York City and the Florida International University Chaplin School of Hospitality & Tourism Management. It was also great to learn how leaders in the food industry are making a difference in terms of food education with the next generation.
Retail Merchandiser was invited to the founder's breakfast in New York where Schrager encouraged attendees to enjoy the weekend while also remembering the real reason they were there. "One out of every four kids here do not know where they will have breakfast, lunch or dinner," he said during the breakfast. "The real reason that we do [the festival] is to continue to raise awareness. The thought of anyone not knowing where their next meal is going to come from, I think, is just shameful in a city like New York."
New York City Wine and Food Festival raised more than $1 million this year, bringing its total contribution to at least $9.5 million to help fight hunger. This year, the festival attracted more than 55,000 attendees. SOBEWFF has raised more than $22 million for the Florida International University Chaplin School of Hospitality & Tourism Management.
Party Time
On our first night in New York City on Oct. 15, we headed to the rooftop of Pier 92 to kick off the festival where Emmy Award-winning Food Network star Giada De Laurentiis hosted Italian Feast, offering favorites from New York trattorias, pizzerias and meatball shops. Blue Moon Brewing Co. founder Keith Villa was there to share a toast and give us the scoop on the company's newest flavors, including Cinnamon Horchata Ale and Gingerbread Spiced Ale that hit stores this fall.
The Blue Moon Burger Bash is a fan favorite and hosted by Rachael Ray. The bash was held Friday night, also at Pier 92, and had more than 8,500 pounds of beef on hand for chefs to serve up mouthwatering burgers. Attendees were armed with a card to cast a vote for their favorite burger to take the Blue Moon People's Choice Award. The high-energy event not only offered a ton of food – and left my hair smelling like beef when I left – but also dancing, drinking and taking in the New York City skyline from the rooftop.
One of my final stops at the festival on Saturday was "Eating Stories" hosted by Mario Batali and Mary Giuliani. The event was held outdoors at the Shipping and Receiving building on 33rd Street and despite the chill in the air attendees were glued to their seats listening to the chefs' stories. We heard from chefs Batali, Giuliani, Ray, Action Bronson, Danny Bowien and artist Jennifer Rubell as we tried the dishes that played a role in their culinary careers. Visit our Facebook page to hear Ray's story.
The final stop on our festival calendar was Pigs n' Pints hosted by Chef Robert Irvine at the Hudson New York hotel. New York City hot spots featured their famed pig-centric dishes, including a whole roasted pig, candied bacon and pork tacos. Beers from the Manhattan Beer portfolio were featured as well as wine and spirits from the Southern Wine & Spirits collection.
Tickets to SOBEWFF are on sale now at www.sobefest.com. MasterCard holders will receive additional perks, including the best seats at culinary demonstrations, 15 percent off and early access when using their card to purchase tickets.
Photo by Getty Images