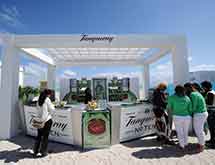 Ticket sales were red-hot for the 14th annual Food Network & Cooking Channel South Beach Wine and Food Festival in February, even despite record-breaking cold temperatures in Miami.
"Although Miami saw record-cool temperatures during the weekend, passionate fans led the way to record-breaking ticket sales for South Beach Wine and Food Festival," notes Lee Brian Schrager, festival founder and director who also serves as vice president of corporate communications and national events for Southern Wine and Spirits of America. "Between a completely rejuvenated Grand Tasting Village, the debut of Meatopia and our first tiki-inspired cocktail competition it was a great success on many levels."
The South Beach and New York City Wine and Food Festivals are four-day star-studded gatherings that showcase the talents of the world's most renowned wine and spirits producers, chefs and culinary personalities while raising money for education and to help fight hunger. "The goal was to create a world-class event and food festival that helped raise funds in Florida for education and in New York City for the hunger causes," Schrager says. "People have a great time, they get educated and meet great chefs and winemakers, but the bottom line that is most important is raising funds."
Both consumers and food industry executives attend the festivals, but Schrager emphasizes that they are definitely consumer-driven. Consumers come from all over the United States and tickets are sold in 24 different countries worldwide. More than 50,000 people attend each festival.
South Beach
The South Beach Wine and Food Festival welcomed more than 60,000 gourmands to more than 75 events throughout Miami Beach earlier this year. Schrager predicted that upgraded events and new ones would bring in a large crowd. "This is surely a year that our loyal fans will do a double-take at the program and new attendees will find plenty of events to choose from," Schrager said earlier this year. "We have made significant changes to upgrade the experience at our signature Whole Foods Market Grand Tasting Village and are taking our beloved event, The Q, to the next level by partnering with Meatopia."
South Beach Wine and Food Festival's treasured celebration of all things grilled, braised and barbecued – Meatopia: The Q Revolution – was held Feb. 21 and hosted by Guy Fieri, restaurateur, author and television personality for the Food Network. The Whole Foods Market Grand Tasting Village included new features such as additional seating and shaded areas, live music and DJs, and select park-and-ride offerings.
Although the festival brought back refreshed versions of its favorite events this year, attendees also experienced plenty of new events. New this year to the South Beach Wine and Food Festival:
•Poolside Paella Party hosted by Jose Andres;
•Tacos After Dark hosted by Aaron Sanchez;
•Empanada and Wine Happy Hour;
•A rooftop ice cream and chocolate party with Candace Nelson of the Beverly Hills-based Sprinkles Cupcakes;
•A tribute to the resurgence of tiki culture mixology during a late-night, poolside bartender competition hosted by Emeril Lagasse;
•A late-night spiced-up soiree centered on Caribbean jerk hosted by Bobby Flay, a cookbook author, chef and restaurateur;
•Dessert done South Beach-style by real-life Willy Wonka and cronut inventor Dominique Ansel; and
•A series of intimate and unique dinner experiences featuring world-renowned culinary talent
The festival attracts thousands of attendees every year and all proceeds are donated to the Florida International University Chaplin School of Hospitality and Tourism Management. To date, the festival has raised about $22 million.
New York City
The eighth annual Food Network and Cooking Channel New York City Wine and Food Festival will take place Oct.15-18 2015. The festival attracts more than 50,000 world-renowned chefs, winemakers, spirits producers and culinary personalities for a weekend filled with unique experiences.
Last year's festival offered more than 100 events throughout New York City, including intimate dinners with world-renowned chefs such as Beldium's Kobe Desramaults, Italy's Dario Cecchini, England's Yotam Ottolenghi, Mexico's Enrigque Olvera and France's Philippe Baranes, Christophe Boucher and Gregory Marchand. It also offered late night parties, educational seminars and panel discussions.
Pier 94 hosted New York City Wine and Food Festival's Grand Tasting where guests sampled dishes from the city's best restaurants, enjoyed tastings from suppliers of the Southern Wine and Spirits of New York portfolio and interacted with top culinary and lifestyle brands. More than 20 Food Network, Cooking Channel and other celebrity culinary personalities hosted demonstrations on the KitchenAid Culinary Demonstration stages.
This year, the festival will feature favorite events like the Italian-themed feast hosted by Giada De Laurentiis, Chicken Coupe hosted by Whoopi Goldberg, Rock 'n Roll Sushi hosted by Masaharu Morimoto, Meatopia hosted by Michael Symon and Blue Moon Burger Bash hosted by Rachael Ray – plus the return of her Feedback™: Chefs & Cocktails party.
There are also plenty of new fêtes to keep everyone's taste buds tantalized at the 2015 festival, including brunches hosted by Bobby Flay, Martha Stewart and Geoffrey Zakarian, a Harlem-inspired midnight Jazz breakfast and a celebration of ramen with Chrissy Teigen and Serious Eats' J. Kenji López-Alt. A new signature Art of Tiki: Cocktail Showdown, intimate dinners and seminars with celebrated chefs and beverage personalities will also tempt attendees.
Full program details will be released just after Memorial Day. The MasterCard holder presale starts June 8 and general tickets for the festival will go on sale June 22 at http://nycwff.org.