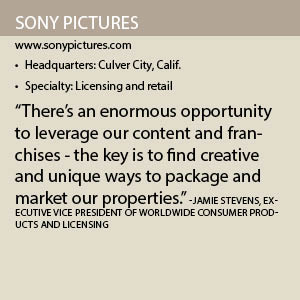 That includes a focus on the global marketplace. "We see a tremendous opportunity to grow our overall business, especially in emerging markets, Stevens explains. "That is why we are focused on ensuring our properties have representation around the world. For example, "China is a hot region right now and we need to be nimble and smart about how we enter this market."
In addition, Stevens notes that the motion picture group is committed to bringing in new intellectual property and building franchises. "Sony Pictures Animation has doubled their output and will continue to do so," she says. "This side of the business offers opportunities for consumer products, and the future roster of films are very consumer-product friendly.
"Not only are we looking at films as a content source, but also television, digital, interactive VR and short film content to tell our stories and distribution content," she continues. "There are tremendous opportunities to extend the life of our IP. Historically, competition came from other movies and television shows. Today, there is a wealth of non-traditional options for kids and parents."
Character Driven
Over the next 18 months, Sony Pictures has a strong line-up of films, such as the franchises Smurfs and Hotel Transylvania, and new animated films including THE EMOJI MOVIE and Peter Rabbit; a live-action/CG motion picture based on the internationally beloved series of books. Additionally, the company also has an exciting slate of live-action titles, including Jumanji and The Dark Tower.
"Our approach to accomplishing our goals over the next 18 months will be to raise the bar in sales, marketing, creative and client service," Stevens says. "These type of changes are critical and help attract best in-class partners. We are committed to driving innovation, being a partner companies like to work with and creating exciting products across key categories. We will accomplish our revenue goals and develop products that appeal to consumers by having great content, products and the support of our agents, licensees and retailers around the world."
Sony plans to launch each property uniquely, as they each require different licensing strategies based on the property, target audience and the specific brand DNA, Stevens says.
"That's one of the things I love about my job," she says. "Every day I'm working on three of four projects with varied target demographics, which is exciting. We strive, from a consumer product standpoint, to create innovative and fun products that appropriately represent our intellectual properties.
"Our approach changes when we are dealing with a new film versus a franchise," Stevens continues. "Our team does a critical review of the marketplace and one of the key aspects of our strategy is to be able to pivot when necessary to make the most out of marketplace feedback and opportunities that lead to growth in both revenue and long-term collaborative partnerships. We are committed to building franchises with more output than ever, and a commitment to service and working with our partners to innovate so that our products and properties come to life in the most enterprising and exciting ways."
Stevens notes that it is "not about logo-slapping" in every category. "It's about being able to bring that product to life through the characters in our films," she says. "For Smurfs, which is a great franchise, the products look fantastic and we are able to translate those characters into products that kids will enjoy."
To date, the Smurfs franchise has generated nearly a billion dollars in global box office sales. Smurfs: The Lost Village – which Stevens says is "fully and beautifully animated" – will be released April 2017.
"We are very excited about Smurfs. It is a fun adventure and we have some great partners on board, " she says. We believe this fully animated film will put us on a better path with audiences and consumers alike. This is a key aspect of the long-term strategy as the look certainly elevates the product. This is evident with our master toy partner Jakks as they have brought the wonderful world of the Smurfs to life in unique and exciting ways. People go to the theater looking for a great experience. There's humor and heart in this film, so all of that really makes for a great experience."
The Next Level
The new animated film The Emoji Movie will make its debut this summer. Sony Pictures is taking advantage of a key moment in time, as emojis are the fastest growing language in history with 6 billion sent out every day, according to Stevens.
"This movie finally takes you inside the secret world of your smart phone, where all your favorite emojis live and work inside the text app, hoping to get picked by their user," she explains. "Each one only has one facial expression except for the hero of our film Gene, who can express every feeling and has no filter for his emotions. He teams up with his best friend Hi-5 and a computer genius called JailBreak to find the code that will help make him like everyone else.
"Their journey takes them through different Apps, each with its own unique and fun world," she continues. "The big thematic question we explore in this movie is: 'Do I have to change who I am for the world to accept me, or can I change the world for the better?' We are creating a really exciting, funny and relatable App-venture for kids and families of all ages around the world."
The company also is developing products that are very distinctive to its characters, including toy collectibles, soft lines, interactive, accessories and stationery. "With 92 percent of the online population using emojis, which is close to a universal number, the interest we have from both a product and retail perspective is outstanding," Stevens says. "Theatrically, we are launching in most territories during back to school, which is also an opportunity to leverage a key seasonal time period. Since the movie provides a big environment and exciting narrative for the emoji characters to express themselves, this does provide an inventive opportunity with unique aspects to incorporate licensing opportunities within the world of emojis."
Stevens adds, "Again, it's really important you take the brand DNA of the movie and ensure you translate that into exciting product," she says. "In [an] aesthetic product it can be very hard to translate characters to a piece of clothing or toy. So it was important for us to ensure in the design and collaboration processes with our partners that we were able to bring the characters, their personalities and humor to everything we did across the board. There's a great story and adventure to this film as well, and I think it is a big part of what will make it successful."
In 2018, the third film in the Hotel Transylvania franchise will hit theaters. Though a very successful franchise – it is the biggest September opening of all time at the box office and the highest grossing animated film in September – according to Stevens, it's a great example of a property that had not been a focus in the past from the motion picture group's consumer products.
"It's an endearing franchise with fun characters that appeal to the whole family," she says. "Our focus is to grow this franchise at retail as a 365-days-a-year business, which will perfectly coincide with our content strategy. It used to be that monsters were tied to Halloween and were a seasonal opportunity, but they are not. If you look throughout the business, monsters are very much a part of pop culture and can live 365 days.
"We have exciting plans to ignite this franchise throughout the year and keep up the monster momentum," she continues. "One of the ways we are doing that is by launching a TV show for Hotel T this summer on the Disney Channel. So we do not only have the movie, but there will also be a day in and day out show. That's the start of it. Our strategy with that and the film is to really be able to have products that can sit on the shelves 365 day per year."
Besides the third film in the Hotel Transylvania franchise coming out in 2018, Stevens says Sony is very excited about Peter Rabbit. "The same animation team behind the LEGO film will be working on the film, which is set for worldwide release in April 2018," she says. "Sony Pictures Animation is already developing a very exciting slate of consumer products friendly movies beyond 2018."
Jumanji is another beloved franchise the motion picture group has launched for modern day. Starring Dwayne Johnson, Kevin Hart and Jack Black, the film will be released December 22, 2017.
"We have great talent in it and we're very excited about the opportunity," Stevens says. "I think it shows when there is opportunity to continue with franchises that already exist in our library. It gives us an opportunity to tap into a new audience as well as serve consumers of the beloved classic."
In addition, Sony is also gearing up for Ghostbusters 35th anniversary in 2019. "We have refreshed the style guide, have a new classic toy partner and are doing a number of co-branded partnerships," Stevens explains. "So it is important for us to make sure with the franchises we do have that we are coming up with great opportunities to be able to feed the fans."
Growth Through Tech
Sony Pictures is building the future of entertainment through investing not only in people, but also technology. Because of that, Stevens says Consumer Products is able to leverage that across a lot of difference resources.
"We can tap into the company's other divisions, such as PlayStation, music and our TV group," she says. "So there are a lot of resources throughout the company. And when it makes sense we can leverage those and build bigger programs with our partners."
Stevens adds that the company "strives to be at the forefront" of innovative technology, including virtual reality. "We are a leader in VR content and are aggressively looking at ways to monetize that business," she explains. "I think as we look to the future, VR has just started to take off and brands are we are looking at ways to use it. There is tremendous opportunity in location-based entertainment, toys, games and interactive and mobile gaming.
"In addition, it's about figuring out how we work with our partners to integrate technology. It's fast moving so we are constantly at the forefront of looking at different ways to integrate it into our business. Since we have so many technology dependent businesses throughout Sony, our advantage is to be able to tap into those resources when we need to or when there is an opportunity. That has been a part of our strategy for quite some time."
Staying Nimble
Although Sony is a big company, it has a very unique culture because it is small in terms of communication and openness for new ideas, according to Stevens.
"We are also very nimble so that we are able to adapt, which is beneficial for our partners and the overall business," she says. "It's important to be flexible as an organization. For example, we are an international business, so if the strategy has to change by market we need to be able to look at that and pivot appropriately. I think that's probably been the biggest change in our business over the last five to 10 years."
Stevens also prides herself and her team on having good relationships both within the company, including filmmakers and content creators and with licensees, agents and retailers globally. Communication is critical in these relationships, Stevens adds.
"Having processes in place is crucial, and limits the amount of issues that can arise," she says. "Understanding our overall strategy for the franchise or a movie is also very helpful to our partners. Defining our strategy is something we do upfront in the early stages of engaging with our partners. It keeps everyone on the same page and makes the process seamless moving forward."
Wise Investment
Another important aspect of Sony's culture is that it is an entrepreneurial environment. "We are a creative company," Stevens says. "It's very attractive for people to want to come and work here – that's one of the reasons why I came here. It's very unusual in a big company to be able to be entrepreneurial and feel like you're making an impact on the overall business. It doesn't matter what level you are. If there is a good idea, it can come from anywhere and that is something that is very accepted within our culture."
In addition, Stevens prides herself on hiring the "best of the best," and weeds out those who want to work at Sony just because of its name. "That starts when they come in to meet with me as well as some of the key members of the team," she explains. "We do a lot of talking to candidates about their ideas and how they feel they could make a difference coming to work at Sony."
Once hired, employees are kept motivated by the company's ever-growing and diverse slate of content. "Sony is a fantastic place to work," Stevens says. "That makes people want to come to work everyday and do the best they can."
Ultimately, Stevens concludes, succeeding in this business involves strong relationships, hard work, creativity and perseverance. "It also involves enjoying what you do, having fun and working with a great team will ultimately lead to great ideas, products and success."