Sportif USA/Aventura Clothing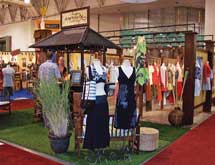 This innovative, family-owned men's apparel retailer is building beyond its 40-plus-year legacy brand to develop an eco-friendly women's line. Passing a visionary approach from one generation to the next isn't an easy task. But John G. Kirsch somehow managed to pass that trait onto his son, John Kirsch. Now in charge of the family business, Kirsch said the innovative spirit his late father used to start Sportif USA is alive and well in the company's newest venture, Aventura Clothing.
"My dad was the first guy to bring a stretch woven fabric derived from a Swiss fabric into the US to be used for general sportswear," said Kirsch, CEO and co-owner. "He took his vision and worked with mills, growing one tiny program into what's now a 40-year-old company."
Because mills in the US weren't interested in working with such a challenging, costly, premium fabric in 1965 when he began, the elder Kirsch looked at mills in Hong Kong and Japan. Today, as the second generation of the Kirsch family develops its organic women's line, Aventura Clothing, the same out-of-the-box approach applies.
"It is difficult to find mills that will work with factories, adhere to compliance regulations, and work with third-party certifiers to create a clean environment so a run of woven organic cotton isn't mixed up with other contaminants," said Kirsch. US mills generally work with knit fabrics, which are much easier to deal with. But on the woven side, which is a significant part of the Aventura business, other than factories in China and India, very few companies are interested.
Supply chain transparency
Unlike most organic clothing producers, Aventura offers a mid-market price point to its consumers. "We're not a premium brand," said Kirsch. "Our products are priced similar to conventional cotton and/or conventional textiles, yet we're using more eco-friendly versions."
Although more eco-friendly brands are out there, Kirsch said what's important to retailers is that the products perform, whether it's on the rack or on the customer, in the same manner as conventional textiles. Using the manufacturing expertise of the Sportif brand, rather than changing the company's process, Kirsch worked directly with mills rather than adding expensive middlemen to the process when developing the Aventura line.
In 2003, for example, the company began buying organic lint directly from a spinner in Uganda. At the time, few companies converted the lint into fabric. It also took too much time to finish a product after the cotton was picked, which didn't bode well with farmers waiting to be paid. As a result, many converters lost interest.
"We're talking 14 to 18 months before a product was finally sold to a customer on a retail floor," said Kirsch. "Instead, we bought organic lint, sent it to a spinner, and managed the process to ensure the end product was still organic."
The organics industry has progressed over the last seven years, both from supply-chain and consumer-demand points of view. In 2003, consumers weren't clear on what organic clothing was and what the benefits were. Now, more customers demand organics, and the supply chain is responding.
"The supply chain is as transparent as it was when we started, and we've seen more textile companies getting into the marketplace at affordable price points," said Kirsch. "Companies are also more willing to take on the responsibility of compliance, whereas before it was just us asking for more."
Leaving a legacy
One of the challenges in breaking off an entirely new brand from one that has as much history as Sportif is that there are many newer companies with strong eco-friendly practices that aren't battling preconceived notions. With legacy products and legacy customers, it's difficult to change so many minds, and the switch goes against what most believe to be an intelligent business practice.
"It breaks all conventional wisdom to invest so much time and money into a brand and then start from scratch," said Kirsch. "Our history was more in men's clothing rather than on the eco-friendly textile side, so we had to rebrand ourselves."
The company started by restructuring its sales force. Today, 30% to 40% of the sales force is new, and most of them are women. "We only have one male sales rep; the rest of the team wears and loves the product," said Kirsch.
By 2009, four years after launching Aventura, the clothing line was being sold to 650 retailers, and there are still opportunities to be had. With a sales force that matches its target audience, Aventura can confidently send its salespeople to regional trade shows, which have become more important in the apparel industry than larger international shows, to make industry connections.
That fits perfectly with Aventura's business strategy, which is to avoid department store and chain businesses and focus on smaller stores that want their clothing to be a point of differentiation. "We feel that when our clothes are in front of the customer, they sell the story about what makes Aventura product unique," said Kirsch. "The boutique stores can also tell that story better than a department store and better than a chain selling nationally recognized brands."
Special appeal
In the next few years, Kirsch predicts the company will focus on creating a sustainable business primarily focused on building a holistic, women's, eco-focused brand that enables the company to move above and beyond its legacy men's brand.
"It's a tough market on the men's side of the apparel industry," he said. In a tight economy, men tend to be satisfied with the same khakis and jeans and care less about the change in style. Women, on the other hand, are typically responsible for more than 70% of men's purchases, and when there is limited money, she buys more for herself and the kids.
Focusing more on the Aventura brand builds on three of the company's strengths. First: an eco-focused textile. Second: boutique distribution that differentiates the product. Third: mid-market price points.
"We are priced such that we can continue to create visibility for eco-friendly textiles in a way that other brands either can't or aren't," said Kirsch. By and large, consumers at larger mass merchants still don't understand the benefit of buying organic clothing. At boutique stores, merchants, buyers, and consumers look for these types of products and hope they find them at a bargain.
"Consumers aren't putting all of their dollars in mass market distribution. They still like to wear products that give them an opportunity to talk about the story behind where they found it," said Kirsch. "The appeal of specialty products sold in specialty distribution is alive and well."