Sports Licensing and Tailgate Show 2017 Preview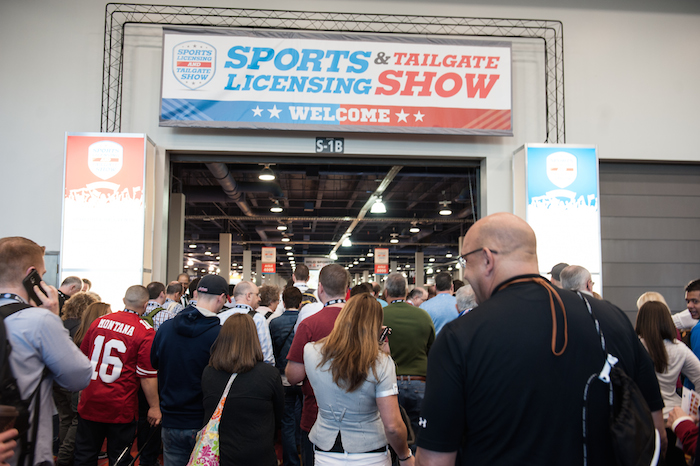 The 11th annual Sports Licensing and Tailgate Show is host to nearly 400 exhibiting licensees showcasing the latest fan gear for retailers to expand their product offerings.
By Nikki Puckett, Marketing Director, Emerald Expositions, Licensing Group
The 11th annual Sports Licensing and Tailgate Show takes place Jan. 17-19, 2017, at the Las Vegas Convention Center. This will be the largest show to date with nearly 400 exhibiting licensees, offering the latest fan gear to expand the product offerings of retailers.
Exhibitors represent all of the professional and collegiate leagues and teams and will be showcasing merchandise in every possible product category – from toys and games to apparel to pet products and much more. Licensors returning will be CLC, Learfield Licensing Partners, NASCAR, Fermata Partners, NHL, NBA, NFL Players Association and Chelsea Football Club.
More than 100 exhibitors are new to the show this year. First time exhibitors include: adidas Group, AES Optics, Alta Gracia, BlenderBottle Company, Canyon Outback Leather, Capri Designs, Escapada Living, Eye Ojo Corp., FanBags Cornhole, Fandemics, Game Time Bling by Dreamtime Creations, Hillflint, Infinity Product Group, JoFit, LaDiva Sport, League Collegiate Outfitters, Little King Manufacturing, Mojo, My College Threads, Neil Enterprises, Old World Christmas, Picture Frame Factory, Pro Standard, Refried Tees, S. Preston Art + Designs, Sorority Shop, Spirit Gear Central, Uscape Apparel, Wear Ovation and Woolly Threads.
The License To Buy Show Specials Program will be back again in 2017. This exclusive rebate program gives buyers money back on orders they are already placing at the show. Last year there were 54 participating exhibitors and the show gave back $55,000 in rebates to buyers. License to Buy is a favorite among buyers and exhibitors.
NFL Players, Inc. will be sponsoring the Opening Night Party again. The party takes place on Tuesday, January 17 at 5:00 pm in the Sports Lounge on the show floor. For the first time this year, NFLPI will present the Sideline Skills Zone ­— an all new activation that will give show attendees the opportunity to go "head-to-head" in passing competitions against some of the top NFL players. Show attendees will be able to experience first-hand the powerful connections NFL players can make with fans, consumers and business prospects. Along with participating in the Sideline Skills Zone, NFL players will also be hanging out with various NFLPA partners in their booths.
Other new highlights include the Industry Keynote & Breakfast held on Tuesday morning and the New Product Zone. The New Product Zone lets buyers explore exhibitors' latest products before they even enter the show floor.
The Tailgate Zone will be returning again this year. This special exhibit area is home to 25-plus companies with all of the non-licensed merchandise your customers need for tailgating – coolers, chairs, tents, games and more.
Qualified buyers can register for just $60 prior to December 10. Visit www.SportsTailgateShow.com for more information or to register.