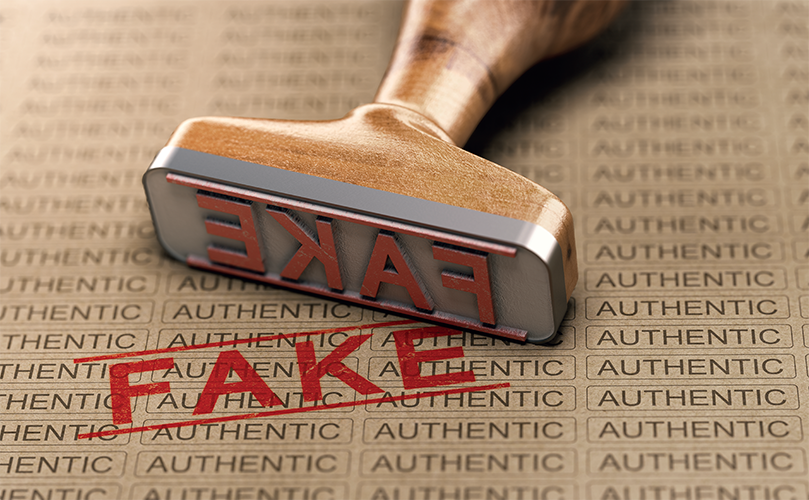 Counterfeit goods are a longstanding challenge to genuine brands, and never more so than now. Feeding on the continuous consumer search for high quality products at the best prices, the relentless growth of counterfeits is greatly enhanced by the rise of global digital marketplaces. This in turn opens the door for counterfeit goods to infiltrate the supply chain and reach unsuspecting parties. But automated labelling is helping companies fight back. Gurdip Singh explains how counterfeits that slip into the supply chain can cause significant damage to businesses and consumers alike – and how brands can safeguard their operations, profitability and reputation from counterfeiters with
automated labelling solutions.
OECD data from 2019 estimates the trade in counterfeit goods now accounts for 3.3 percent of all world trade and is continuing to trend upwards. Over the past decade, the total number of customs seizures of counterfeit and intellectual property-infringing goods worldwide has consistently exceeded 100,000 annually. These products, ranging from luxury goods and electronics to pharmaceuticals and specialist components, are typically substandard and do not comply with quality and safety regulations laid out by their respective industries.
A problem for us all
The health and safety risks to the average consumer are widespread and can range from mild inconveniences such as poor product quality to potentially life-threatening situations. They can destroy brands' reputations, severely impact consumer faith in products and disrupt the entire supply chain.
The financial impact on brands is significant. US Customs and Border Protection (CBP) data shows that over $1.5 billion worth of counterfeit goods were seized in the 2019 financial year alone. CBP data also indicates a significant proportion of these counterfeit products are produced outside of the Western markets many are destined for, with China and Hong Kong being the source of 83 percent of all seized counterfeits.
With the rise of digital marketplaces conducting operations on a global scale, consumers are more exposed than ever to counterfeit goods marketed as genuine products at a discount price. A quick analysis of the China-based marketplace Alibaba shows consumers from the e-commerce site span Europa, Asia, North America and Africa.
Counterfeits come in many forms – but it's the label that holds the truth
Counterfeit products pose a variety of issues to manufacturers and retailers as there is no single method that counterfeiters employ. Common tactics for counterfeiting include use of unapproved ingredients or materials, diluting or altering the composition of genuine products, and reusing old or worn products. These are then falsely represented as genuine new products by printing counterfeit packaging that imitates a trusted brand to trick consumers.
Brands with easily mimicked labels and packaging are routinely targeted, and the counterfeiter will pass their product off as one from a legitimate brand. Due to the inability to directly inspect and test the contents of many individual products, it is a major challenge to identify counterfeits until they are in the supply chain or have reached the end-user.
This is why clear identification is such an important requirement for consumer ease of mind. If counterfeit products attempt to imitate authentic brands by replicating their packaging, clear and consistent labelling that provides full product and manufacturer details can be the differentiator. This labelling is the first line of defense to ensure a brand's products are not the next target of counterfeiters.
Automated labelling technology provides hard-to-replicate label consistency
Many companies use third-party printing companies to print their consumer-facing goods labelling – traditionally sending files over for printing in a rudimentary way such as email
These third-party organizations can be particularly vulnerable to file leaks or theft, which could then fall into the hands of counterfeiters. With automated artwork solutions, the approved label is stored within the company's asset manager and the third-party printer is granted limited access to the system, eliminating the risk of labels being sent around on email as they can only print the most recent approved version.
Automated labelling ensures a consistent high-quality product that reduces the risk of counterfeiters being able to take advantage of brands and individual products. Labelling solutions that incorporate central management can ensure all relevant safety and regulatory compliance symbols are accurate and legible, and capable of being updated at short notice.
Automation also ensures consistent label placement but in the correct proprietary font to eliminate any threat of human error – a key differentiator from counterfeit products that feature poorly placed, low-quality and inconsistent labelling in generic fonts.
An end-to-end digital approach to eliminating the counterfeit threat
The last thing a manufacturer wants is for their product information to reach the hands of those who intend to produce cheap and harmful imitations. Securing product information with the deployment of automated labelling is the key to preventing counterfeit products that could ruin a brand – providing manufacturers with a single source of labelling truth.
The system secures integrity and traceability across all forms of print, packaging and electronic labelling. It also accelerates the label and artwork creation process, ensures complete regulatory compliance and supports integrated e-labelling of products. End-to-end management also streamlines the approval process and provides greater control throughout the supply chain, providing the agility to enact any specific counterfeiting countermeasures across all labelling and artwork in the supply chain.
Act now to tackle this fast-moving global issue
The battle between counterfeits and genuine brands is constantly evolving, so it is vital to identify counterfeiters and established barriers to common label and packaging counterfeiting tactics. Although it can be easy to dismiss counterfeiters as a minor nuisance, over a sustained period they can significantly affect sales, customer relations and company legitimacy. Thankfully, automated labelling and management can help brands protect their valuable intellectual property, reputation and all-important bottom line.
Kallik


Gurdip Singh is CEO at Kallik, the artwork management and enterprise labelling company, which provides regulated industries with a definitive, end-to-end label management platform they can trust. Medical device, pharmaceutical, chemical and cosmetics companies use Kallik to deliver trust in their artwork management and labelling, integrity in their process and confidence in their brand.
Kallik's cloud-based labelling platform, Veraciti™, enables compliance and delivers supply chain efficiency for all the artwork and content assets that make up product packaging, labelling and instructions for use (IFUs). Kallik has offices in the UK, USA and India.
www.kallik.com