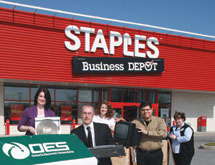 Among the reasons for Staples Canada's success is its non-hierarchical structure. Steve Matyas, president of Staples Canada, relates that if he arrives at the company's headquarters in Richmond Hill, Ontario, late in the morning, he parks at the back of the lot and walks, just like every other employee.
"I've always maintained – although I have a senior position with the company – I'm no different than anybody else who works here, but my job is different," Matyas stresses. "We want people to feel valuable and that their contributions matter at the end of the day. That's what makes a big difference."
He emphasizes that since its founding in 1991 as The Business Depot, Staples Canada has been environmentally conscious, installing a bailer for cardboard recycling at stores and headquarters.
"People appreciate that as a company, we understand we have to give back to the community," Matyas insists. "It's not just about being profitable. I'm pretty proud to tell our folks that you don't have to choose between a company that puts up great numbers every year, and one that has a strong sense of community woven into its fabric. No one I know has ever come to our company because they want to enhance profit for the organization. They come because they feel they make a difference. They are proud to share with others who they work for, and that's really what has helped us recruit and retain some outstanding talent."
Matyas' philosophy must be working, because he recently signed approximately 400 congratulatory letters to those who have been employed with the company for 15 years or more.
Customer Satisfaction
Matyas reports that in a Marketing magazine poll of Canadians, Staples was listed as one of the 10 most reputable brands in the country. "A lot of companies talk about how customers are their lifeblood," Matyas remarks. "The older I get, the less I pay attention to what they say, but what they do. We go out of our way by a country mile to make sure we bend over backwards and exceed customer expectations at every touchpoint, whether over the phone, in person or online."
Buying technology products over the Internet can be risky, especially when dealing with a retailer that only has an online presence. If a problem develops, customers may worry about where they can take the product for repair or instruction. Staples Canada has solved that problem by expanding to more than 330 stores throughout Canada.
"We try to make it as seamless as possible," Matyas declares. "If you purchase something online, you can return it in-store. We try to make it hassle-free and take out the risk and uncertainty of doing business online. That has helped us rapidly grow the business online, because we have the bricks-and-mortar presence. If something goes awry, customers are not dealing with a faceless place, but with a company they know is as close as 15 minutes away from their home."
Always trying to enhance service and maintain customer satisfaction, Staples has an "endless aisle" concept where products that are not carried in-store can be purchased online. Being online since 1994, the company truly knows how to serve that market. Although separate figures are not kept for Staples Canada's online sales as a percentage of its total retail sales, Matyas reports that after Amazon.com, Staples is the second-largest online retailer of any products worldwide. "We are a distant second," he concedes. "It's one of those well-kept secrets. People are quite surprised when they hear it."
Technology and Print
Office supply stores are much more robust nowadays compared to your grandfather's stationery store. Instead of paper and pens, Staples Canada has become a technology competitor. "We're the No. 2 player in digital cameras in Canada," Matyas maintains.
The company is following the trend to tablet computers. "Tablets are taking over the market by far," Matyas marvels. "They are having a huge impact on other devices that people used in the past. Certainly desktop PCs are in a steep decline, and tablets are having an impact on notebooks."
With technology constantly evolving, it's important that Staples Canada upholds a competitive advantage with other retailers, so each store has a repair technician onsite. "We've done a great job of staying on top in technical services," Matyas asserts. "More and more – especially in these tough economic times when people are hanging onto their wallets and purse strings – people are spending more money on repairing laptops and desktops.
"We have a resident technician who is certified in repairs both under the manufacturer's warranty as well as repairs out-of-warranty," Matyas adds. "We also have second-level repair facilities, where if the problem is too complex, the unit is shipped off to warranty repair centers across the country. There, we are able to repair just about everything in terms of what we sell."
From technology to copy and print centers, Staples' stores have all the tools necessary for any small business owner or customer. "We really excel in our copy and print centers," Matyas asserts.
Store Sizes
Staples Canada has three different sizes of stores to serve various markets and areas. "We have our standard format – the new ones – are typically around 20,000 square feet," Matyas explains.
"The older formats are closer to 25,000 square feet, and our smaller footprints are located in smaller demographic areas – usually rural areas – and that model is 15,000 square feet," he continues. "That format is helping us reach out to a large number of communities that heretofore we never would have thought of going to, because a larger footprint doesn't work.
"So currently, we're experimenting with ultra-small stores that will get us into reflective communities in more remote locations," he concludes. Those stores are approximately 9,000 to 10,000 square feet, and are located in communities with populations of 10,000 to 13,000.
Although land prices have dropped since 2008 in Canada, vacant retail space is rare. "When I take a look at all the folks who have vacated space, very few are players in Canada," Matyas insists. "Players who are in Canada are pretty strong. To be perfectly honest, the economic conditions were not and are not nearly as severe as in the United States."
Without vacant retail space and high rents due to real estate investments having "gone south," Matyas' options are limited. "I would say our expansion strategy is to open as many profitable stores as we can," he says. "But I can also tell you that I have been very confident and comfortable going to our board of directors throughout the years to explain why we have not opened as many stores as we originally planned."
Matyas has a strong business sense of what works for the Staples Canada brand and won't compromise his beliefs for the sake of rapid expansion if it doesn't make sense for the company.
"I've been in this business since 1991, and as a founding member of Staples in Canada, I know what works for this brand and company and what doesn't," Matyas declares. "I always weigh my choices when making important decisions like opening new stores, and sometimes the best decision is to wait."