Stick-N-Find and MeterPlug Raising Funds on IndieGoGo.com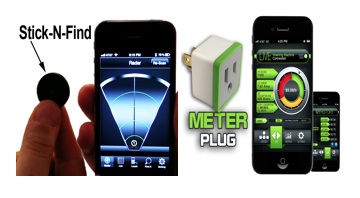 Jan. 2, 2013 – StickNFind.com today announced that it has raised $450,000, more than six times the initial campaign goal for the Stick-N-Find on crowdfunding platform IndieGoGo.com. Stick-N-Find is a coin-sized Bluetooth sticker that can be easily attached to any object and tracked through the companion mobile App. The sticker is tracked by through the App by turning a user's smartphone into a radar screen and tracking up to 20 stickers within a 100 ft. radius.
Stick-N-Find has already moved into production for a March 2013 delivery and will be showcased alongside MeterPlug at CES 2013 in January at booth #3731 at the iLounge Pavilion. As a result of Stick-N-Find's success, the developers have announced new features to the product. Stick-N-Find's features set will be expanded to include a temperature meter, giving users the temperature of the actual location of the sticker. The Stick-N-Find stickers will also come in five colors: black, white, blue, red and purple.
In addition, MeterPlug – launched a week ago – has already raised more than $50,000 towards production. MeterPlug works with existing outlets to send consumption usage and cost data directly to a free-to-download smartphone App. Using the App, consumers can keep track of electricity usage from wattage and voltage, down to the actual dollar amount spent based on local electricity bill rates.
"We are overwhelmed by the amazing supporters who believe in the success of Stick-N-Find and MeterPlug, allowing us to move full-steam ahead with production," said Jimmy Buchheim, founder of StickNFind. "As part of our road to CES, we will also be unveiling an additional product and will be showcasing all at our booth in Las Vegas. After years of developing Bluetooth technologies for the industry, it is exciting to see this kind of momentum and popularity growing for our own products."