Stores with the Worst and Best Return Policies
GOBankingRates.com compiled a list of the worst and best return policies to take the headache out of the post-holiday return rush.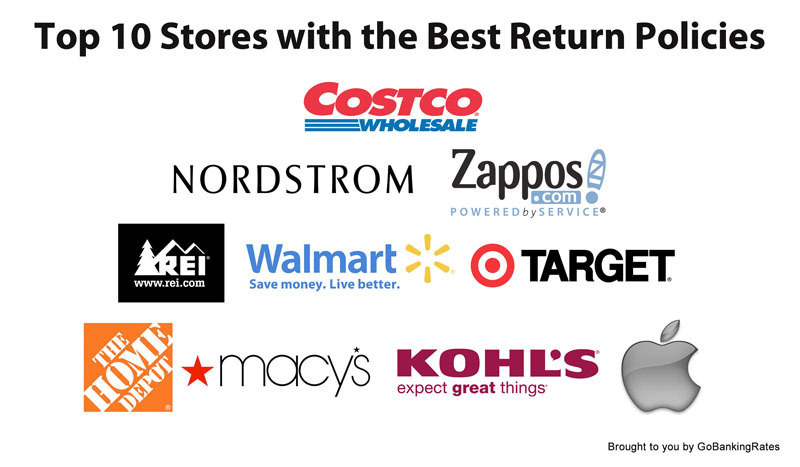 Dec. 23, 2013 – According to the National Retail Federation, nearly $60 billion worth of holiday merchandise was returned last January. To help consumers understand popular retailers' return policies, personal finance site GOBankingRates.com investigated the return policies of leading U.S. retailers and created a list of the best and worst stores for handling returns.
"Not everyone is good at gift giving," said Jennifer Calonia, editor of GOBankingRates.com. "If you're worried about finding the perfect gift for a loved one, consider a store with a great return policy. A return policy can truly make or break a purchase; many major retailers carry the same brands."
Preview of the stores with the worst and best return policies:
Stores with the Worst Return Policies
No. 1- Sears Return Policy
Return time based on a tiered system with 90-day maximum; original packaging, receipt or packaging slip required.
No. 2- Best Buy Return Policy
Return time frames vary depending on the customer's annual spending; for those who spent

$1,500

, the time frame is just 30 days.
No. 3- American Apparel Return Policy
Returns are not accepted at an American Apparel store; they must be mailed in.
Stores with the Best Return Policies
No. 1- Costco Return Policy 1
Costco's return policy has no return time limit; full refunds take the form of cash or check.
No. 2- Nordstrom Return Policy
No formal return policy exists; returns handled on a case-to-case basis as long as Nordstrom carries the product. No specific time limit.
No. 3- Zappos Return Policy
Returns accepted up to one year after purchase with free shipping.
To see the complete ranking of store return policies, go to:
http://www.gobankingrates.com/savings-account/top-retailer-return-policies-2013/