"We're fans of the content we go after," Binder says. "We gravitate towards properties with a distinctive point of view, a unique voice and with a built-in fan base." On May 22-24, the pair will promote more than 30 of the properties they represent at the 2018 Licensing Expo in Las Vegas. Some of these include Five Nights at Freddy's, Fingerlings, Umbrella Academy, Nightflyers, AMC's The Walking Dead, Exploding Kittens, We Happy Few and Klepto Cats.
Breaking Ground
Striker broke new ground in April, when it struck a deal with Blumhouse Television on a first-look television development deal. Blumhouse is known for its dark and edgy content and its Emmy award-winning HBO productions "The Normal Heart" and "The Jinx." "It's a strategic first stop for our content in television," Binder says. Striker is aligned with Blumhouse to develop franchises based on existing brands, video games and consumer product franchises that include a film based on Five Nights at Freddy's.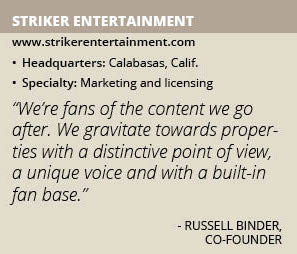 The company will be sourcing intellectual property from less traditional areas, but those with growing communities of fans that have potential for traditional media exploitation. "Where possible, we want to be involved in a 360 degree approach to IP and brand/franchise development," Binder says. "We have made a business out of helping first-time licensors monetize their IP in consumer products, which remains fundamental to our business model, but we can now add media to the 'brand extension' conversation that can help amplify the consumer products activity."
High-Tech Monkeys
They are one of the hottest toys on the market this year. Known as Fingerlings, these small and interactive robotic toys wrap around a child's finger. They come in the form of monkeys, mystical unicorns and sweet sloths. When it comes to features, this high-tech toy packs a punch. It coos.
It giggles. It makes kissy noises. Reacting to sound, motion and touch, Fingerlings will respond to a child with verbal phrases, head turning, tail-wagging and even light up on occasion. Retailing for under $20, the toys are selling like hotcakes. "It's a phenomenal price for that much technology in a toy," Mostman says. "It has a great deal of variety and magic in its responses and kids have really responded positively to the Fingerlings characters."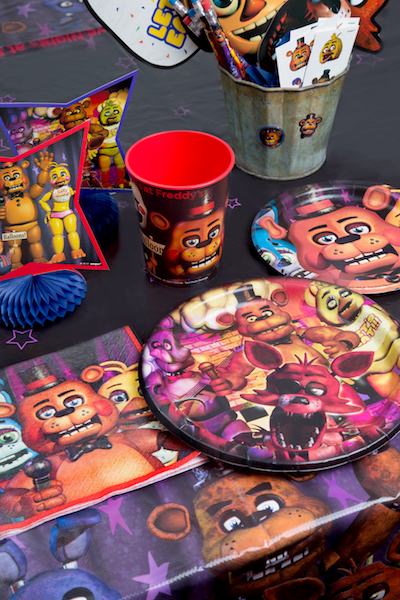 Fingerlings, owned by WowWee, received the prestigious Toy of the Year and Collectible Toy of the Year awards from the Toy Association this year. In the toy industry, it's like winning an Oscar. "It is considered one of the hottest girl's properties in the domestic market today and it's rapidly growing in the international market," Mostman says.
Striker started a licensing partnership with Fingerlings in October. Since then, Striker has secured more than 25 licensing deals for Fingerlings in categories that include publishing, confection, back-to-school items and apparel. "We've also been developing media for Fingerlings by supporting the production of 30 minutes of short format animation that WowWee will distribute on its Fingerlings YouTube channel," Binder says. Launching in May, the 30 minutes of animation is made up of one- to two-minute shows. "The intent is to produce more and continue to build more of the universe to give context to the toys and support the broadest play pattern possible," Binder adds.
WowWee President and Co-Founder Richard Yanofsky says that working with Striker has challenged his company to think of the Fingerlings brand as more than just a toy on a store shelf. "Our relationship has blossomed into a seamless 360 model where we are strategizing all parts of the brand from core licensing to building out our own IP content," Yanofsky says. "Our shift away from just selling toys to growing mindshare is an important variable to sustainability in a new democratized world where content is king."
Gamers Rejoice
One of Striker's top intellectual properties is Five Nights at Freddy's, a media franchise that sprung from an indie video game series created, designed, developed and published by Scott Cawthon. It is designed for Microsoft Windows, iOS and Android. The series is composed of six video games. It centers around a fictional restaurant named Freddy Fazbear's Pizza. The first three games involve the player working as a night security guard trying to survive attacks from animatronic and homicidal characters.
The fourth game, which uses different gameplay mechanics, takes place in the house of a child who must defend itself against nightmarish versions of the animatronics. In the fifth game, the player becomes a technician in a maintenance facility and then graduates to being the owner of the pizzeria by the sixth game.
Striker started representing the series about two years ago. It is one of the most established properties that Striker represents with high retail sales and licensed products on shelves worldwide at top retailers such as Walmart, Best Buy, Target and GameStop. "We have over 45 worldwide licensing partners on board for this brand to date," Mostman says. "And there is a feature film in development that will help expand awareness even further for the Five Nights franchise."
The movie, expected to go into production later this year, is being written and directed by Chris Columbus who has worked on Home Alone, Lost in New York and some of the Harry Potter movies. The game also has a huge following on YouTube, where it garnered more than 30 billion views. "The virality of the property is one of the key factors that helped propel it to the status it has today," Mostman says.
Flics For Netflix
Striker is anticipating success on a few projects for a new client, Universal Cable Products and its upcoming shows The Umbrella Academy and Nightflyers. The Umbrella Academy is a Netflix live action series based on the Dark Horse comic books about a dysfunctional family of superheroes that comes together to solve the mystery of their father's suspicious death and deals with the threat of an apocalypse.
The comic was conceived and written by Gerald Way, the lead singer of My Chemical Romance. Nightflyers, also currently in production, will premier on SyFy domestically and Netflix internationally. Season one will feature 10 episodes. Nightflyers is a series based on a science fiction-horror novel by George R.R. Martin, who is best known for his Game of Thrones books.
"Striker has built its reputation on not just identifying properties with tremendous consumer potential, but also by supporting those properties and clients with a deeply committed and passionate team that understands process and priorities," Binder says. "At Striker, everything we do is a team effort. Teamwork makes the dream work."