Stuart Weitzman And Beyonce's Creative Team Design Shoes And Boots For The Upcoming The Mrs. Carter Show World Tour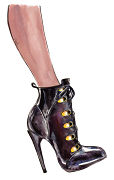 April 15, 2013 – Stuart Weitzman and Beyonce's creative team have designed the footwear for The Mrs. Carter Show World Tour. This is a continuation of their collaboration following Weitzman's creation of the shoes for Beyonce's last two tours, The Beyonce Experience and I Am…Tour, as well as multiple special performances.
Beyonce's stylists, Ty Hunter and Raquel Smith, and fashion designer Tina Knowles collaborated with Weitzman to create footwear that will complement the multiple costumes to be worn in The Mrs. Carter Show World Tour. The shoe designs range from stiletto pumps, with Swarovski crystal details, to lace up, military-influenced boots, both short and thigh-high. Weitzman also created styles to be worn by her dancers and band members.
"Creating footwear for Beyonce's shows has been one of my most inspiring projects. She and her entire team know exactly what they need, always focusing on the fashion and the function of the styles that will be worn," said designer Stuart Weitzman.
Weitzman has been collaborating with Beyonce for footwear for her performances for over 6 years; Beyonce introduced Weitzman when he received the Lifetime Achievement Award from Footwear News. In her taped video tribute to him she complimented Weitzman designs by stating: "After countless tours and TV appearances and special concerts, I have literally danced a thousand miles in his beautiful shoes."
"We have so enjoyed working with Stuart for this upcoming tour, and seeing our creative vision come to life on stage through his designs," says Raquel Smith. "He understands not only our needs artistically, but Beyonce's needs to perform comfortably on stage with each step she takes," says Ty Hunter.