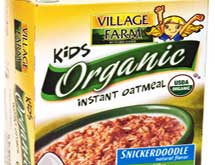 This private label manufacturer applies the principles of brand management to its products to ensure customers get more than they expect. In-depth experience seems an understatement considering Sturm Foods has been operating in the private label sector for more than 100 years.
What began as a classic Wisconsin dairy company has evolved to become the manufacturer of the US's number one non-fat dry milk product. Although the company also manufactures a few specialty brands and foodservice products and does contract manufacturing, private label is still the heart and soul of Sturm Foods.
By sticking close to the values the Sturm family, which owned and operated the company for the first 90 years of its existence, put in place, Eric Beringause, president and CEO, said the company sees nothing but success ahead. "On the one hand, Sturm Foods is a fairly large, sophisticated company, but it still has the feel of a family business, and it's still very entrepreneurial," he said. "We think we have the best of both worlds here."
Solving problems
Sturm Foods' main product platforms include hot cereals, where it's number two in the world in terms of volume, behind Quaker; powdered beverages, where it's also number two in the world in volume, behind Kraft; and non-fat dry milk products. In the non-fat dry milk category, all products are private label. In powdered beverages, almost all products are private label, and the majority of its hot cereal products are private label as well.
As consumers continue to look to private labels to solve their budget problems when hitting the grocery store, Sturm Foods differentiates itself behind the scenes by combining strategies typically found with branded products to produce top of the line private label goods. Part of the company's ability to manage this unique crossover comes from the diverse experience its management team brings to the table.
Beringause, for example, has more than 25 years of CPG experience, but his background is Nestle, Nabisco, and Pillsbury. "I cut my teeth at a company called Gristmill Private Label, which in many ways mirrored Sturm, and it's now a part of ConAgra," he said. "We take a lot of what you'd find in a branded company as far as a disciplined go-to-market approach on new products and transfer it to the private label business."
Ten or 15 years ago, most private label companies wouldn't have considered doing attitude and usage studies of categories to understand who is buying their products, why they're buying them, and how much they're buying. Nor would they have transferred the feedback into the products themselves. Today it's a different story.
"Europe has high levels of private label penetration, and the US is trending more toward the European model," said Beringause. "We've seen point increases year in and year out, starting with the recession a little over a year ago, because people are trying private label to save money. We need to make sure we're prepared."
The R&D differentiator
Sturm Foods further differentiates itself as a private label manufacturer with its R&D department. In the past year, the company has seen double-digit growth in most of its private label business and has developed new lines of hot cereals and powdered beverages to continue enhancing its offer.
Beyond the past year, in the hot cereals category, Sturm Foods has the ability to make custom formulations for companies' private labels or offer its own established formulas, which range from typical cook-on-stove varieties to the full range of instant products. This ability is important during the current recession more so than the financial upheaval of the early '80s because people expect more from the private label goods they buy, starting with taste.
A 2009 PLMA (Private Label Manufacturers Association) Consumer Reports survey, which was done in tandem with GfK Custom Research of North America, found that 35% of shoppers are trying store brand products for the first time in areas they used to buy national brand items.
Many of those same respondents, when doing a blind taste test, chose private label goods over national brand items and even reported the private label items tasted better. "People try private label goods, and they convert, but they won't convert back to the brand because there is no point in spending a higher price when private label delivers equal and sometimes better quality," said Beringause.
In November 2008, Sturm Foods was involved in a similar blind taste test focused on hot cereals. Consumer Reports tested the company's private label products under a variety of retail banners, and three of the four products tested came out ahead of national brands. Beringause believes these successes stem from Sturm Foods' testing versus branded products and its focus on delivering the highest quality for a low cost.
"Clearly what's driving private label's growth is the pressure on household incomes," he said. "What's different today versus 20 years ago is that private label goods have better quality. It's easy to see why we're excited for the future."
Continuous improvement
The double-digit growth of the past year inspired yet another transition for the company, this time to a new 1 million-square-foot facility in Manawa. The state-of-the-art manufacturing plant, which Beringause admits looks strange in the middle of a cornfield, gave the company new opportunities to improve its operations.
"We had been adding onto existing buildings, some that went back more than 50 years," he said. "This new plant allowed us to start from scratch and design the ideal line from a productivity perspective."
Manufacturing improvements aside, Sturm Foods prides itself on its environmental sustainability issues. Just as in the case of its products, the company looks for ways to continually improve upon its carbon footprint and to ensure "green" best practices are in use wherever possible.
"Done properly, you can have your cake and eat it too when being environmentally conscious," said Beringause. "We reduced the amount of corrugate we use on our cases by 20%, and we saw a significant cost savings, which we can pass along to our customers. It's just one more way we're able to illustrate the pride we take in doing our jobs."