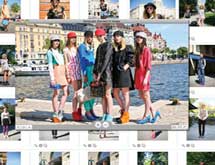 With strategically placed offices, a strong infrastructure, and a keen understanding of fashion and technology, this company offers insight to apparel and accessory style and design companies. Frank Bober founded Stylesight with one goal in mind: to change the way people in the apparel and accessory industries work. Seven years and 2,000 clients later, Stylesight is doing just that and all without advertising—that is, until now.
Bober explained that before branding, marketing, and advertising his company, he needed to develop a strong infrastructure. "I didn't want to go out with any kind of a branding approach without being able to back it up with action," explained Bober, who is also CEO of Stylesight.
"It was very important for me to build world-class content and technology and have a strong client list, but we are tremendously excited about the prospects of Stylesight because we have very little notoriety but still have 2,000 companies doing business with us."
Prior to founding Stylesight, Bober was a designer and manufacturer. An early adopter of technology, he jokes that he paid $300,000 for what today is effectively Photoshop. When he retired in 2000, he had the opportunity to obtain images of designer collections in digital format. His combined understanding of fashion and technology led him to the initial iteration of Stylesight.
He and his team organized images, cropped them, and printed books cataloguing their work. They also created a search engine on the web and started selling subscriptions. Six hundred companies quickly bought up the printed format, which compelled Bober to fund and continue growing the business.
"I saw the opportunity to take my technical curiosity, coupled with my industry knowledge, and create a unique platform," said Bober. "It has a component of software as a service, it has a component of information as a service, and it is an information solution."
Parallel tracks
Stylesight made its first appearance on the web in September 2004, and by early 2007, the site was up and running. To its base of more than 2,000 subscribing companies, it adds approximately 100 new companies per month, which translates to better than 58% growth year over year.
Worldwide, said Bober, the apparel and accessory industries are worth $850 billion. "Once I understood the size and scope of the industry after traveling around the world and studying design and manufacturing companies, I realized that everyone—whether a raw material supplier, designer, or factory—needs some level of information within that supply chain."
A subscription-based service, Stylesight gives users a unique username and password and the administrative rights to create a basic database. Using a tier-based payment structure, subscribers can then pay more to enhance the basic model.
From a content perspective, being a subscriber to Stylesight means a company has access to the more than 1,500 other vetted websites chosen by inhouse experts. Subscribers can drag pictures off those sites and put them in their folders to create globally inspired directives for their own business.
Stylesight's proprietary tagging system called Race (remote access content editing), through which people all over the globe tag images to build the company's keyword-based organizational structure, is another benefit to becoming a subscriber, as is access to tools such as storyboard creation with "My Storyboards" or color palette creation with "Color Play."
"There's an unlimited folder organization and hierarchy on the site, and there's a lot more to come as we roll out more ideas for the future," said Bober. "The company is on parallel tracks: more content, more information, more solutions, and more technology."
Actionable information
A distinguishing characteristic of Stylesight is that it enables its subscribers to upload their information to one central hub. It also offers forecasting analysis and reporting on content collected and uploaded to its site. "It's based not only on our information, but also the information other subscribers have collected," said Bober.
Inhouse, Stylesight's editorial team comprises a number of seasoned veterans of the apparel and accessories industries, including an SVP of trend forecasting that worked with Victoria's Secret for a number of years and has 20 years of experience. The team's expertise, combined with the company's offices in Hong Kong, Shanghai, Sao Paolo, Australia, India, Paris, London, Milan, New York, Los Angeles, and Tokyo—the style capitals of the world—gives subscribers a direct link to fashion's nervous system.
"The people in Tokyo aren't necessarily speaking to the people in Milan, yet often as we get pictures in, we see that there are some very similar trends emerging," said Bober. "These offices allow us to analyze those trends and report on them for our subscribers."
Stylesight's content is delivered through Akamai's Content Delivery Network, which has more than 45,000 servers around the world. Stylesight recently upgraded its servers so that each has 600 terabytes of storage capacity. Bober said for the company's subscribers to truly treat Stylesight as a creative platform, there has to be enough space for them to gather whatever information they need to enhance their businesses.
"Investments and content are equally important," he said. "Some of our lesser competitors are merely focused on the content, but that's only a piece of the puzzle; to make the information actionable, you have to invest in technology."
Take a leap
With Stylesight's infrastructure solidly in place, Bober is ready to venture into heavy marketing and PR. "There are multiple users in each company, so we probably have 20,000 or 25,000 people using the site every day to create their products and obtain inspiration, and that's without any real emphasis on marketing and PR," he said. "Imagine how many clients we'll have after we start marketing."
In November, Stylesight launched a campaign, with the help of partners Pantone and Lectra, entitled "Technology: Design's Best Friend." Bober said the goal was to change people's minds about the merger of creativity and technology. The company also launched the Stylesight Live series, which Bober believes is the wave of the future for the fashion industry.
An acronym for lifestyle, inspiration, vision, and expertise, Stylesight Live includes lectures, trend seminars, and guest speakers and is an interactive extension to the services the site offers. "I want Stylesight to be viewed as an expansive way for creative people to deal with all the information out there, a centralized portal," Bober said.
"We function under two umbrellas: doing for our customers what they don't yet know they need; and build it, and they will come. It's important for us to get it out there and be educators, inspiration providers, and informers."