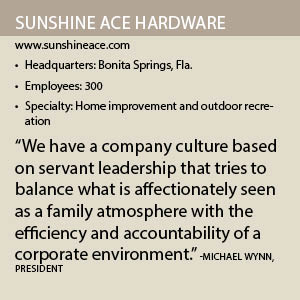 The company converted unused storage space into areas designed especially for commercial painters. "We put mini commercial paint stores in otherwise unproductive areas," Wynn says. "At some locations, commercial painters also have their own special entrance and dedicated parking."
Sunshine Ace has been aggressive in recruiting associates with deep knowledge in the commercial paint business. "Commercial painters want people who can talk their language," Wynn says. "Our customers want a knowledgeable and experienced staff and we're able to offer that."
In addition, over the last several years, the company has partnered with two commercial paint companies, Benjamin Moore and PPG Paints, to offer more professional quality products.
Loyal to Independents
"We are constantly looking for brands that are loyal to independents," Wynn says. "Too often, brands fall prey to the promise of big sales numbers and end up having their brands harmed in the process due to lack of service and with pricing. We embrace those loyal to independents. For example, you won't find the Big Green Egg at a huge retailer like Walmart or Home Depot."
Palm Coast Sales Inc., a Jupiter Fla.-based wholesale distributor of barbecue and outdoor products like the Big Green Egg, is a vendor that values vendors such as Sunshine Ace, Wynn notes. The Big Green Egg – a combination of grill, oven and smoker – is among numerous products that help give Sunshine Ace an edge over its competitors.
"They really have a cult following," Wynn says.
Sunshine Ace's hardware stores often host interactive events for the community for entertainment and educational purposes. "We do a variety of grilling events, fishing expo, a ladies night and charity fundraisers," Wynn says. "They've become a gathering place for the community. It's fun and helps educate the community on the products we have to offer."
On The Right Track
To better identify gaps in service, Sunshine Ace introduced new technology into four of its stores in January – and eventually plans to have it installed at all of its locations. Called ShopperTrak, it's an analytics software solution that helps retailers understand when shoppers are coming into their stores, how many are being helped and how to make the most of that information.
"It's camera technology that counts the number of people that come into the store and compares it with transactions," Wynn says. "It also helps us make efficient use of our payroll to see if we have a gap in staffing. It's fairly new but we already see the potential it has to help our managers in scheduling and training."
Core Values
Love, laugh and work hard. Employees at Sunshine Ace Hardware know those words by heart.
The company operates in accordance with a list of core values designed to promote a healthy company culture. Its values focus on driving results, being humble, building honest relationships, supporting others, creating solutions through imagination and inspiring confidence.
"Our core values help make us successful," Wynn says. "Each of our core values is associated with a series of fundamentals. We talk about a different fundamental each week."
In addition, Sunshine Ace provides its existing employees with ongoing product training that's about 15 to 20 hours annually. New employees undergo orientation, a personality profile and a 90-day training program. Managers take human relations and communications courses. Many participate in management certification programs through a variety of industry associations. Sunshine Ace also has its own one-year future leaders program.
"We have a company culture based on servant leadership that tries to balance what is affectionately seen as a family atmosphere with the efficiency and accountability of a corporate environment," Wynn says.
Recognizing Achievement
Sunshine Ace places a high value on recognizing its employees for exemplary work. "I feel good because our retention is definitely high for the industry," Wynn says. "We've got a number of associates that have been with us 10 to 20 years as well as several 30 plus years. If you have the right culture, people are going to want to stay with you."
One way that the Sunshine Ace recognizes its employees is through a "values in action" message board. Employees are encouraged to use the board to recognize each other.
"It allows us to capture all sorts of great customer services stories and to recognize our associates," Wynn says.
Sunshine Ace also honors two employees with annual awards. The Don Q. Wynn Core Value Award is presented to an employee who best exemplifies all of the company's core values. The Anne Wynn Care for Your Neighbor Award is given to an employee who embodies philanthropy.
"We have found that corporate culture is the key deciding factor in attracting experienced talent from the large national chain competitors," Wynn says. "Too often, the national chains become so enamored with their success that they forget about their people."
Making History
Sunshine Ace has been a staple in Florida since being founded by Michael Wynn's grandfather Don Wynn in 1958. The elder Wynn wanted to bring urban conveniences to Naples, Fla., which in the 1950s was a small town. He converted an existing Western Auto Parts store he owned into a hardware store, giving birth to Sunshine Hardware.
Today, the hardware chain stocks at least 40,000 unique products at each store, with some larger locations stocking more than 60,000 items. It offers a large selection of hardware, plumbing and electrical items, paint, lawn and garden products, outdoor power equipment and a variety of hand and power tools. If it doesn't have a product in stock, it will special order it at a customer's request.