Sunshine Gasoline Distributors
Alvarez came to the United States in 1961 when he was only 13 years old. He arrived alone via Operation Pedro Pan, which was a mass exodus of more than 14,000 Cuban children to the United States between 1960 and 1962. The Catholic Welfare Bureau created the program as Fidel Castro established a Communist government in Cuba and speculation grew that this dictatorship would send minors to the Soviet Union to serve in work camps.
"I was supposed to go from the United States to Spain to join my older brother," he says, adding that his brother died shortly afterward and he ended up staying in the United States. His parents joined him in Miami three years later.
Alvarez grew up in the United States, earned a bachelor's and master's degrees from Florida State University and then entered the oil industry in 1971 as an employee of Cities Service Company (Citgo).
"I worked as a market representative supervising about 20 gas stations for the oil company," he says. "I was with them until 1973 and then went to work for Mobil oil corporation."
In 1987, Alvarez pursued the American dream. He seized the opportunity to purchase four underperforming gas stations in south Florida, formed Sunshine Gasoline and then became a distributor for Citgo Petroleum.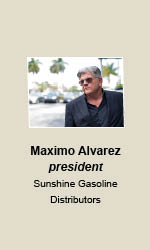 People told him it was not a wise decision. Alvarez believed different – and turned out to be right. "I owe my success to having listened respectfully to the very best advice and then going away and doing the exact opposite," says Alvarez, quoting English writer G.K. Chesterton.
Throughout the years, Sunshine Gasoline continued to seize opportunities when oil companies were exiting the retail business and assets were being divested. Alvarez pursued those opportunities aggressively.
Today, his company is one of the largest distributors in Florida, supplying 515 gas stations – owning and/or controlling 360 of them. Its brands include Shell, Chevron, Exxon, Mobil, Marathon and Citgo.
A Unique Business Model
Alvarez has attributed his success to his humble roots and his strict belief in helping people who are less fortunate than him. In fact, he's taken the latter to a new level. When acquiring a new gas station, Sunshine Gasoline generally offers select families (that don't necessarily have experience in the industry) an opportunity to operate the store – with a special incentive.
"We have a lease and they pay minimum rent, but I give them the rent back as an incentive," Alvarez says. "They only pay for expenses and get to keep 100 percent of the profits from the store. Sunshine doesn't make money on the store profits. We only make money on the gasoline part of the business."
That's very unusual. In fact, some people have called Alvarez crazy for not wanting to claim profits from a store he owns. But Alvarez stands by his belief.
"I give them an incentive to be successful and I don't punish them when they are successful," he says, adding that most oil companies will give their store operators a free-rent incentive only the first year. "Then when the lease is renewed, they start charging rent and (the operator) goes out of business. It's like punishing them for being successful."
Sunshine Gasoline has a number of families that have grown from operating one store to operating as many as 10. "And our turnover is practically zero," he adds. "That is what makes the Sunshine family proud. We run the business as a family."
A Growing Market
Having saturated the south Florida retail service stations market, Sunshine Gasoline now has limited growth opportunites in that particular area. As a result, the company started making a more aggressive move into the wholesale fuel market, outside of gasoline retail locations, in the past five years.
"We are now very active in the wholesale end of the business," Alvarez says. "We used to be 100 percent fuel distributors to retail locations only, but now the way to grow is on the wholesale level. We supply airports, marinas, cities, counties, police departments and companies that have their own gas tanks. We'll supply to anyone that uses fuel."
Alvarez attributes his success to his parents, friends and the oil companies that employed him when he was starting out. He also credits his educators in Catholic school and college and countless others that have entered his life at one point or another.
He has been involved in the Florida Petroleum Marketers Association and was elected Chairman of the Board in 2000 and inducted into its Hall of Fame in 2005. In 2006, Maximo became a trustee of Pedro Pan Group, that now serves as a non-profit organization for immigrant children.
In addition, he serves as a trustee for The First Tee, a national program that sets out to positively impact the lives of young people through the game of golf. In 2016, Alvarez was appointed by Florida Governor Rick Scott to serve on the Florida State University Board of Trustees.
Over the years, Sunshine Gasoline has been a sponsor of Centro Hispano Catholico, Miami Children's Hospital, Muscular Dystrophy Association, Trasplant Foundation and Hope for Vision. Alvarez is a strong believer in philanthropy and that every new generation must be better than the last.
"God bless America and all its people," he says.
Alvarez's three children – Sandra Reus, Maximo Ricardo Alvarez and Eduardo Ricardo Alvarez – are involved in the family business.