Sweets & Snacks Expo Show Preview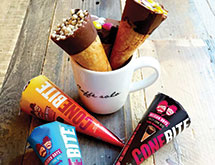 Sponsored by the National Confectioners Association, the 2015 Sweets & Snacks Expo on May 19-21 at Chicago's McCormick Place is one of 2015's can't-miss events. The 2015 expo is anticipated to be the most successful in the event's 18-year history, with an already sold-out show floor including an extensive exhibitor wait list.
In 2014, the expo set an all-time record in volume of confectionery and snack products with more than 650 companies, increased exhibitor participation for five straight years with more than 3.5 acres of product innovation. In 2015, the show floor square footage expanded to accommodate more new exhibitors and plans to welcome more than 16,000 industry professionals.
"Each year, the show continues to thrive and break standing records while reaching new milestones," says Tim Quinn, expo chairman and vice president of trade development for Mars Chocolate North America.
"The global market is growing at a fast rate in a $428 billion candy and snack industry worldwide, and it is essential that the Expo provides access to more product categories from more international companies," says John H. Downs, Jr., president and CEO of NCA. Nearly 100 international companies from more than 20 countries are expected to exhibit at the 2015 expo.
"We asked, listened, and delivered," Quinn said about the expo's retooled education offerings for 2015. "After extensive surveys and personal outreach this past year, we discovered that our attendees needed to gain more insights beyond the show floor which is why we are offering the expo's Knowledge Series for the first time."
The series will kick off on the expo's first day with an industry address featuring NCA's new President & CEO John H. Downs Jr. and follow with insights on sweets and snacks from Executive VP and Practice Leader Larry Levin of IRI Wordwide.
On day two, the new Retailer Impact Forum will reveal how to get ahead of the biggest drivers of change in 'bite size' portions. Leading experts will provide industry perspective on the current economic climate, the health and wellness mega trend and the nation's changing demographics in three short, high-impact briefings. Following speakers, a panel of channel executives, ranging from grocery to online, will provide perspective on how these market, consumer and shopper trends impact the retailing business and our category. Retail expert Michael Sansolo will moderate the panel.
On the final day, host of Fox News' top-rated "The O' Reilly Factor," Bill O' Reilly, will offer Expo attendees an unfiltered perspective on current events and global issues. He brings a hard-hitting style and "no-spin" perspective on the nation's most important issues in his straightforward and provocative manner.
The 2015 Sweet Insights Theater located live on the show floor will offer even more knowledge-building sessions. Attendees can learn from industry experts on how to exceed shopper's expectations, and build confectionery and snack sales during 20 minute learning labs featuring case study success stories and proven recommendations.
The popular Specialty Market sold out in early January, and will feature 88 companies and provide access to hundreds of one-of-a-kind, upscale, free-from and organic style products. The market's growth and sales success continue to accelerate since recent consumer statistics show that nearly 40 percent of shoppers will pay more for premium, specialty or all-natural products.
New for the 2015 expo, the Expo's Specialty New Product Showcase located within the New Product Showcase will offer manufacturers a distinct location to exhibit their new organic, premium or gourmet candy and snack items in one place.