Sweets & Snacks Expo Preview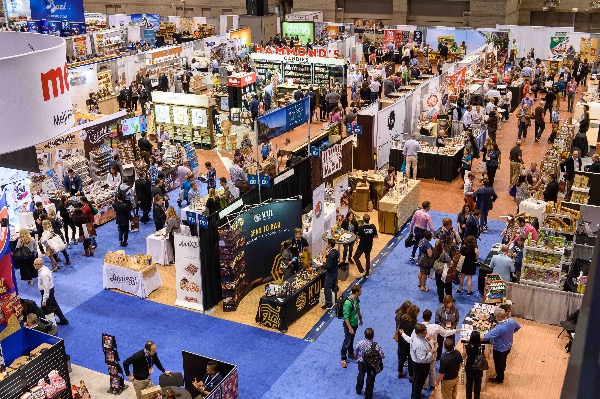 With more than 20 educational sessions, the Sweets & Snacks Expo aims to help its attendees drive category growth and gain shopper intelligence. By Bianca Herron
The 2018 Sweets & Snacks Expo, held May 22-24 at McCormick Place in Chicago, will welcome more than 18,000 attendees from 90 countries. More than 850 exhibitors will display the most innovative products the confectionery, snack and specialty categories have to offer.
Organized by the National Confectionery Association, the Sweets & Snacks Expo highlights some of the world's most iconic brands along with new startups — representing proven favorites and top-notch innovation.
Some of the expo's key highlights include the Most Innovative New Product Awards, which showcase the top picks by leading buyers and experts across nine categories, ranging from chocolate and salty snacks to seasonal and novelty.
The New Product Showcase provides a quick glance at hundreds of new items out in the marketplace to quickly gain a competitive edge, while the Innovation Avenue and Specialty Markets provide more curated products in gourmet, premium, organic, free-form and more.
Destination Retail will feature the latest retail technology and merchandising solutions affecting shopper behavior in confectionery and snacks. This year, the Sweets & Snacks Expo has partnered with WestRock, a leading provider of in-store technology solutions, to bring the latest merchandising, mobile and Internet of Things (IoT) systems to the show floor, including digital and mobile technology, shelf lighting and improved sensory experiences.
In addition, the expo's pre-show morning "eye-openers" explore macro trends and state of the industry overviews for the candy, snack and specialty segments. Others include shorter, 30-minute sessions diving into very specific topics, ranging from flavor innovations and specialty channel insights to online shopping behaviors.
Performance Improvement
As the largest expo of its kind in the United States, the Sweets & Snacks Expo offers expert educational sessions in three key areas – how we shop, how we eat and how we work – which will explore consumer behaviors and trends in treating and snacking.
"How We Shop" sessions will focus on shopper behaviors and patterns as they relate to confectionery and snack products. Featured sessions include:
• The State of the Market: Candy and Snack session;
• Engaging Treats and Snacks Shoppers Across the Path to Purchase; and
• Bricks and Clicks Retail: From Enemies to Allies.
"How We Eat" sessions will explore consumers' decisions on evolving treating and snacking patterns, and how consumption is changing across different demographic groups. Featured sessions include:
• The Snacking New World Order;
• The Why Behind What We Buy; and
• On-the-Go Snacking: Omni-channel Implications for In-Store Shopping.
"How We Work" sessions focus on how we collaborate as an industry to stay relevant with today's shopper. Featured sessions include:
• Power Pitch III: Lessons for Buyers and Sellers;
• Driving Profit Through Balance at the Front End; and
• What's Next in the Rise of Female Entrepreneurs and Leaders.
Geared to drive category growth and gain shopper intelligence, the Sweets & Snacks Expo's educational sessions include some of the world's biggest market intelligence companies, including IRI, Nielsen, Euromonitor, Market Track and Spins. However, the lineup also includes unique insights from companies such as Pinterest and Profitero.
Hosted by the National Confectioners Association, the expo will host more than 20 educational sessions addressing various topic areas for the confectionery, snack and specialty categories.
"We know our educational program is a big part of what makes attending the Sweets & Snacks Expo a great business decision for retailers," said Barry Rosenbaum, expo chairman and president of Nassau Candy Distributors Inc, in a release. "This year's lineup promises to deliver actionable insights to help attendees gain a competitive edge, anticipate trends and find solutions that address their specific challenges and needs." O