Swirl Redefines the Retail Shopping Experience with Launch of Industry's First Micro-Targeted In-Store Mobile Marketing Platform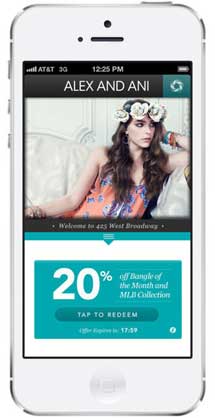 May 22, 2013 – Swirl today launched the first software platform specifically designed to attract and influence in-store shoppers with micro-targeted digital content and real-time, personalized offers delivered to consumers' smartphones while they shop. The Swirl In-Store Mobile Marketing Platform enables retailers to quickly and efficiently make mobile phones an engaging and value-added part of the in-store shopping experience for consumers. Alex and Ani, Timberland, Kenneth Cole, The Blues Jean Bar, Scott James, and Exhale Spa are among the first retailers to deploy the new technology at their retail stores in New York and Boston starting today.
With over 90 percent of retail sales still taking place in brick and mortar stores and over 50 percent of U.S. adults now carrying a smartphone, leading retailers are searching for ways to leverage mobile technology to enhance the in-store shopping experience while at the same time addressing consumer privacy and data sharing concerns. A recent Swirl survey found that up to 83 percent of female shoppers would be willing to share their location information if they received appropriate value in return, and 58 percent would be thrilled if they received a personalized offer on their smartphone while in-store.
The Swirl platform combines a next-generation, web-based marketing console with proprietary Bluetooth based sensors and mobile apps to help retailers engage with consumers while they shop. With the platform, retailers are able to drive store traffic, understand the preferences and behaviors of in-store shoppers, and increase retail purchase rates. The in-store experience can be delivered to consumers through the Swirl app or as an add-on to retailers' existing mobile apps.
"We are constantly looking for ways to leverage next generation technology to enhance the shopping experience for our customers across all channels," said Ryan Bonifacino, VP Digital Strategy at Alex and Ani, one of the fastest growing retailers in America. "Swirl's innovative platform allows us to better understand and influence retail shopping behaviors while at the same time providing our customers with a more engaging in-store experience."
The Swirl iPhone app (available for download on the App Store) helps consumers discover the latest styles, organize fashion collections, and track offers from over 200 top retail brands. Users who opt-in to the Swirl in-store feature automatically receive rich mobile content notifying them of personal offers and style recommendations when shopping in participating retail locations. The limited-time offers, complete with countdown clock, are tailored to individual shoppers based on their personal preferences, past shopping behaviors and interactions with the Swirl app. Users simply show the unique offer code to a sales associate before it expires to take advantage of their own personal in-store flash sale.
Participating retailers place Swirl's small, battery-powered, Bluetooth 4.0 Low Energy (BLE) based sensors in their stores. Installation takes less than 5 minutes and requires no power or Internet connection. The sensors detect when a Swirl user is within range, triggering the delivery of relevant content and offers while they shop within a particular department or area of the store. Sensor range can be set from two feet to six hundred feet, offering retailers a multitude of location micro-targeting options within their stores. Using Swirl's sensors instead of phone-based GPS, wifi-tracking or self-check-in mechanisms allows retailers to verify precise location presence within a store without costly hardware or infrastructure investments and in a way that is both seamless and transparent for consumers with privacy concerns.
"Consumers today shop and interact with brands in ways that we never would have dreamed possible 10 years ago," said Jim Davey, Vice President of Global Brand Marketing at Timberland. "As Timberland looks to engage a younger, more style-conscious consumer, we need creative marketing solutions that keep up with this consumer's digital lifestyle. We think Swirl creates a really exciting way to enhance the shopping experience for our customers, on their terms. It also gives us valuable, real-time insights so we can hone in on – and better serve – our customers' needs."
Using the Swirl marketing console, retailers can analyze shopper behavior to personalize and optimize the mobile experience for individual users. Retailers have full control of the mobile content and offers that are used to tailor the experience for shoppers in their particular store.
"Consumers are actively using their smartphones while they shop in stores, and retailers now have an opportunity to leverage that by offering compelling in-store mobile experiences that are both value-add to the consumer and aligned with the retailer's business goals," said Hilmi Ozguc, CEO of Swirl. "Our platform gives brands an exciting new set of capabilities to inform, engage and influence in-store shoppers in a unique and effective way."