"This really started with us recognizing how broken this industry was and we challenged ourselves … to do better," she recalls. "The core of the entire strategy was to do better not only by our own customers, but to spark change across the entire industry in a way that would give people a truly unleashed wireless experience.
"The customer is at the center of everything we do," she continues. "We work hard to make sure things are simple and straightforward and we go above and beyond to offer customers services that give them more of what they want most."
Big Things
T-Mobile has come a long way since the launch of Un-carrier. "We've pulled off what no one thought was possible – a 180-degree about-face – that's driving massive new customer growth," Osmer explains. "To put it in perspective, we had about 33 million customers in 2013 and today, we have more than 63 million."
This turnaround was sparked by 10 Un-carrier "moves" including the recently launched "Binge On" service, which allows you to stream all the video you want from more than 60 services including YouTube, Netflix and Hulu – without using any of your high-speed data.
"We know our customers love to watch a ton of video, so we wanted to give them the freedom to binge watch without any limitations."
Launched in 2014, T-Mobile also has had success with its "Contract Freedom" program, which helped remove one of the single biggest obstacles for people wanting to switch carriers – by offering to pay off the carriers' early termination fees.
"It was absolutely revolutionary," Osmer says. "Our goal was to be transparent and to give all those customers that feel stuck, the freedom to easily switch – risk-free."
Osmer credits the company's success to CEO John Legere, who genuinely "lives the brand," she says, noting that he recently posted a photo on Twitter of himself wearing T-Mobile branded clothing at a family event. "He said, 'Even on my day off, I'm wearing T-Mobile.' He truly believes that this industry needs a massive shakeup, and he wears his T-Mobile gear with pride."
Legere also regularly listens and engages with employees, Osmer adds. "He spends the majority of his time out visiting stores and call centers – unlike some other ivory-tower CEOs," she says. "As a result, people feel heard and they know their input has a direct impact on the business."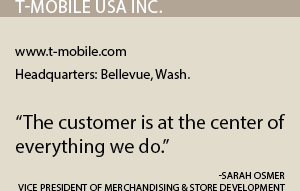 T-Mobile Pride
Legere's pride in T-Mobile is contagious and has trickled down to the company's employees, Osmer says. "It's really exciting to have a CEO and entire executive leadership team who are so accessible, who are challenging the status quo and taking a position that's making a difference for customers in the marketplace," she says.
That passion and energy can be felt when customers visit stores, Osmer says. "When they walk through that door, the first thing we want people to feel is that we're a different company who is 100 percent focused on giving them a great experience and having them feel heard, whether they want the new iPhone 6S Plus or if they want to buy a charger," she says.
The company does this by encouraging employees to be themselves, to connect with customers in a genuine way. Part of this was changing what employees wear in stores by ditching the polo in favor of T-Mobile branded t-shirts in a variety of design they can choose from to fit their personality.
T-Mobile has also helped nurture that energy through one-of-a-kind benefits that include making every employee "an owner of the company," she says. "Every employee receives an Employee Stock Grant, which includes restricted stock units. When you're an owner, you're just that much more invested in the company.
"Because of our approach, frontline employees feel like they're embodying the brand in an authentic, personal way," she says.
Customers have responded well to frontline employees' energy and attentiveness. "We get thousands of letters from them that say the same thing: 'I switched to T-Mobile and couldn't be happier because of the experience I had in your store,'" Osmer says. "It's amazing how consistent that is."
Retail Evolution
T-Mobile has not only been shaking up the industry, it's also been evolving and improving the wireless customer experience in its retail stores.
T-Mobile recently rolled out a new store format, which strives to give customers a richer experience, Osmer says. "With Un-carrier, we have grown so much and our product mix has changed, so we needed a store design that could grow with us," she explains.
"One of the key principles of our design was to open up the store layout to encourage more interaction and connection with our customers," she continues. The open space allows employees to talk to customers side-by-side as they discuss rate plans or look at phones and accessories options.
"It allows for a true connection with the customer," Osmer says, noting that T-Mobile is remodeling current locations with the new design and opening new ones. "By the end of the year, we will have hundreds of stores up and running with this new format."
This January also saw the launch of its new signature store in Times Square in New York City. Covering 4,000 square feet, the location features approximately 2,900 square feet of sales floor space, a 25-foot-tall glass storefront and a 32-foot-tall digital billboard.
"It is pretty spectacular," she says. "We created a new store concept so that our customers, shoppers and tourists could have a one-of-a-kind digitally immersive experience. There's no better place to do that than Times Square."
Osmer's team re-worked every aspect of this store, from its design to its visual merchandising, to make for an amazing customer experience. "It was so motivating for the team to pull this off and give customers a new way to experience T-Mobile," she says.
Already the store has won a positive reception. "We've exceeded our expectations not only in the performance of that store, but with the connections we're making with the Times Square Alliance and local New Yorkers coming downtown," she says.
Mixing It Up
Just as with its Un-carrier moves and Un-carrier customer service, T-Mobile also has continued to shake up its product portfolio to better meet customer needs.
"For example, during the past few years, we have completely revamped our accessories portfolio," Osmer says, noting that the sales of wireless headphones and speakers are especially strong. "Customers are realizing that with the right accessories, there are so many ways they can use their phones – all without wires getting in the way."
The company also continues to enjoy strong business with cases and screen protectors.
"Customers look to us for the best way to protect their phone," she says, noting that T-Mobile offers a diverse selection of styles from tech 21 rugged protection, Sonix and more recently Kate Spade. "Kate Spade has been a great addition to our portfolio, giving our customers a real fashion statement for their phone; they love it."
A Clear Vision
T-Mobile has made one thing clear about the future – it won't be slowing down anytime soon. "As the industry evolves and customer needs shift, there will always [be] new pain points to solve – and that's what we'll do," Osmer explains. "We won't stop."
"And now that T-Mobile's 4G LTE network now reaches more than 305 million Americans, you can expect the Un-carrier to find new ways to connect with new customers in new places," Osmer says.