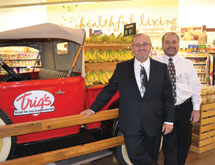 In the 2008 economic downturn, T.A. Solberg Co. faced a decision about its future. How would it weather an economic storm in the midst of markets that were becoming overly saturated with stores that sold groceries? The answer was simple: diversify.
T.A. Solberg is now a company with a broad spectrum of formats, including seven grocery stores, five gasoline stations with convenience stores, one gasoline station, a smokehouse, an events resort, a hardware store, salon, trucking company, central bakery and two recycling centers.
They Do Fresh
The company's full-service Trig's grocery stores – named after Trygve (Trig) Solberg who founded T.A. Solberg Co. with his wife Tula – are located in the central and northern Wisconsin towns of Eagle River, Minocqua, Rhinelander, Stevens Point and Wausau. They operate under a formula of freshness, ranging from food and cleanliness to overall store experience.
"Our slogan is 'fresh for you is what we do,' but we don't just use that in marketing," President and CEO Lee Guenther asserts. "It is a fundamental philosophy of how we operate. We have the absolute best, freshest produce and meat, along with the widest variety, in our markets."
To achieve that goal, the company uses one distributor companywide that delivers produce seven days a week. With the current trend toward natural and organic products, Guenther notes, "We focus on getting every possible variety we can and continue to diversify our offerings in this area. This is the kind of service to our customers we're known for."
With stores ranging in size from 55,000 to 75,000 square feet, the produce department is at the forefront of each store's layout, serving as the consumer's warm welcome to a spotless shopping experience. But Trig's fresh experience doesn't stop there.
"We also have an extremely strong deli and bakery presence in our stores," Guenther adds. "We have deluxe deli islands that feature salad bars and soups, along with a variety of hot foods ranging from chicken wings to casseroles to the Friday Fish Fry. It means the customer can come in at any time during the course of the day to get a fresh, quick meal."
Equally as important as providing the widest variety of fresh foods is unparalleled, high-quality service. Integral to providing that service is the skill and enthusiasm of the employees, some of whom have been with T.A. Solberg since its start in 1971.
"We operate an employee retention program based on mutual respect," Guenther emphasizes. "We invest in the growth of our associates and promote from within. We have tremendous results. Our associates genuinely enjoy their jobs, and that translates over into the customer experience."
Bigger Isn't Always Better
T.A. Solberg recently launched smaller format stores to meet the needs of individual markets. In Stevens Point, Wis., T.A. Solberg opened a 17,000-square-foot Save-A-Lot, which offers a limited assortment of deeply discounted private-label and national brands.
Acquired in May, Trig's Village Market is T.A. Solberg's latest venture. Previously operated as LaPorte's Market, Village Market focuses on providing a fresh store with expanded selection. The success of the store, located in Manitowish Waters, Wis., has it slated for an expansion to 15,000 square feet.
"Save-A-Lot is a pretty well-disciplined format that is consistent around the country," Guenther declares. "Trig's Village Market is a small store concept in smaller towns based on the success we've seen with our large format stores."
Self-sufficiency Is Key
One of T.A Solberg's keys to success is vertical integration with an eye towards self-sufficiency. "We're fiercely independent and are constantly seeking opportunities to provide for ourselves," Guenther says. "Anytime you can vertically integrate – whether by producing your own meat products or ice, for instance – you're much better off than buying it from outside, as long as you can successfully manage it."
To this end, the company has a 7,000-square-foot central bakery that supplies its grocery and convenience stores, along with a new 28,000-square-foot smokehouse and distribution center in Rhinelander.
"Trig's Smokehouse currently produces over 80 varieties of fresh and smoked meats, including summer sausage, beef sticks, hams, pork links, bacon, jerky and more," Guenther calculates. "We're most proud of and well-known for our 21 varieties of bratwurst. After winning the World's Best Brat Competition two years in a row, Trig's World's Best Brats have become our most popular item. We get requests from all over the country for those."
Until now, Trig's Smokehouse products have only been available in T.A. Solberg stores. "We're licensed in our new smokehouse to sell to beyond our service area and are currently in negotiations with distributors and other partners to do so," Guenther notes.
At the distribution center, the company is also building an ice production facility with massive ice-making machines and adjacent freezer storage. "We'll produce over 40 10-pound bags of ice a minute," Guenther points out. "We'll have capacity to supply our own stores plus other retailers."
T.A. Solberg ventures outside of grocery store operations. The company also owns Tasmania Outback Resort in Newbold, Wis., which boasts five lakes on a sprawling 1,600 acres.
Other T.A. Solberg operations are Timber Trail Coffee, Trig's Ace Hardware, Tula's Café, Minocqua and Rhinelander Recycling Centers, Minocqua Postal Connection, Signature Salon and Trig's Trucking.
"We believe it is important to do our own transportation and trucking," Guenther points out. "We have trucks that go from store to store each day, so it's easy to distribute products among our outlets. It allows us to buy full truckloads of products, store it in our distribution center, and get it to the stores as needed." Guenther also notes that trucking allows the stores to be stocked fresh daily with items from the central bakery or Trig's smokehouse.
An Eye Toward the Future
Although he isn't sure what the future holds, Guenther reveals expansion is ahead for the company.
"We're always looking at new locations for Trig's or Trig's Village Market," he explains. "There may be less opportunity for growth than in the past with the oversaturation of markets, but we believe that there are still opportunities out there for us. We try to fit one of our established formats to the market, so if it's the right opportunity, we will pursue it."
Guenther doesn't foresee expanding beyond Wisconsin, but he never says never. "We know our market pretty well and want to keep focused on the demographic we serve," he says. "We are totally focused on getting our customers the freshest food with the widest variety and the best shopping experience possible. We're a family owned company who wants to focus on taking care of our extended family – our customers. That is what we focus on."