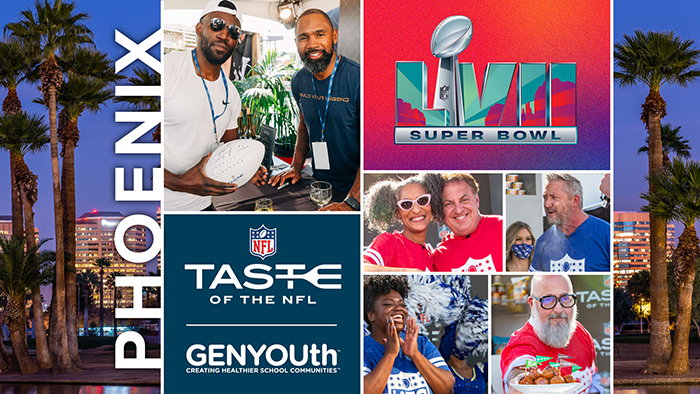 Tackling hunger and food insecurity with the NFL
As revealed by GENYOUth, you can now purchase tickets to the Super Bowl LVII's 2023 Taste of the NFL, presented by Frito-Lay, Quaker And The Pepsico Foundation.
GENYOUth, a national non-profit organization that creates healthier school communities, kicked off ticket sales in partnership with Frito-Lay, Quaker and the PepsiCo Foundation. Taking place on Saturday, February 11, from 4 p.m. to 8 p.m. MST at Chateau Luxe in Phoenix, the event features a stellar line-up of chef talent and NFL greats. The event is hosted by five nationally renowned celebrity and veteran Taste of the NFL chefs including Andrew Zimmern, Carla Hall, Tim Love, Lasheeda Perry, and Mark Bucher. Over 25 additional chefs are also showcased, including Arizona culinary stars Maurice Gordon, Christopher Gross, Beau MacMillan, Maria Mazon, and Mark Tarbell; as well as chefs from the PepsiCo Foundation's IMPACTO Hispanic Business Accelerator program and PepsiCo's Juntos Crecemos program. Chefs include Yesenia Ramirez, Miriam Ramirez, Lucia and Ramon Garcia, and Imelda Hartley.
Net proceeds from Taste of the NFL, as well as Mission 57, its accompanying student hunger initiative that is delivering 57 Grab and Go school meal equipment packages to high-need Arizona schools, will benefit GENYOUth's End Student Hunger Fund, which provides resources to help increase access to and participation in school meals for 30 million students nationwide who rely on them for their daily nutrition needs. The funds raised through Taste of the NFL will support school nutrition programs in Arizona and NFL Club markets across the nation.
"With our long-standing history of uplifting the communities where we live and work, Frito-Lay, Quaker and the PepsiCo Foundation are committed to providing equitable access to critical resources to help food insecure communities throughout the United States. Supporting GENYOUth's Taste of NFL and its lead-up Mission 57 initiative allows us to continue our focus on providing necessary tools and resources to schools in need," said Steven Williams, CEO, PepsiCo Foods North America. "We're proud of our partnership with GENYOUth to drive meaningful impact to help end student hunger in Arizona, and across the country."
"One in eight children in the U.S. is living in food insecurity, and children living in communities of color are at even greater risk. School meals are a lifeline and are the only nutritious meals that many children eat on some days," said Ann Marie Krautheim, M.A., R.D., L.D., CEO of GENYOUth. "Founded by America's Dairy Farmers and the NFL, GENYOUth is proud to partner with purpose-minded organizations through our signature programs, including Taste of the NFL and Mission 57, to ensure that students are nourished, active and supported."
Taste of the NFL guests with a passion for food, football and fun will have access to over 30 unique culinary experiences from America's top chefs. There will be mingling and autograph sessions with NFL legends, as well as with Miss America; a spirited assortment of beverages; a silent auction for sports memorabilia; and opportunities to enter to win great prizes, and taste delicious recipes incorporating Frito-Lay, Quaker, and other sponsor products.
In addition, over 60 students ages 15 and 16 from the Careers though Culinary Arts Program (C-CAP), a culinary workforce development non-profit that serves underserved teens across the U.S., will provide on-site culinary assistance to Taste of the NFL chefs, gaining valuable real-life experience in a dynamic and fast-paced environment.
GENYOUth's additional End Student Hunger partners including Hormel, American Family Insurance, Shamrock Farms, Kona Grill, STK, Frontdoors Media, Hubbard Radio Phoenix, and Chateau Luxe will add delicious flavor and good spirits, along with retail and promotional support, to the event.
Taste of the NFL tickets are $750 each for General Admission and $950 each for VIP tickets, which includes exclusive access to the VIP lounge; exclusive meet, greet and autograph opportunities with NFL players, chefs and special guests; and special parking privileges at Chateau Luxe.
To purchase tickets for Taste of the NFL and help End Student Hunger, visit www.TasteoftheNFL.com.