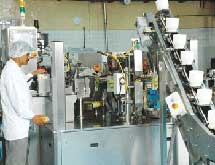 This food manufacturer does more than fill bellies; it's also bringing the world together one lentil at a time. Founded 15 years ago, Tasty Bite's slogan defines its core purpose: From mashed potatoes to Bombay potatoes, taking Indian food mainstream. In recent years, the company has moved out of Indian food to Pan-Asian, Mexican, and Mediterranean flavors, and its goal has evolved into taking food from India mainstream.
Ashok Vasudevan, CEO, said the company's evolution was inspired, in part, from three cuisine megatrends that have grown in popularity since 1995.
"I often say India transformed from being a basket case to a potential bread basket of the world," Vasudevan said. "The developments of Indian agriculture, food processing, and technology have helped push these three global mega trends that inspired our evolution."
The first is a trend for natural/healthy living, therefore healthy, natural, and organic food without chemicals, additives, or GMOs. None of Tasty Bites' 39 products, which include entrees, sauces, rices, and meal inspirations, have preservatives, and none of the company's products require cooking or refrigeration, which lends them to the second mega trend of convenience.
With people having smaller families, the rise of women in the workforce, and increasingly fast-paced lifestyles, the time people take to prepare their meals has dropped from 48 minutes in the '90s to 12 minutes in 2010. To remain competitive in the food industry, Vasudevan said a company's products have to match the pace of its consumers.
The third mega trend is what Vasudevan calls palate on the move. "Americans are somewhat cuisine agnostic, but they're not taste agnostic, which means they don't necessarily have cuisine loyalty like the rest of the world does," he said. "But they're still eating within the confines of what is healthy and convenient, so our business has followed the trends to help them find what they're looking for."
All foods made by Tasty Bite are natural, healthy, and convenient enough to be prepared in 90 seconds and more diverse than its pure-play Indian cuisine of the past. Dishes geared toward Thai, Asian, and fusion palates include its new range of rice (Thai Lime, Multigrain, etc.) and Meal Inspirations (Chunky Chickpeas, Snappy Soy, and Zesty Lentils).
"The Madras Lentils we have to an Indian could be traditional Dal Mahkani," Vasudevan said. "To someone else, it's a lentil soup. To someone else, it's a vegetarian chili or a dip. Our cuisine travels based on the consumer mega trends, and that's how we've shifted over the years."
Bigger and better
In 2009, Tasty Bite saw 38% growth. In 2010, that number grew to 40%. Already as it goes through the first quarter of its 2011 fiscal year, the company projects at least 50% growth going forward.
Vasudevan said the company's growth comes from three places. First, the number of Tasty Bite consumers has increased because its geographic outreach and distribution strategies have reached farther into North America, Australia, New Zealand, and India and because a larger number of consumers within the same geo-demographics have become more familiar with the products.
Vasudevan said the second area of growth stems from the increase in average consumption per consumer; people who used to buy one packet at a time are now buying in multiples. "We're seeing depth of consumption. We're seeing repeat buying. We sometimes feel we don't have consumers; we have loyalists," said Vasudevan. "We've become an integral part of some very core consumers' days in terms of their cuisine."
The third growth area is an overall increase in uses and Vasudevan's theory about palate on the move. Consumers are using Tasty Bite's products in new ways beyond those who originally used it with naan bread and rice. The company's Punjabi Eggplant, for example, is now being used to make lasagna. Its Kashmir Spinach isn't just an Indian entrée as consumers send in recipes for spinach and sour cream dip, and the Madras Lentils have become taco fillers for vegetarians.
Tasty Bite, in part, has inspired these variations through recipes on its packages, in-store demonstrations that give away recipe cards, and an increased focus on training employees to look at the products in more innovative ways. "We have dozens of recipes that we rotate on our website, and we share the write-in recipes our consumers share with us," Vasudevan said. "Innovation is another key to staying relevant with consumers."
The blue ocean
On September 16, 2010, Tasty Bite relaunched and expanded its R&D center, which was originally set up in 2002 as a small product development lab. Renamed the TBRC (Tasty Bite Research Center) and considered the jewel in the company's crown, the site has become a center for excellence for prepared foods in R&D.
"With the increasing knowledge we have on thermal processing, retort packaging, and preservation technologies that don't require preservatives, we believed having this center would be important to remaining innovative and maintaining our competitive advantage," said Vasudevan.
The mission statement of TBRC is to become a center for excellence in prepared foods R&D that will focus on product, process, and ingredient innovation. The center was launched in September and is now in a separate building within the 33-acre factory campus near Pune, India. The center has both a culinary stream, which Vasudevan refers to as "art," and a technology stream ("science").
The executive who heads the company's marketing department, Meera Vasudevan, is the co-founder of the business and the head of TBRC. She blends the art and science to enable the company to pick up on trends and almost predict the future. One of the more successful results of her work is Meal Inspirations, which launched last year. These vegetarian proteins use lentils and specific grains that are protein rich and not overly reliant on soy.
Vasudevan said he hopes TBRC will be accredited as an independent research lab by the end of 2011, but until that happens, Tasty Bite will stay on course for its five-year plan, which the company refers to as the Blue Ocean Plan. It consists of working with a wide range of cuisines (Indian, Thai, Pan-Asian, and Fusion), Tasty Bite's existing technology (retort packaging, shelf-stable and frozen foods), and its channels of distribution (grocery, specialty, club, private label, and institutional) within its existing markets (Australia, New Zealand, India, US, and Canada).
"We're also making plans on what lies beyond the Blue Ocean," Vasudevan said. "We'll have that plan articulated in 2012."
Healthy mind and body
Markets, products, and differentiators are only one piece of the puzzle for Tasty Bite. According to Vasudevan, the most important piece is in the focus the company puts on its employees, starting with their healthcare. All employees have the best healthcare available, whether in India, Australia, or the US, and the company pays for it all.
"We also cover their spouses and children up to age 18," he said. In terms of education and training, Tasty Bite encourages its employees to continue their education and will sponsor the education of children of the factory workers dollar for dollar, from high school to post-graduate.
In addition, every manager and assistant manager in the company owns a piece of Tasty Bite, which the company has also paid for. Vasudevan says these decisions come back to the company's focus on maintaining an energetic and fun culture that promotes the same level of health behind its doors as it does in its food products.
"We're saying that all of the work you do must be intellectually stimulating, socially responsible, and, hopefully, financially rewarding," he said. "These actions are part of our attempt to ensure that."