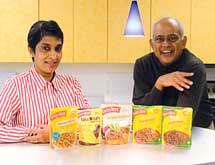 For this company, success is about more than lots of products on the shelves; it's also about satisfied employees and playing a positive role in the community. If a company wants its ex-employees to be ambassadors who bring in new talent and enjoy a reputation for high quality product and be a key player in its community, Preferred Brands International, manufacturer of the brand Tasty Bite, is a great example to follow.
Tasty Bite is an all-natural brand of convenient specialty foods. Most of its products are Indian in origin, but recently the company has expanded into Pan-Asian, Mexican, and Mediterranean flavors. The company grows 40% of its vegetables on its own farm in India, manufactures the products there, and distributes them to grocery stores and specialty food stores across the US.
Last year, Tasty Bite saw 38% growth. So far in its 2010 fiscal year, its already seen 50% growth, and CEO Ashok Vasudevan expects to top that in 2011. He attributes the company's success, in part, to a few specific initiatives starting in 2007: an expansion of its retail partners from less than 40 to 60; a champion in-store demo program that allowed Tasty Bite representatives to talk to more than 300,000 direct consumers; and three new product lines.
The first is Tasty Bite's simmer sauces, ready-to-cook Indian, Thai, and other Asian-inspired sauces. They have very little sodium and can therefore be seasoned however the cook sees fit. They come in inexpensive, single-use pouches designed for a family of four, making it easy to try all the flavors and spice up any meal.
The second, a range of flavored rices, hit the shelves this a year ago, offering families a convenient meal accompaniment in a wide variety of Indian, Asian, and Mediterranean flavors. It's the third new product, Meal Inspirations, that Vasudevan said will be Tasty Bite's big item for 2010. It is hitting store shelves right now and will be nationwide in the next few months. These protein dishes, made with lentils and other legumes, come in ready-to-eat pouches and are the result of a year of field research with families across the county.
To keep up with demand, Tasty Bite recently doubled its manufacturing capacity in India and is currently looking for manufacturing space in the US. It also upgraded its packaging technology; Tasty Bite was the first to commercialize retort pouches, which were invented by the Apollo space program to store food without preservatives or refrigeration.
Driven by values
Most importantly, Vasudevan said, Tasty Bite's success comes from its clearly defined mission statement and three-part value system.
"It is common for businesses to write vision, mission, and strategy statements and pin them on the wall. Here, we have one encompassing statement that is much more than wallpaper; it drives the way we think and act," he said.
Tasty Bite's mission statement is a five-part sentence developed on the Harvard Business School model of business strategy development; it won the school's award in 2004 and 2009. Vasudevan said each part of the sentence answers a question with a series of keywords that helps the company define long-term goals, annual objectives, and quarterly deliverables. Each department within the company has its own mission statement based on the same model, making it easy for newcomers to see how the pieces of the company work together and how the company operates as a whole.
"A guiding statement may seem on the surface to be constricting, but it provides enormous creative inspiration and flexibility; all employees know exactly what is expected of them, and they are free to build upon those expectations however they wish," Vasudevan said.
The first part of the mission statement answers the question, what is the purpose: to be a values-driven organization that will make Tasty Bite a household name. Vasudevan elaborated to say the company has a value ecosystem with three pieces: the employees, the consumers, and the community.
The value provided to the consumers comes from the rest of the mission statement, which says Tasty Bite is a manufacturer and marketer of natural, convenient, specialty foods and promises consumers great taste, good value, and a range of cuisine through product innovation, low-cost manufacturing practices, customer partnerships, and a knowledge-driven, energetic, and fun work environment.
For the employees, the value program is broken into health and wellness, which refers to the company's complete healthcare coverage and a unique practice: every meeting in every department starts with a minute or two of deep breathing. The second piece is learning and growth, which means Tasty Bite will help financially with any employee interested in going to school to further their knowledge base and will offer flexible schedules without reducing pay. The third piece, rewards and recognition, refers to Tasty Bite's Spot Award, which is given to an employee to recognize a significant achievement that he or she recently pulled off.
The result has been that both current and pervious employees of Tasty Bite are ambassadors for the company, and the positive, creative environment at the company attract the best and the brightest.
The third facet of Tasty Bite's value system refers to the company's goal of positively impacting its community in any way possible. For example, because food manufacturing uses hundreds of thousands of liters of water per day, Tasty Bite recently installed a water conservation system that saves at least 10%, nearly 40,000 liters, every day. Enough, Vasudevan said, to sustain a village. Also this year, the company switched the fuel for its water boiler from fuel oil to sugar cane waster briquettes; 100% of all Tasty Bite products are thus manufactured with renewable resources.
This year also saw the beginning of a new partnership with the University of Wisconsin in Madison, which won a grant from the USAID organization to launch a farming outreach program. The school chose to work with Tasty Bite, and now the company's farm is a demo site for teaching local farmers advanced techniques.
Tasty Bite has a few other longstanding traditions that better its community. For one, whenever there is a natural disaster, the company finds a way to send its food packets free of cost. Often, employees in the factory voluntarily choose to work a shift without pay to donate to the disaster relief. Since the products are healthy and don't require refrigeration, they are perfect for the task. The company also matches every dollar the worker's cooperative at the factory in India raises to put toward scholarships that will keep employee's children in school from elementary all the way through post-graduate.
"We are not a large company, but we don't think that matters," Vasudevan said. "We feel success is more than the profit at the end of the quarter; it is also the smiles we bring to the people we touch."