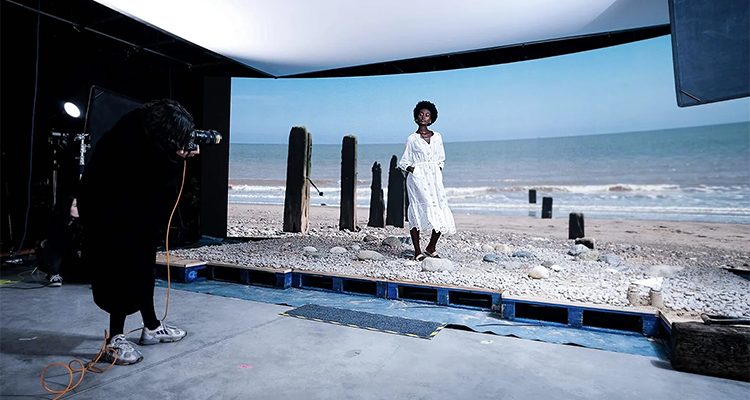 Team ITG brings the beach to Birmingham for Jaeger, to demonstrate the sustainable future of marketing
Using its Capture production studio, the company is able to create location-based experiences that reduce the need for air travel in facilitating campaigns
The technology-driven, marketing activation company, TEAM ITG, has brought the beach to Birmingham to deliver a state-of-the-art extended virtual production marketing campaign for fashion retailer Jaeger.
The video and photography shoot took place at Team ITG's Capture production studio in Birmingham, using its 10m x 3m virtual production screen to create fully functioning locational experiences of the beach, countryside, a garden party, and London's Mews Street, to form Jaeger's British road trip concept shoot.
Utilizing virtual production, the shoot was completed in just two days, and showcases the future of sustainable marketing campaigns. Carbon footprints can be cut, as international scenes can now be created at home.
James Chittenden, Creative Officer and MD of Capture for Team ITG stated: "Virtual and extended reality productions are set to be transformational tools for the future of marketing. Enabling high-complexity, high-cost campaigns to be made simple, in one location at Capture, in a more cost-effective way. Eliminating the need to fly products and models out to exotic locations is a huge benefit for brands driven by sustainability, making campaigns easier, more efficient, and climate friendly, at a time when budgets are being squeezed."
Lawrence Christensen, Head of Marketing Brands at Jaeger and M&S, added: "Content-rich campaigns are highly sought after by retailers, with a constant need to keep consumers engaged across all channels, physical and digital. The ability to produce and localize large volumes of content quickly and efficiently from a two-day shoot is hugely beneficial, and the Capture virtual production studio enables the customization and creativity that our campaign needed."