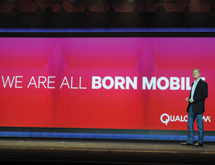 Representing all aspects of the technology ecosystem, the International Consumer Electronics Show (CES) Jan. 7 to 10 in Las Vegas will feature the world's largest hands-on showcase of emerging innovation. CES is the global gathering place for all who thrive on the business of consumer technologies.
The 2014 CES Tech Titans keynote series of addresses will be delivered by Intel CEO Brian Krzanich, Audi Chairman Rupert Stadler and Sony CEO Kazuo Hirai.
The 2014 CES will also feature a robust conference program. Each year, CES show management organizes the show to feature the industry's latest developments and discoveries. TechZones (TZs) are areas of the show floor dedicated to developing trends that highlight innovation in some of the newest and most exciting product categories.The 2014 CES will feature 20 TZs highlighting innovation across 15 different product categories, including wearable technology, 3-D printing and motion-sensing devices.
New TZs at the 2014 CES include:
Wrist revolution: This is where style, sensors and connectivity intersect.
3-D printing: With the advancement of the digital technology supporting 3-D printing, these machines are moving towards more compact units with affordable price-points for today's consumers.
Academia tech: Academia tech focuses on the unique technologies coming from colleges and universities. This TZ will showcase a collection of academic institutions including Columbia University, N.C. State, University of Texas at Austin and Penn State University.
Motion tech: This will showcase some of the leading innovations in the progressive field of sensor technology, including the tiniest motion-sensing devices of all called micro-electro-mechanical systems (MEMS). These provide gesture recognition, augmented reality and eye-tracking technology.
Fashion ware: From jackets that adjust based on outside temperature to solar-charging handbags to health-monitoring devices, the newest innovations and the latest wrist-wear and eyewear are included. Style, function and technology intersect in this exhibit space.
For more information, visit www.cesweb.org.