Tech Wednesday – More Examples of Technology That Can Change Retail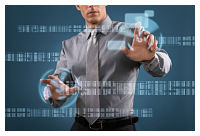 Jan. 29, 2014 – Seems like not a day goes by without hearing news about technology changing the retail landscape in stores and online. Today is no different. Read on for snippets from a few of today's top retail tech news stories.
3dcart App integrates Amazon product ads into e-commerce platform – Today, 3dcart, a leading web-based e-commerce software provider, launched a new app with Amazon product ads integration for its more than 17,500 online store owners. The app will expose 3dcart merchants to a wider audience; Amazon product ads provides Amazon.com customers seamless access to products available on external websites.
"We are delighted to offer our merchants such a great exposure opportunity through Amazon Product Ads as the app will allow our customers to reach a much larger audience," says Gonzalo Gil, CEO of 3dcart.
Modell's CEO Mitchell Modell welcomes Super Bowl XLVIII fans to flagship Times Square store via the Tensator Virtual Assistant – Tensator, the world leader in queue management and customer journey solutions, today announced that Modell's CEO Mitchell Modell is welcoming Super Bowl XLVIII fans to its Time Square flagship store via Tensator's Virtual Assistant interactive next-generation digital signage. Tensator's cutting-edge technology projects an image and creates the illusion of a real person – bringing messages to life and engaging customers with consistent and clear communications. With its interactive push button panel, store guests are able to access the information they need in 10 different languages.
"The Tensator Virtual Assistant takes digital signage to a whole new, personalized level," said Lynn LaRocca, Senior Vice President, Marketing at Modell's Sporting Goods. "It's fantastic to be able to capture the personality of Mitchell and have him be the one to guide, inform and connect with shoppers from all over the world as the face of the company and its brand."
"We are pleased to partner with the team at Modell's and are happy that they have turned to Tensator to improve their customer in store experience. Having the 'Virtual Mitchell Modell' welcome, thank, inform and engage international shoppers will provide a positive in store experience for the Modell's guest," said Bill Vetter, SVP and GM, Tensator, Inc.
ACI Worldwide and Integrated Research bring mobility to payments monitoring – ACI Worldwide, a leading international provider of electronic payment and banking systems, and Integrated Research, a leading provider of proactive performance management software, today announced the availability of Prognosis 10 for Payments. Developed by Integrated Research, Prognosis 10 powers ACI Payments Service Management to deliver completely integrated performance management for ACI payments and fraud management environments.
"Prognosis 10 is a major new release in our leading payments solutions line. Organizations across the globe have come to rely on Prognosis to help them minimize costly outages, enhance fraud protection and cut the cost of productivity downtime that can damage both bottom line and reputation," said Darc Rasmussen, CEO, Integrated Research. "ACI has a global footprint and leading position in the payments marketplace and we're excited to bring this latest release to their broad customer base. Together, we're delivering complete and integrated performance management solutions."
"The payments industry is undergoing a dramatic shift. The critical nature of payments monitoring coupled with the growing need for financial institutions to have anytime, anywhere access to real-time data makes Prognosis 10 the logical choice for system health monitoring, reporting and insight," said William Proctor, vice president and product line manager, ACI Worldwide. "Our long-standing partnership with Integrated Research gives our payment and fraud customers the industry's most comprehensive options for real-time transaction and system monitoring."