Tempur-Pedic Makes Donation To Pancreatic Cancer Action Network At 2013 Las Vegas Market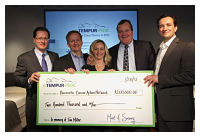 Jan. 29, 2013 – Tempur-Pedic International Inc., a leading manufacturer, marketer and distributor of premium mattresses and pillows worldwide, made a special donation to the Pancreatic Cancer Action Network at the 2013 Las Vegas Market on behalf of the first 250 show attendees who participated in a Tempur-Pedic Rest Test of its expanded line of luxurious new mattress products, displayed in showroom C-1512. Attendees were invited to take a Rest Test and try the company's newest product innovations. On behalf of Rest Test participants, Tempur-Pedic made an additional donation of $12,500 to the Pancreatic Cancer Action Network in a check ceremony as part of its 2012 total donation of $200,000.
Tempur-Pedic has a long history of supporting the Pancreatic Cancer Action Network and its comprehensive approach to fighting pancreatic cancer through research, providing vital patient support, community outreach and advocacy for a cure. To date, the company has raised more than $1.25 million, in part to help fund four research grants.
"Through our ongoing Tempur-Pedic Hugs Back campaign, we've enjoyed the privilege of working with the Pancreatic Cancer Action Network for many years. In 2013, we remain dedicated to supporting the network and plan to continue bolstering it in any way possible by working with our retailers and our organization, starting with this donation at the Las Vegas Market trade show," said Rick Anderson, president of Tempur-Pedic North America.
"Tempur-Pedic has had a tremendous impact on our organization and we are extremely grateful for their ongoing support and dedication to this cause," added Julie Fleshman, president and CEO, Pancreatic Cancer Action Network.