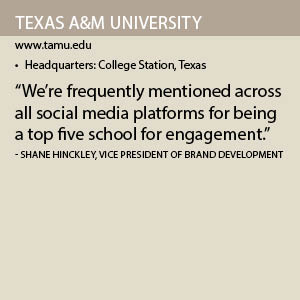 When Hinckley joined the college in 2008, "We were ranked 25th in terms of our overall sales and volume among colleges," he recalls. Under his leadership, Texas A&M has raised its ranking to fifth.
Hinckley credits this to multiple factors, including the prominence of the school's athletic program. In 2012, its football team, the Aggies, entered the Southeastern Conference and quarterback Johnny Manziel won the Heisman Trophy. "People became more aware, both in the state and nationally, of the program," Hinckley says.
Today, the most popular Texas A&M licensed items include headwear, apparel, socks, footwear, and other items that are sold by hundreds of retailers in its home state, as well as online. "We've probably sold more product than about two-thirds of the NFL teams," he says.
The university also has earned a strong following online. "We're frequently mentioned across all social media platforms for being a top five school for engagement," he says, adding that The Wall Street Journal ranked Texas A&M No. 3 among all universities in student engagement.
Extending the Brands
The success of Texas A&M's licensing program has not been built on products alone. The university also participates in lifestyle engagement opportunities, which is an approach shared by '47.
"'47 is unique because they believe the natural extension of the brand is through brand engagement," Hinckley says. "We felt we needed to have a partnership with a company that was strong in other lifestyle areas than just the athletic space, and '47 really checked those boxes for us."
Both organizations brought this expertise to the recent South by Southwest (SXSW) Festival in Austin, Texas. '47 Vice President of Marketing Wayne Best explains that the event allowed Texas A&M to show a different side of itself.
"Shane wanted to bring a different lifestyle opportunity to the mix and not just be academically focused, but communicate the diversity of the institution," he recalls. Texas A&M and '47 partnered with The FADER, a prominent music media outlet, to create the "'47 x FADER Sessions," a three-day interactive, musical experience at the Texas A&M House.
Texas A&M House featured informational seminars on Texas A&M research by students and faculty. Thanks to the Texas A&M and '47 partnership, the House also hosted nine headlining music acts, open-mic performances from local Austin artists and live DJs.
"What happened was we started to engage different demographics of the population that wouldn't have thought twice about Texas A&M," Hinckley recalls. "They were lining up outside the showroom to see the next up-and-coming artist at the Texas A&M House."
A Great Escape
Texas A&M and '47 also recently presented an Escape Room during "Howdy Week" at the university's student union building.
In the game's premise, a rival team has stolen the Aggies' playbook and students solve puzzles in order to get it back. "We also had some campus micro-influencers go in and be a team of their own," Hinckley adds, noting that these students spread the word about the three-day event on social media.
"The idea of creating an Escape Room was appealing because it was totally customizable, which provided flexibility to tell the brand stories of both Texas A&M and '47 through a fun and challenging game," '47 Interactive Marketing Coordinator Erika Wentzell says.
Winners received gift cards for the Barnes & Noble location on campus, which featured a small '47 store. Unfortunately, Hurricane Harvey hit immediately after the event.
As a result, the university's September sales were "understandably down slightly," Hinckley admits. "But the brand that was up was '47. When you tie in all these engagement opportunities, it puts a premium value on the brand."
Giving Back
Thanks to its connection to '47, Texas A&M takes part in Operation Hat Trick (OHT), a nonprofit that supports U.S. veterans with proceeds from the sale of merchandise. "One of our core values at Texas A&M is selfless service," Hinckley says.
The organization also is a good fit for the university, with its status as a former military school. Many Aggies, he adds, have gone on to serve in the military. "The group that had the exclusive [contract] on Operation Hat Trick was '47," he recalls.
The university, he notes, was excited to launch Texas A&M/OHT branded '47 headwear and apparel, and plans to continue the partnership long-term. "It's important that we have that service component as an extension of our program," he says.
Driving Growth
Texas A&M and '47 plan to continue their partnership at next year's SXSW. "We're going to continue to push the lifestyle message for them," Best says. "They're very proactive with the ideas they're bringing to us."
The future also will include more brand engagement, Hinckley predicts. This will involve "more activities, more use of micro-influencers and creating a premium experience that's going to drive our brand growth," he says.