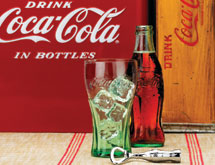 With a brand that spans gen­erations – all the way back to 1886 – capitalizing on that longevity while still remaining hip and cutting-edge is the challenge for the worldwide licensing group of Coca-Cola. "For us, continuing to stay relevant with each new generation is important," emphasizes Kate Dwyer, group director of worldwide licensing for Coca-Cola. "We closely follow trends and technology advances to make sure we are at the pulse of what is happening in the market and continue to be relevant."
Deklah Polansky, design director for Coca-Cola Licensing, stresses the involvement of the fresh and cutting-edge licensing design team. "They are much closer to the brand, and they live and breathe it every day," she points out. "It's the passion they experience in their lives outside of work that mirrors their passion to the brands."
Coca-Cola continues to partner with designers and retailers in an effort to keep the brand relevant to today's consumers, from age 12 – the millennial generation – and up. The company also has collaborated with a number of artists on dual-branded products. "This huge movement of collaborating with different designers and artists is clearly an opportunity for us to continue to stay relevant and meaningful to our consumers," Dwyer points out.
Coca-Cola takes advantage of millennials' close relationships with their parents. "Coca-Cola is a brand that spans generations, absolutely," Dwyer asserts. "The blurring of generations is certainly something new that is more relevant today than in the past."
Unlike many other brands, Coca-Cola's is one that can be found in boutiques as well as among antiques. "Our internal design team works really hard to look backwards and forwards," Polansky points out. "We always leverage historical archival artwork that we interpret in a current and modern way so it is relevant to a particular trend in the market. So it always has a way of feeling current and now, even though it's 125 years old."
Licensing Opportunities
With such an iconic brand and long history, the Coca-Cola worldwide licensing group can be choosy about where its brand appears. "We have four key areas we focus on for our licensing endeavors – brand expression, teens, occasions and consumption," Dwyer explains. "Then we build out categories that support that product range. So from an innovation standpoint, sometimes innovation may mean designing a new glass, given the importance of this category. Other times, it may mean doing something new and different that we've never done before, such as making existing products from recycled Coca-Cola bottles."
For obvious reasons, licensing drinkware with the Coca-Cola logo is important. "For us, we look at drinkware as a huge priority due to the close association to the beverage," Dwyer continues. "Seventy percent of Coca-Cola consumption occurs during the meal occasion. We believe Coca-Cola is as much about the experience, as it is a brand or product."
"We're really focusing on the emotional experience of holding the glass – the smell, the sound, the ice-cold sensorial experience of it. It's really that emotional context that makes Coca-Cola an icon," Dwyer adds. "So by designing products that enhance the consumption experience and make it more special, we continue to deliver against our brand promise and inspire moments of happiness."
The straight-wall glass drinkware category is being designed to deliver not only that sensorial experience but also an aesthetic one. "We are working on a new program for drinkware where we have enlisted six illustrators and fashion designers to create designs that will go on glassware for us," Polansky announces. "This is part of our effort to infuse fashion, which is a huge passion point for teens and young adults. We are working to launch that next year, and we are in the production stages."
One glass from each designer would make up a six-pack. The company also is working with a well-known industrial designer to develop two new forms for Coca-Cola drinkware that will feature the Coca-Cola logo in different variations.
"It's really about consumer connections – teens and young adults are our primary consumer segment, so we design products that appeal to them," Dwyer notes. "We have put a heavy emphasis on fashion and lifestyle products over the last few years. Vintage is becoming increasingly a smaller part of what we do because for us, it is important to stay youthful, modern and well-advanced. We have spent a lot more time against developing the fashion, sports and technology categories."
Selecting Licensees
Coca-Cola's first licensed product was a chewing gum in the early 1900s. In the 1980s, the then-little-known Tommy Hilfiger designed a rugby shirt with the Coca-Cola logo that he remembered in his coffee-table memoir. "It was his first big entry into the market," Dwyer relates. "It really launched his career in the U.S. Rugby shirts were a big fad in the 1980s. I actually owned one of the Coca-Cola ones, which is funny. It was a great teen fashion item."
Coca-Cola generally restricts its licenses to no more than five years. Newer licensees may initially receive licenses for only one year. "We have partners we have been with for 20 to 30 years," Dwyer says.
Because of its iconic status, Coca-Cola can attract the best licensees. "Retail penetration clearly is important," Dwyer asserts. "When we have deviated from that and found partners that have great products or designs but limited retail distribution, it has not been successful for us."
Licensing the Coca-Cola brand has recently become more international. "In the last five years, we have had a dramatic shift where international is closer to 70 percent of our total business," Dwyer says. "It's really just incredible growth that has occurred outside the U.S., and we are focusing a lot more attention in building out our international business."