Based in Renton, Wash., Evergreen Market was founded by three dads from Issaquah who met when their daughters were in a Y-princesses YMCA program. It has become a leader in the state's recreational cannabis market by making its stores open and welcoming to anyone, as well as offering outreach events, education sessions, sponsoring a local MMA fighter and publishing a cookbook about how to make infused dishes with proper dosing. But what also sets Evergreen Market apart is that it has a proprietary position on staff dedicated to education.
"We were, and still are to a degree, outsiders to the industry," Co-Founder Jeff Anderson explains about himself and his founding partners, Eric Gaston and Arne Nelson. "We were not dabbers and cannabis was not part of our daily life back then when we got started. We kept thinking 'how are we going to enter this industry where we don't know if we're welcome and don't know what we're doing?' So we hired an industry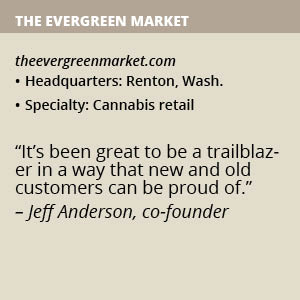 insider to help us get on track with the people side of things, and we were left to create the brand, mission, vision, look and feel of our stores."
As outsiders coming into the industry, inclusivity ruled the minds of the founders. They wanted the stores to be novel and fun to those who were trying cannabis for the first time, but not off-putting to those who knew cannabis well. At the same time, Evergreen Market only wanted to offer the finest flowers, edibles and concentrates from growers and producers who had a strong passion for the market. Staffed with friendly and knowledgeable employees, Evergreen Market's stores have products in deli-style cases, coolers and at a Knowledge Bar, where budtenders can help customers learn more about products. Additionally, the Evergreen Express counters at some locations allow customers to easily and quickly pick up online orders.
"I've been in the industry for about five years and worked at a different dispensary prior," explains Nikki Marangon, marketing manager and brand strategist. "The other dispensary had plenty of success, but I was drawn to Evergreen Market because it had a bigger vision. It's not just about being a great dispensary – Jeff, Eric and Arne have a vision that the world would be better if cannabis lost its stigma. It would be a better world if people were more free to choose cannabis, so we try to make cannabis more accessible and approachable. Being hip and trendy is not always the best way to get people in. When I started, one of the first things Eric said to me was that some people say Evergreen Market is becoming the Starbucks of cannabis, but he wants Starbucks to be the Evergreen Market of coffee."
Ongoing Outreach
To be approachable to customers, Evergreen Market is actively involved in outreach efforts. This fall, Evergreen Market hosted the second-annual Evergreen Cup, which is a double-blind cannabis competition created to celebrate growers. Marangon notes most competitions are pay-to-play and about "who you know," but the Evergreen Cup is about giving true, authentic grades to the best growers. The Evergreen Market also sponsors Talon Hammons, a successful MMA fighter who is a cannabis advocate, and uses CBD vapes and topicals for pain relief from training.
Stressing "cannabis isn't just for delinquents anymore," Evergreen Market has found one of the fastest growing demographics for cannabis customers in Washington State is seniors. For example, topicals can ease physical discomforts, and educators from Evergreen Market are happy to visit senior centers and retirement communities to answer any questions residents have.
"We talk to them about topicals to help with pain or stiffness, because it's about creating a higher quality of life," Marangon says. "Inevitably, some of them want to know what will get them really high, and that is always a fun conversation. A lot of people who are going into assisted living facilities may not be new to cannabis, but they may need to be reintroduced to it."
Additionally, the Knowledge Bar at each location allows customers to sit, relax, examine buds under a magnifying lens and spotlight, and read books and news articles on cannabis culture. Some books explain how to roll a joint or why you should keep a clean bong, and the local budtender or educator is there to enlighten and entertain.
"We are a very all-inclusive company," says Porcia Droubay, merchandiser and vendor relations. "We like to wrap our arms around anyone who is willing to have an open mind to cannabis. We set up one-off displays that are interesting and educational. Take the vaping issue right now – it has involved a lot of signage and work ensuring the communication from the signage matches what budtenders are telling consumers."
Trailblazing Pride
Anderson explains the "true north" of The Evergreen Market is to normalize cannabis in the public eye. Its efforts in this realm earned the company the No. 621 spot on this year's Inc. 5000 list, making it the 14th company overall in Washington State, the 11th company in the Seattle area and No. 1 for retailers in Washington.
This past April, Evergreen Market opened its fourth store in Kirkland, and in August it opened its fifth store in Bellevue. Even though Washington has a five-store cap on owners at this time, growth continues for Evergreen Market, having received its first out-of-state license to open a store in California in 2020. The company plans to continue its outreach, education and dedication to help people "discover a higher quality of life" in other states, as well.
"The relationships we've forged here are full of good partnerships," Anderson stresses. "We will continue to keep that at the forefront of our company. Every time I bring someone from out of town to one of our stores, there is shock and awe because everything is so beautiful and clean. We were on the edge of making this an industry from scratch, but it's been great to be a trailblazer in a way that new and old customers can be proud of it."