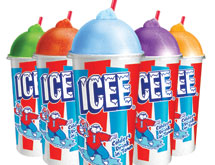 "When someone finds out I'm with The ICEE Company, I'll hear about how they take their kids to Target on the weekend and everybody gets an ICEE," Fachner explains. "Or [they'll tell me], 'I remember when my dad took me to the local convenience store and ICEE was our treat for the weekend.'"
Ontario, Calif.-based ICEE's history goes back to the 1960s, when founder Omar Knedlik got the idea for the company in his kitchen. One day, he discovered that his refrigerator had partially frozen several bottles of soda, which created a cool, unique beverage.
When Knedlik began serving the concoction at a Dairy Queen location he owned, he won good customer reviews, inspiring him to start ICEE. Through the years, Fachner says, the company grew with the help of "strong, vibrant customers," including retailers such as Target, K-Mart and Walmart.
"When they opened a new store, we had the opportunity to be part of the grand opening," he says, noting that ICEE is the most recognized brand in the frozen beverage market today. ICEE has 36 flavors and sells 500 million drinks a year.
The ICEE brand is sold in over 55,000 retail locations. "We also service a variety of equipment in the foodservice industry," Fachner adds. "In total, The ICEE Company services approximately 80,000 pieces of equipment."
ICEE's products are quenching thirsts outside of the United States, too, in such places as Canada, Mexico, China and the Middle East. Additionally, "Some of the newest markets that we've entered are in Panama and Colombia," Fachner says. He has visited these two Latin American locations, and reports that their ICEE sales are "robust and growing."
The ICEE Company's products are sold in the largest movie theater chain in Colombia, Cine Colombia. "They're rolling them out into those theaters as we speak," he states.
Product Pride
Fachner joined ICEE in 1979 as a service technician and became its president in 1996. "I've held just about every position we have in the company," Fachner says. "I'm a person who understands the demands of our business."
During his time at the company, he has seen the ICEE brand grow in consumer recognition. "I can remember the times [when] I had to describe to people what an ICEE was," Fachner recalls. "Today, when we say we work for the ICEE Company, people recognize ICEE first and foremost."
Fachner states that ICEE's products are "simple, wholesome treats." He adds he is proud to be part of a company that brings happiness to so many people. "That's one of those things that makes working for this company so enjoyable."
He says he strives to make himself approachable to all employees. "I think you have to be in today's environment," Fachner says. "My management style would feel a lot like a being part of a team to most people. Everyone is on the same team, playing different positions and if we all execute properly, we win."
He adds that The ICEE Company maintains an upbeat work environment. "If you were here, you would enjoy the job," he asserts, adding that the company rewards its workers with incentives.
"We have a tremendous amount of tenure throughout the company," Fachner adds. "We always like to say, 'Once you're in, you bleed ICEE blue or ICEE red.'"
Fachner adds that the firm has many employees who have been with the company for more than 20 to 30 years.
"We have added bright, young talent along the way," he asserts. "Continuing to add strong, new talent along with sound veteran employees helps us grow in all areas of the company."
Branching Out
ICEE's recent projects include the addition of two new light flavors, mango and strawberry lemonade. According to Fachner, both have 33 percent fewer calories than original ICEE flavors. "We've seen some excellent results from it so far," he says.
"These flavors appeal to those looking for healthier treat or snack options," Fachner says. "At only 5 calories per ounce, we can offer our consumers a very low calorie treat."
But getting there was a long process, he admits. Although ICEE had many requests for a light or diet flavor, the company found itself unable to produce such a beverage without the sugar. In addition to providing an appetizing taste, the sugar acted as a freezing control for the product. Sugar Free ICEE has non-caloric, FDA approved solids, which replace the freezing property of sugar. Light ICEE has 33 percent less calories than traditional ICEE and contains sufficient sugar to maintain freezing properties.
The company also has branched out beyond beverages with the ICEE Maker app, which users can play on their iPhones, iPods or iPads. Created by Sunstorm Interactive, players create their own cups and lids for ICEEs, as well as play a game where they see how many ICEEs they can "drink" in one minute.
In the last half of 2011, the app ranked as the No. 1 earner for kids' games at the iTunes APP Store and has had more than 11 million downloads."We held the No. 1 spot on a free app for seven weeks, [ahead of iconic game apps such as Angry Birds]," Fachner says.
The ICEE Company also has branched into licensing with Atlanta-based licensing company Design Plus. Over the last four years, the two firms have developed T-shirts, cosmetic products, candy and a toy that allows consumers to make their own ICEEs. "It's been a great ride with [Design Plus]," Fachner says, noting that the products are available at retailers such as Kohl's, JCPenney, Walmart, Target and Old Navy.
Design Plus CEO Carol Janet returns the love. "Like the ICEE brand, working with the ICEE team is still cool after all these years," she declares.
Reaching Customers
ICEE plans to expand its reach in social media. "We're on Facebook with about 2.4 million fans," Fachner says. "We're continually finding ways to expand our social media reach."
He adds that ICEE will launch its own Twitter account in four weeks. "We believe that social media is here to stay and will continue to grow," he says. "As a company that wants to communicate directly with our consumers, it's very important to us."
The company also meets customers face-to-face at many trade shows throughout the year. In October, ICEE will exhibit at the National Association of Convenience Stores show in Las Vegas. "We have been in that show for about 20-plus years," Fachner declares. "When you think of ICEE, a lot of convenience store from across the country come to mind."
Fachner says it is critical for ICEE to attend these shows and events. "It's a chance for us to show new offerings for our potential and current retailers," Fachner says. "[But] it's not just about getting new customers. It's [also] about talking to the present customers we have today."
Fachner sees more growth ahead for The ICEE Company, with the addition of more light flavors as well as the continued strengthening of its long-established products. "Blended flavors such as strawberry banana, raspberry lemonade and orange creme have been really strong for us for the past few years," he says.
"I think the future looks real bright for us," Fachner continues. "We have a great product an iconic brand that's sold at an affordable price."