The latest retail and merchandising marvels from Rovio, the developer of one of the world's most successful games
Bird is the word
When we spoke with Rovio Entertainment Corporation (Rovio) earlier this year, the Finnish developer, which is best known for creating the Angry Birds franchise, told Retail Merchandiser that it had a busy few months ahead. With over five billion downloads of its hit mobile games, plus two feature films and multiple television and web shows, Rovio is in an ideal situation.
"Since our last feature, the wheels have certainly been in motion," begins Katri Chacona, Director of Brand Licensing at Rovio. "This year has been a huge one for the Angry Birds brand, with various new game launches, partnerships, and our first long-format animated series."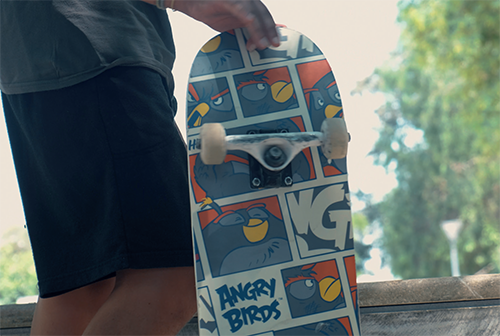 In the last six months, Rovio has also increased its integration with sports brands that reflect positive values of staying active and healthy. Having just partnered with Rovio, Yunes Ben, Head of Marketing & Communication at Venum, the world's leading manufacturer of combat sports equipment and apparel, said: "This collaboration is designed to combine utility with pleasure by enabling children to have fun while developing their cognitive abilities."
The deal will see an exclusive line of combat sports and lifestyle products – boxing gloves, bear paws, reflex bags – all based upon the Angry Birds universe and its characters: Red, Chuck, Bomb, the Green Pigs, and so on. By partnering with Venum, Rovio intends to get more children active in a fun and safe way. In addition to the physical products, an exclusive augmented reality experience will be accessible to buyers – all they need to do is scan the special QR code on the packaging!
Another example is Rovio's partnership with Capsule Skateboards (Capsule), a Cyprus-based company that takes an alternative approach to skateboard manufacturing. "Instead of using trees to build the decks, Capsule has invented a new, more sustainable skateboard made of a special high-quality polymer compound resulting from meticulous research and development from their team of skaters and engineers," explains Katri. "The decks are waterproof, impact-absorbing, and longer lasting than traditional boards. Capsule decks are also 100 percent recyclable, free from toxic glues and resins, and proprietary construction technology provides a more durable and eco-friendly board that is lightweight. In short, it provides a whole new skating experience for the end user."
Regarding the company's games, Rovio is a business that listens to its fans. This has led to the return of the original, premium Angry Birds game, which has been requested for years. Another development that quickly followed suit was a collaboration with Mighty Mojo Toys. "We wowed people by bringing back the original Mighty Mojo plush toy, a classic and firm favorite among Angry Birds aficionados," says Katri. "By turning casual players and viewers into passionate fans, we are purposefully building a more robust fan base, leading to better brand engagement and equity for decades to come."
An additional pair of Rovio's new merchandising partners are Ion8, which is based in the UK and creates leakproof hydration water bottles, and Four Seasons Design, a seasoned manufacturer of apparel. "Bright colors, durable powder paints, and 3D tactile prints bring Angry Birds to life with Ion8's legendary OneTouch water bottles," comments the former. Four Seasons Design is similarly proud of its association with the Finnish game developer: "We are excited to announce a new relationship with Rovio. As a registered licensee, Four Seasons Design will put to work its 22 years of apparel and accessories manufacturing experience to create innovative new products for all Angry Birds fans."
Leading the development of these ventures is IMG, the licensing agency that facilitates an ever-expanding range of Angry Birds merchandise and commercial partnerships. "IMG is our global exclusive licensing agency and, in 2020, we built a new licensing strategy, which is now starting to come to fruition with regards to new partnerships," details Katri. "IMG is the biggest licensing agency of its kind. With personnel all around the globe, it allows us to build on the program exponentially. Our strong relationship with them, as well as our common goals, means we are able to grow the business successfully and in the right direction."
On its fruitful, ongoing collaboration with Rovio, Bruno Maglione, President of Licensing at IMG, comments: "Angry Birds is one of the most recognizable brands in the world and is loved by people across generations and territories. We have worked to identify the right opportunities for the brand so that we can deliver authentic collaborations that capture the values and energy of Angry Birds and appeal to loyal fans and partners alike – whether that is performance-based lifestyle products, eye-popping sporting equipment and collectibles, or memorable physical experiences."
It is clear that Rovio is bridging the gap between mobile video games and, well, the rest of the retail merchandising sector. Partners like Somerbond and PowerLocus attest to the success and commercial fortitude of the Finnish developer. "As an award-winning licensee of apparel, we are excited to announce our renewed partnership with Rovio, bringing to market innovation and creativity – not to mention 35 years of experience," says the former. "Our first range of Angry Birds merchandise will hit the Angry Birds World Theme Park stores in Qatar this November."
Similarly, PowerLocus is keen to express excitement for the company's burgeoning partnership with Rovio: "We are happy to announce the start of our new cooperation with one of the most successful game developers in the world. We specialize in the development of audio and consumer electronics, and as such we are eager to put all our expertise and creativity into the task of designing sleek headphones for all Angry Birds fans."
On top of these partnerships, the company released multiple announcements for exciting Location-Based Entertainment (LBE). "This has been a really important development and growth area for the brand. We have several launches planned this year, and even more in 2023, including the first Angry Birds café, where fans will be able to step into the world of Angry Birds every time they enter," says Katri.
The café will double up as a retail store and will be located inside a mega-development in Flushing, NY, acting as a central hub for the global phenomenon. Fans of Angry Birds will be treated to the nation's largest collection of merchandise, and the bakery will be fully stocked with sweet treats, such as cake pops, macarons, and bubble tea.
"Scheduled to open later in 2022, the café will feature many unique photo opportunities and a specialty menu," reveals Katri. "The location uniquely combines the Angry Birds game and movie character aesthetic with a newer, smooth combination, allowing fans to enjoy all versions of the characters they know and love."
But there is more! Across 12 UK and US locations, Immersive Gamebox will host an interactive Angry Birds gaming experience like no other, allowing fans of the franchise to engage themselves in a life-sized version of a slingshot adventure game. Launched in June, fans have been eagerly trying the one-of-a-kind, hyper-immersive gameplay, running through various levels where different teams must compete to destroy digital adversaries with two slingshots. Utilizing the latest technology, such as projection mapping, motion tracking sensors, and touch screens, players must collaborate and work together if they want to win.
Building the brand
Alongside that, the global pop culture phenomenon has been turned into a theatrical performance: Angry Birds Live: The Slingshot Adventure! The stage show will feature some of the franchise's most beloved characters, including Red, Silver, and Leonard, as they comically progress in an entertaining (mis)adventure that incorporates iconic gameplay elements in its presentation. Spearheaded by Kilburn Live, a global market leader in branded live family entertainment, this is just one example of how Rovio is using its well-established brand to break down boundaries and show the world the vast commercial and entertainment applications that a mobile game can have.
"All of these projects expand the brand to new audiences in innovative and exciting ways," explains Katri. "These experiences take Angry Birds outside of the digital world and allow fans to be part of a bigger story – one told with real life experiences.
"Angry Birds is over ten years old and it is growing into an evergreen brand with multiple touch points," she reflects. "The multi-generational product continues to expand into new marketplaces and media, with different experiences targeting different demographics, such as games for older audiences, movies and television series for families and children, and LBE for all. By building the brand in these different areas, we are able to collectively elevate it."
Like any good magician, Rovio always has something new up its sleeve. Unexpected and exciting, but always pushing the envelope of what is possible in gaming and merchandising. "Looking forward, we have a clear roadmap for each business area – games, content, social media, products, and LBE – to support the brand for years ahead," concludes Katri. "In terms of content, our first long-form animated series, Angry Birds: Summer Madness, was released on Netflix earlier this year. Over three action-packed seasons, fans are given a more in-depth look at the Angry Birds characters and their teenage histories. It should not be missed!"
www.rovio.com