The New York Times Collaborates with Byliner on a Line of Original Short E-Books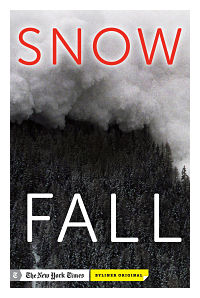 Dec. 13, 2012 – The digital publishing startup Byliner announced today a collaboration with The New York Times for a series of co-produced e-shorts that play to the Times's longstanding reportorial strengths in culture, politics, sports, business, science, and health and feature some of its finest writers. The collaboration will yield up to a dozen New York Times / Byliner Originals in the next year. Most will be entirely new stories not available in the paper or at NYTimes.com, while others will occasionally grow out of related Times reporting. These Originals, ranging between 10,000 and 20,000 words, are written to be read in a single sitting.
The first co-published title, Snow Fall: The Avalanche at Tunnel Creek, by Times reporter John Branch, will be released this Monday, December 17. In it, Branch tells the harrowing narrative of a group of world-class skiers caught in a deadly avalanche in Washington State. It expands significantly on an article that will publish in Monday's paper.
Among future contributors to the Times–Byliner partnership will be Pulitzer Prize winner David Leonhardt, Washington bureau chief of the Times; and Pulitzer winner James B. Stewart, business columnist for the Times and the author of the bestselling Den of Thieves, among other books.
"Byliner's mission is to bring readers great stories by great writers, and we're thrilled to be partnering with The New York Times on this series of original narratives," said John Tayman, Byliner's Founder and CEO. "The Times has a deep and unparalleled tradition of extraordinary journalism, and we look forward to finding, developing, and publishing many important and lasting stories together."
"Our access to great journalism and talented writers lends itself to the e-book platform," said Gerald Marzorati, Editor, Editorial Development, of The New York Times. "We are excited to deliver, in collaboration with Byliner, the very best long-form journalism to readers."