These distinctive challenges are what have shaped North West into a leader in its market. With a Waskaganish, Quebec, store that dates back to 1668 and the official formation of North West in 1779, the company has more than 200 years of experience in dealing with and overcoming regional complexities. Throughout the last two centuries, North West has honed its strong logistics and community insight to deliver to communities ranging in population of 500 to 8,000 through snow, ice, hurricanes, insufficient infrastructure and global warming. These communities know North West as grocery stores: Northern, North West, Giant Tiger, Alaska Commercial, Cost U Less and Rite Way.
According to Canadian Retail President Alex Yeo, the logistics capability of North West is one of its greatest assets. "We often need multiple modes of transport to get to a store," he says. "Some deliveries go on roads, then planes and then a barge to get there."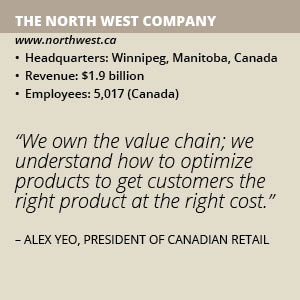 Going into remote areas is even more challenging with harsh weather. "We're much more affected by climate change," Yeo notes. North West has seen the effect of melting permafrost on its facilities up North, and Alex also noted that there is a higher incidence of breakdowns and electrical fires due to the wear and tear from harsh weather.
Knowing the Community
Along with highly effective logistics, the other major asset North West focuses on is its community insight. The retailer makes it a top priority to get to know the community and understand its needs. Knowing the community enables the company to provide valuable products and staff its stores more effectively.
One of the obstacles North West faces is staffing its stores in remote areas where there are fewer potential employees. The company focuses on finding store managers who are well-connected in their communities and have an entrepreneurial spirit. These characteristics give way to leaders who will properly staff their stores with people from the area.
Managers who understand their community are also effective merchandisers. "We own the value chain; we understand how to optimize products to get customers the right product at the right cost," Yeo says. "That, combined with our store managers – who bring that customer insight which allows us to customize our assortment – are our advantages over our competitors."
For North West, customer insight comes in the form of knowing the rhythms of the seasons and the people. This is where store managers shine. This year, one manager took advantage of goose hunting season to connect with customers who go out on the land for several weeks at a time.
The retailer meets those needs by stocking relevant items such as tents, big cans of condensed milk and 48-egg cartons that community members need when out on the land. "It's about merchandising to a certain need," he says. "I was in a store the other day. The manager had taken a picture of a goose and highlighted which plastic wrap was the best size for wrapping a goose." Apparently customers had been going through the store opening boxes to find a plastic wrap that would be big enough for the job.
Job Retention
Currently, North West's most important focus is employee retention. The company strives to recruit and train people from a store's community, but at times, managers do have to be hired from the southern areas and relocated up north. Once they're hired, it is important for them to stay in the community for enough time to understand the community's needs and drive the business.
A training center is located in Winnipeg where managers initially train for four weeks in business and culture. They learn how to work specifically with the people of their northern towns. After the initial training, managers attend the yearly Winters Partner conference where they catch up on training and choose from new learning modules.