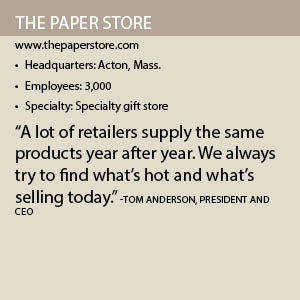 The Acton, Mass.-based specialty gift store chain has enjoyed explosive growth in recent years. Firing on all cylinders, it expanded its empire by 22 stores in the past two years. More stores are on the horizon this year.
As the largest of the Hallmark Gold Crown retailers in the United States, the retail chain opened its 72nd family-owned store in April. Anderson believes that The Paper Store's customer-focused strategy has helped its success. "We offer a unique experience from start to finish," Anderson says. The retailer is known in the industry for a wide selection of specialty gifts, women's fashions, accessories, jewelry, shoes, handbags, toys, books, stationery, home décor, sporting goods and even spa-like merchandise such as soaps and bathrobes. Carrying designers like Alex and Ani, Vera Bradley and SCOUT, The Paper Store aims to stay stylish. "On-trend" products are its specialty.
"Our store is a mixture of well-known brands that we mix with non-branded merchandise like our private label, Mia + Tess, that includes fashion products, accessories and jewelry," Anderson says.
Mia + Tess, is selling like hotcakes, he says. The Paper Store's merchants attend fashion shows, industry events and keep up with the latest trends. They then use that knowledge to pitch new merchandise for Mia + Tess.
"They know what's hot," Anderson says. "A lot of retailers supply the same products year after year. We always try to find what's hot and what's selling today."
A Woman's World
It's not by chance that more than 75 percent of The Paper Store's customers are women, Anderson says. With its focus on women's fashions, accessories and jewelry, The Paper Store markets specifically to women.
"We aim to make the modern woman our core customer," Anderson says. "She's a busy woman, trying to balance her family and career. She has no time to run from store to store. She is looking for a solution to help simplify and de-stress her life. This is where The Paper Store comes in."
Stacked with a wide variety of merchandise, the stores are designed to be a one-stop shopping destination for a busy woman. "We try to put all her shopping requirements into one box," Anderson says. "In a sense, we are a mini department store. We have the on-trend apparel she will want to wear. We have the cool toys her kids will want and we have the sportswear and gadgets her husband will love."
Brick and Mortar
Brick-and-mortar retailers often share a common enemy: the Internet. Online shopping, made especially convenient by online retailers like Amazon.com, continues to increase. "Amazon continues to swallow up a larger share of consumer purchases, reducing brick-and-mortar spending," Anderson says. "Our strategy to overcome Amazon is to reinvest and reinvent."
This means spending money to better market the company's brand along with creating a unique and memorable shopping experience for its customers and paying attention to their changing needs. "In this retail environment you need to be on top of your game to survive," Anderson says. "We remain committed to the brick-and-mortar piece of our business. This isn't to say we aren't committed to developing our e-commerce side of the business."
The company is investing "significant dollars" to further develop its website to offer online customers a unique experience. In 2009, it partnered with Aptos, an Atlanta, Ga.-based software solutions company. "It really set our business on an upward trajectory and allowed us to scale up our business fast," Anderson says.
With Aptos, The Paper Store now has a fully integrated end-to-end retail technology solution that allows it to pinpoint data that drives its business solutions. In the near future, the company plans to add Aptos' new digital commerce suite. As a result, The Paper Store expects to double its online sales over the next two years, Anderson says.
A Personal Touch
Another strategy for combating online retailers is to focus on what they are incapable of offering: a personal connection with their communities. The Paper Store chain has raised more than $1 million in the past five years for charities in its communities.
Its 2016 Gift of Giving charity event alone raised $30,000 for 20 food pantries, shelters and soup kitchens. The chain recently raised more than $150,000 in donations for a family with a sick child in one of its communities. "As a family-owned and operated company of over 50 years, the message of giving back and helping others is at the heart of what we do," Anderson says.