The Real Deal by RetailMeNot Signs Jennie Garth as "Savings Campaign" Columnist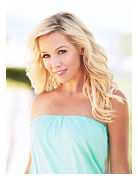 April 3, 2013 – RetailMeNot.com (www.retailmenot.com), the mostly widely used online coupon website in the United States, today announced that it has signed Jennie Garth to write a monthly column for the site's newly re-launched online magazine, The Real Deal by RetailMeNot. Garth, who is a mother of three children, an iconic actress and a savvy shopper, will write for the online magazine's Savings Campaign initiative on a variety of topics related to her experience as a consumer and the mom-in-chief of the Garth household.
"As a mother first, and also as a fashion trendsetter and cultural icon, our readers will value her advice on where to shop and what products to consider while looking for deals," said Kristen Remeza, the editor-in-chief of The Real Deal by RetailMeNot. "Our goal at RetailMeNot continues to be to help consumers make sense of a world where they are inundated with deals, and to use a blend of news reporting, expert advice and entertainment to help shoppers make well-informed choices. I'm excited to work with Jennie, as she contributes to our efforts to help moms make smart shopping decisions for their families."
"I look forward to partnering with the RetailMeNot team and offering my perspective as a mother and a value-loving, savvy consumer on how and where I like to shop online and in stores when hunting for deals," said Jennie Garth, actress and columnist for The Real Deal by RetailMeNot. "Every shopper, including me, loves to find great deals. I hope my contributions help other moms make shopping choices that help them provide more for their families, while spending less."
Jennie's first column is available by clicking here .
RetailMeNot's Savings Campaign continues to focus on helping Americans become more financially literate consumers. Savings Campaign contributors include award-winning journalist and personal finance expert Jean Chatzky, Emmy Award–winning technology expert Katie Linendoll and writers from Junior Achievement USA, a nonprofit that empowers young people to own their economic success through work readiness, entrepreneurship and financial literacy programs. The core belief of the campaign is that through helpful advice from well-known thought leaders, consumers can become smarter and more informed shoppers.