The Simpsons Hit The Runway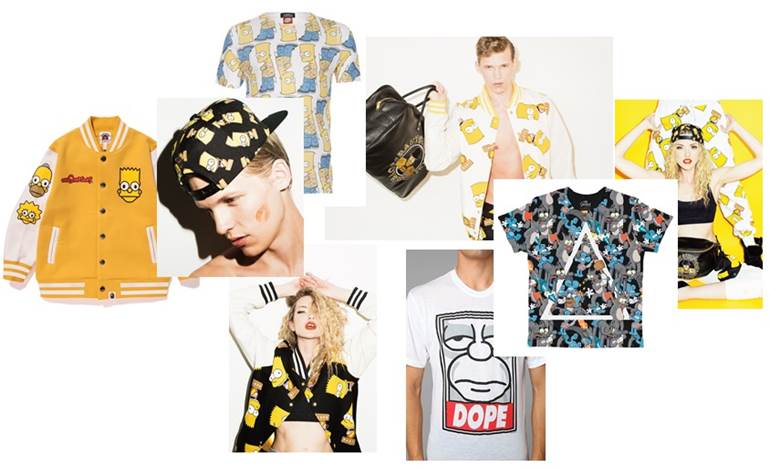 April 9, 2014 – The Simpsons gets ready to take on the runway with all new fashion collaborations as Twentieth Century Fox Consumer Products and major fashion brands release unique new collections in 2014. Fox Consumer Products announces today global trendsetting brands Drop Dead, Uniqlo and Eleven Paris are the next partners to release 2014 collections with The Simpsons, joining Converse, Joyrich, A Bathing Ape and Threadless.
"What started with a unique collaboration with Jeremy Scott for the Winter 2012 collection and a showcase at Fashion Week has inspired new partnerships that identify with the iconic nature of the brand, introducing culture-defining clothing for The Simpsons to the next generation," says Jeffrey Godsick, president of Twentieth Century Fox Consumer Products. "This year, we are excited to introduce new fashion partners that combine high style and classic animation, keeping America's favorite family in the hearts and on the shoulders of today's trendsetters."
Fashion label Drop Dead is partnering with The Simpsons this spring to release a first-time boutique apparel collection featuring Itchy & Scratchy. Japanese designer/retailer Uniqlo and ultra-contemporary French brand Eleven Paris are also releasing first-time collaborations beginning in the spring.
Prominent fashion collaborations include:
A Bathing Ape – A wide variety of apparel and accessories for men, women, and children including trendy varsity jackets and snapbacks to pieces for the entire family, including tees, hoodies, sweatpants, beer glasses, and baby bibs available Spring 2014 in A Bathing Ape store locations and online.
Drop Dead – First-ever boutique apparel collection including t-shirts, sweats, leggings, knit pullovers, hoodies and bags focusing on Itchy & Scratchy. Available in store and online May/June 2014.
Eleven Paris – First ever collaboration available Spring/Summer 2014.
Joyrich – The second Simpsons and Joyrich apparel collaboration features street-inspired fits with Bart Simpson prints, such as varsity jackets, oversized tees, sweats and accessories ranging from snapbacks to fanny packs available in Joyrich stores worldwide and online now.
Threadless – Exclusive t-shirt collection designed by artists and fans from around the world celebrating The Simpsons. 29 designs available now on Threadless.com.
Uniqlo – First ever collaboration available worldwide Spring 2014.
Additional partners include H&M expanding its Simpsons line for adults and kids, Topshop and Topman launching its Summer 2014, and Zara and Zara Kids.
The first limited-edition collection with L.A.'s 90's street aesthetic brand Joyrich sold out in pop-up shops all over Japan which led to a second line that hit stores worldwide January 2014 including varsity jackets, snapbacks and fanny packs. The Simpsons has also recently introduced a global line with Japanese street style clothing company A Bathing Ape, which held preview collections and events beginning in Tokyo, followed by additional cities. More than 300 people were waiting in line for the Tokyo pop-up opening on Jan. 1, 2014, and within moments of the collection's release, fashion bloggers and celebrities were spotted in the collection's varsity jackets.
The Simpsons also partnered with artist-sourced graphic t-shirt company Threadless. Fox and Threadless challenged artists around the globe to pay tribute to Homer, Marge, Bart, Lisa, Maggie, and everyone else who calls Springfield home. For the first time, fans designed a collection of officially licensed The Simpsons merchandise. From 832 submissions, 29 designs were chosen for The Simpsons x Threadless t-shirt collection.