The World of Eric Carle Partners with Langers Juice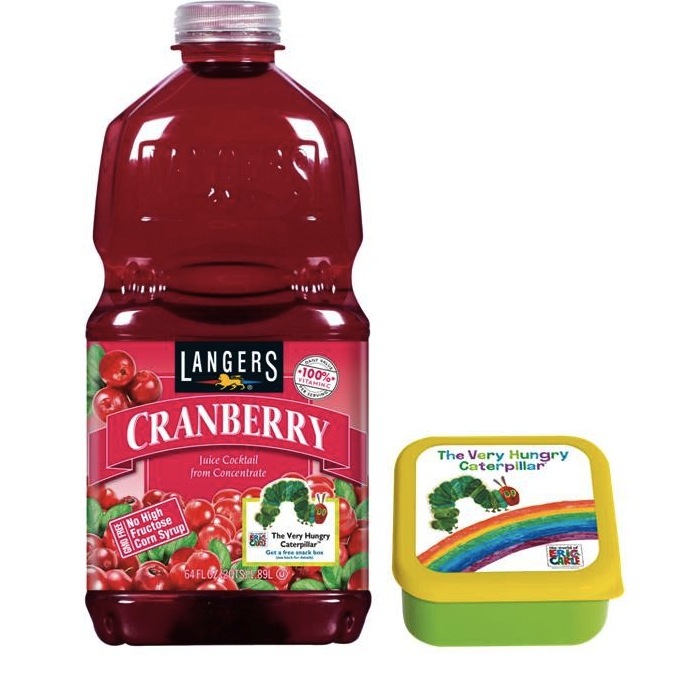 March 12, 2014 – In celebration of the 45th anniversary of The Very Hungry Caterpillar by Eric Carle, The Joester Loria Group has brokered a deal for its client, The World of Eric Carle, with Langers Juice for a six week on-pack promotion featuring Eric Carle's iconic character. The promotion kicked off the first week of March and will run through April 19, 2014 in participating supermarkets and Walmart grocery stores nationwide on a series of Langers juice containers.
During the promotion, customers can receive a limited edition The Very Hungry Caterpillar snack box with the purchase of three marked bottles of Langers juice. The juice flavors include: Cranberry Cocktail, Cranberry Raspberry Cocktail, Cranberry Grape Cocktail and Cranberry Pomegranate Cocktail.
To support the promotion, both The World of Eric Carle and Langers will execute social media outreach on their respective platforms, as well as a presence on www.langers.com.
The World of Eric Carle promotes the joys of playful learning that three generations have experienced through Carle's timeless stories and vibrant artwork. The Very Hungry Caterpillar is the centerpiece of this global consumer products program, known for beautifully designed products.
Langers Cranberry Juice Cocktails provide delicious and nutritious refreshment anytime of the day. They contain no preservatives, no high fructose corn syrup, nothing artificial and are chocked full of anti-oxidants. These cranberry cocktails are just a sampling of the more than 200 100% juice, juice blends and cocktail varieties currently offered by Langers.