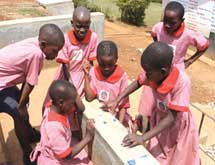 Puzzles aren't all fun and games, according to this toy manufacturer. Understanding the human mind is difficult. Creating games that keep the human mind entertained is even more of a challenge. But it's a challenge Andrea Barthello and Bill Ritchie gladly agreed to tackle when they founded ThinkFun/Binary Arts on February 4, 1985. Ritchie, president and CEO, grew up in what he describes as a brilliant environment. His father was a Bell Labs engineer, and his older brother was a Bell Labs computer scientist. "It was a geeky family, and we were surrounded by a community of mathematicians and engineers who shared ideas about puzzles for fun," he said. "As a little kid, I thought these recreational mathematicians were everywhere in the world."
While in their late 20s, Barthello and Ritchie decided to start their own business. Not sure what direction to take, Barthello suggested they build a business using some of the puzzles Ritchie had collected over the years. "Rubik's Cube was huge. We didn't think we'd get a hit like that, but we knew there was an audience for difficult and challenging puzzles," Barthello said.
To investigate the true potential of their idea, Barthello attended a small-business conference. A woman who had started a company called Moving Comfort, which designed running shorts for women, and the founder of Jiffy Lube were among the featured speakers. Barthello vividly recalls her reaction afterward.
"I got out of my car, put my hand on the roof, and told Bill, 'We can do this; we just have to focus and be relentless about making it happen,'" she said. "I don't think we could define what that meant, but we needed to get product made, sell it, and start a business."
Breaking through
And so Barthello and Ritchie went full speed ahead, choosing the name Binary Arts because the original games were based on binary code, and starting with the Hexidecimal Puzzle, the Cat, and the Horse—all developed by one of Ritchie's childhood family friends, Mr. Keister.
A Bell Labs computer scientist, metalworker, craftsman, and stonemason, Keister was a regular at the Ritchie household and would bring over his mechanical puzzles to share with the family. With his creations, Binary Arts was formed with a mission to "translate the brilliant ideas of the craziest mathematicians, engineers, and inventors into simple toys that can be appreciated by boys and girls around the world."
By early 1990s, the company had introduced three plastic brainteaser puzzles, SpinOut, TopSpin, and BackSpin, but having come from the real estate industry, both Ritchie and Barthello were naive to the retail toy landscape and didn't realize the challenges ahead. Toys R Us dominated the landscape as a big box discount retailer, and Rubik's Cube, which had been a tremendous success, had died a sudden death. Although it's made a comeback in recent years, at the time, its declining popularity made quite an impact on the toy industry.
"When the Rubik's Cube fad ended, it ended hard, so the appetite among retailers for another mechanical brain teaser puzzle was small," Ritchie said. "The first few years were difficult because of that phenomenon."
But during the 1990s, the toy landscape started to shift. Sharper Image and Nature Company jumped to the fore selling what Ritchie calls lifestyle gifts for yuppies: toys ranging from $50 to $500 that were antithetical to the Toys R Us model. Binary Arts' toys fit right in.
"We were designing our puzzles for an adult audience using sophisticated graphics because we believed the products naturally suited that audience," Ritchie said. "But because of that, we were having trouble getting into the Toys R Us-style toy stores.
1989 and 1990 were seminal years for the company. The community of yuppies used to exchanging gifts for lifestyle items and paying $80 for them suddenly didn't have as much money, and Binary Arts' puzzles became a wonderful alternative at a $10 price point. At the same time, upscale retail shopping malls were popping up across the country, and other adult lifestyle stores mirroring the Sharper Image model started to multiply.
In 1990, Binary Arts took its products to Toy Fair and was approached by senior toy buyer for Harrod's of London, Izzy Daddaboy. The toys, which had evolved out of wood and wire, ­the original Mr. Keister puzzles. Daddaboy said, "We need to do business together," and placed a huge order with the company.
"That was an enormously important event for us," said Ritchie. "Izzy was like the lightening rod, the cornerstone of us being blessed by a whole new community of people."
The next frontier
As this was happening, Barthello began appraising the retail landscape in a new way, thinking about where Binary Arts' target consumers would be shopping. After five years of negotiations, Brookstone agreed to sell a few of the company's puzzles, and when it did, Binary Arts' SKUs were in the top five selling in its stores.
"Brookstone's model was so perfect because before it changed to blue and white and pillows, it used to have gadgets no one else had," said Barthello. "Its approach was for consumers to have a hands-on experience, and that's how our games sold the best."
In the '90s, Binary Arts was listed on Inc's 500 Fastest Growing Companies for four years in a row. As the popularity of its games continued to grow, both Barthello and Ritchie knew the company's name wasn't hitting the same mark it had in the beginning.
"If you knew us, you loved the name because it resonated with you," said Ritchie. "If you didn't know who we were, the name Binary Arts didn't tell you anything about the company."
In 2003, the two hired a brand strategy company to focus on how to build the brand and how to expand Binary Arts' merchandising approach, but the company said the most important piece of figuring the future of the company was changing its name. The first recommendation was MindFun with a tagline of ThinkFun.
"MindFun just wasn't perfect, but ThinkFun felt right," said Ritchie. Over the course of the early 2000s, many of the retail outlets that sold ThinkFun's puzzles went out of business. The toy industry bust, said Ritchie, closely mirrored the dot-com bust, which meant the company needed to rethink its strategy.
"We became a much more international business," said Ritchie. Today, ThinkFun works with distributors rather than selling directly to European retailers, but the newest adventure for the company is working with professors and cognitive therapists to develop products that can engage people's minds and help them develop critical thinking skills.
"As a mission-driven company, we believe our games have more to offer the world than just simply amusement," said Ritchie. "Understanding how people think is still a challenge. Our vision is for our games help to figure it out, but we have to evolve them to meet the needs."
The games evolution Ritchie refers to mirrors what the company has already been doing to bring its games online as apps and flash games. The possibilities are limitless, and both Barthello and Ritchie are excited about this new frontier.
"We're feel we're on the verge of breaking through when we talk about working with psychologists, behavioralists, and educators," said Ritchie. "We're preparing ourselves mentally so when we go out and launch this next phase, not as a gimmick but as something true and valid, we'll have the resources to support it."