This Valentine's Day, Chef Fabio Viviani And Quaker Oats Show Women Why Breakfast Has Never Been So Hot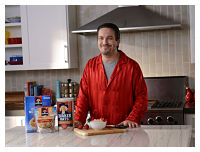 Feb. 14, 2013 – On Valentine's Day 2013, popular chef and restaurateur Fabio Viviani will steal hearts away with an invitation for breakfast featuring a hot, delicious bowl of heart-healthy Quaker Oatmeal. In honor of American Heart Month, Fabio's Epic "Hot" Breakfast video will get women's hearts racing in a good way. By sharing the steamy video, people will help the Quaker Oats Company, a subsidiary of PepsiCo, Inc., support the American Heart Association's Go Red For Women movement by spreading the message about the importance of heart health.
According to the American Heart Association, while ninety percent of women have one or more risk factors for developing heart disease, only one in five American women believe that heart disease is her greatest health threat. There are little things women can do each day, such as choosing whole grain Quaker Oats to help take care of their hearts. In fact, clinical research has shown that as part of a diet low in saturated fat and cholesterol, three grams daily of oat soluble fiber may help reduce the risk of heart disease. So Fabio's invitation to wake up with him and a heart-healthy oatmeal breakfast is more than just a flirtatious guy who knows his way around a kitchen – it's a call to action urging women to take care of themselves for themselves, their families and everyone who loves them.
"I love women and I love food – particularly breakfast options. So naturally I love inspiring women to take care of themselves by starting every day with a heart-healthy oatmeal breakfast," says Fabio. "This video is more than just a light-hearted way to get you going; it's a serious wake-up call for women everywhere to make smarter choices to help protect their hearts."
"At Quaker, we are committed to nourishing families and have a long-standing heritage of promoting heart health through our delicious whole grain oats," said Marianne O'Shea, Ph.D., Director, Quaker Oats Center of Excellence. "In fact, sixteen years ago the Food and Drug Administration granted the first food-specific health claim for oats and heart health. Today, it's important we honor this achievement through our continued support of the American Heart Association's Go Red For Women movement."