With each store, he says, Thrifty White Pharmacy strives to provide a solid, brick and mortar location where customers can go for efficient, convenient service and knowledgeable patient care and consultation. "[That] has really brought us to where we are in the communities that we serve today," he says.
Based in Plymouth, Minn., Thrifty White Pharmacy has locations in Minnesota, North and South Dakota, Iowa, Wisconsin and Montana. Weippert explains that the company's history stretches back to 1884, when H.E. White and his wife opened White Drug in Jamestown, N.D.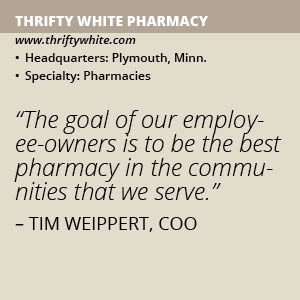 White Drug grew to 38 locations before it was acquired by Thrifty Drug Stores Inc. in 1985. The parent company also had a long legacy in pharmacies, going back to its start in Brainerd, Minn., in 1957.
Since the merger of the two, Thrifty White Pharmacy has grown to operate 99 locations and focuses on two assets: its customers and its employee-owners. The latter, Weippert notes, is the key to help the company's growth and prosperity.
"The goal of our employee-owners is to be the best pharmacy in that towns that we serve," he states, adding that Thrifty White Pharmacy usually seeks out locations in rural areas that range from 1,000 to 90,000 people in population.
The geography works well for Thrifty White Pharmacy and its employee-owners, who often are originally from these areas. "They like to stay in these communities that they grew up in," Weippert says.
New Models
Thrifty White typically adds two to four locations annually, which sometimes come through the acquisition of independent pharmacies. "We purchase the stores and maintain them," Weippert says, noting that the company also builds new locations.
Recently, Thrifty White converted over 30 percent of its pre-existing stores to its new "Healthy Outcomes" format. This new design "allows us to be more interactive with our patients by having special 'Ask Your Pharmacist' windows where they can come and talk to their pharmacists," he explains.
The stores also feature clinical suite areas where its pharmacists and pharmacy staff can provide services such as medication therapy management, immunizations and clinical screenings. This gives patients "more accessibility, in proximity to healthcare [providers] that are in those communities," Weippert says.
He also is proud of the company's Tele-Pharmacy initiative to provide prescription services to areas that are unable to have traditional pharmacies. This is usually due to "the nature of trying to operate and make economics work in those communities," he says.
But because these communities have sources of healthcare, such as a nursing home or local doctors, pharmacy service is still needed. And that is where Thrifty White has been able to help, through its tele-pharmacy format, Weippert says.
In this system, a certified technician works in person at the location, while a pharmacist at a different remote location has a presence via audio and video means. Thanks to the technology, the pharmacist can observe the prescriptions the technician is preparing "and make sure they are all correct," he says.
The audio/video setup also allows pharmacists to have consultations with its customers. "The telehealth model is a continual evolving model throughout the United States, and this is one of those," Weippert says, adding that the company has 11 tele-pharmacy locations in Minnesota and North Dakota, and plans to add more in Iowa.
Spirit of Partnership
Weippert is a 41-year veteran of Thrifty White Pharmacy, but his longevity is not unusual in the company. "We have the environment that works," he says, noting that its team culture has nurtured loyalty among its employee owners and allowed them to learn, grow, and prosper.
When he sits down with employee-owners, "My management style is to be a tremendous listener," he says. "They all have a voice, as owners, that goes a tremendous, long way for our company. It brings a spirit of partnership, solid conversation, and innovative ideas."
This has helped promote its culture where employees are focused on exceeding expectations and equipping people with the best tools and processes. "It's a very nimble and flexible company," he says. "We stay very innovative and at the top of our game in the industry."
Thrifty White Pharmacy also makes sure it recruits skilled pharmacists. "We have strong relationships with schools of pharmacy that we spend a lot of time engaging with," he says. "That has been of great importance."
Weippert sees continued growth ahead for Thrifty White Pharmacy and for the industry. "Pharmacy is not going to be just about pills in a bottle," he says. "It's going to be all the clinical services you can provide to your patients and enhance their health outcomes in a positive way, while driving the cost of healthcare down.
"That's where we see our pharmacies going," he asserts. "The engagements with your patients that you make happen are what's going to be important today and in the future."