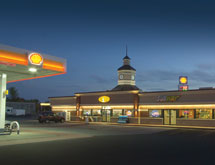 A brand never gains strength overnight – it has to be developed over time before the market holds it in high regard. Founder and President Dan Pamperin has been building Titletown Oil Corp. and its related brands since the mid-1980s, helping Titletown to become a top performer in the Green Bay, Wis., area. It started by standing on the shoulders of already strong brands, but that wasn't enough to get it where it is today – much of Titletown's current strength is the result of its service culture and commitment to customers.
"When we started, I was a big customer of brands – I was very loyal to brand-name products," Pamperin explains. "At the time, the competition was generic, so we based our culture on being a premium brand company – we wanted to sell the best of everything we sold. I started by picking the No. 1 brand for every product we sold. I wanted to create a brand that you can count on and be confident with."
Pamperin got his start in 1985, when the ambitious auto mechanic purchased a closed Shell service station that had three bays and pumps. He spent two years building relationships with other Shell dealers and then decided to grow his brand in Green Bay. Today, the company owns and operates 24 convenience stores and delivers fuel to 80 additional locations through its Titletown Transport business.
Providing Great Experiences
A focus on creating "premium, strong brands," has fueled the success of his business, Pamperin stresses. Titletown's convenience stores all carry the name of Grand Central Station (GCS), which went into effect about 10 years ago. All of its stores had carried the Shell or BP brand, but Pamperin believed they needed their own identity. He explains he wanted to create convenience stores that sell gas, versus gas stations that had convenience stores.
"We worked hard to make convenience stores that happen to sell gas, and people really gravitated toward the name," he says. "All of our locations are red brick with beige faces. Our logo colors are green and gold, and the stores have earth-tone interiors. All of the stores fly the American and Wisconsin flags, and we use a lot of red, white and blue graphics.
"The Grand Central Station identity has substantially increased our brand recognition," he continues. "We are now the top one or two convenience store brands in the Wisconsin market."
Attractive design is important in brand-building, but Pamperin also pays close attention to what goes inside the GCS stores. In addition to carrying the top national brands, Pamperin launched the Bean Boulevard Café brand. Bean Boulevard Cafe started with coffee and expanded from there.
"In 1998, the government started really taxing tobacco, and we needed another profit center because we believed cigarette sales would deteriorate," Pamperin explains. "Hot beverages were our most profitable area, so we took a year to create the image for Bean Boulevard. We wanted it to look more like coffee shops or cafes, instead of just a station to get coffee. We found a local roaster and created a few different blends to create the Bean Boulevard Coffee brand, which was part of the Bean Boulevard Café. It has become very popular in Green Bay."
All of the foodservice operations in the GCS locations are under the Bean Boulevard Café brand umbrella. The brand's hallmark is quality – offering fresh food, made in the stores with "premium-quality ingredients," he says, noting this is what helps the company maintain a competitive edge.
"We have good competition, so we have to be really good ourselves," he stresses. "We are committed to giving people more than they expect and having them leave feeling like they had a great experience."
Pamperin adds that the company conducts focus groups among its employees in an effort to find ways to further build the GCS and Bean Boulevard brands. In one instance, he asked some employees to define major brands with a positive and a negative. "What I saw was that there are some brands where it's really hard to define with a negative – our employees really had to think hard to come up with something," he says. "I want our brands to be like that."
Smart Transport
Although Titletown Transport is somewhat separate from GCS and the Bean Boulevard brands, the company has worked just as hard on its branding. Titletown Transport started out in 2001 with a 1995 Peterbuilt 179, a 2000 Peterbuilt 179 Tanker and two drivers. Its tankers feature the football-shaped Titletown Oil logo, along with the Titletown, Shell and BP colors. Pamperin notes this design is unique and "easily recognizable to the public."
While GCS is dedicated to providing customers with premium-quality goods, Titletown Transport focuses on delivering the best price.
Pamperin each day creates schedules for the drivers with total gallons to be delivered, which stores need delivery and in what order delivery should occur. He watches the market closely throughout the day, which helps to save customers money by knowing when and how much fuel should be delivered.
"Because of the volatility of the oil market, we watch the market closely to get our customers the best cost," he says. "We have television screens throughout our offices so we can get updates on the market price of oil minute-by-minute. However, knowing who needs delivery when also is important."
Next-generation Ideas
With an eye on growth, Pamperin is always on the lookout for new store locations, but he's also dedicated to innovation. If there is a technology that can enhance its level of service or boost the company's brands, he's willing to give it a try. He explains Titletown's innovation can be seen in how it scans items in its stores, how it processes checks and how it operates its car washes. With its RFID-enabled car washes, he says, customers don't have to get out their wallet or touch any equipment.
"I try to be on the cutting-edge of technology, which can be hard on our people because they have to do things that have never been done before – it can seem as if they are constantly on a learning curve," he says. "We were using virtual dispatch 25 years before anyone else; I like to use technology to drive efficiency."
All but one of the GCS locations carry the Shell brand – one location carries BP – and Pamperin notes that the company has "embraced" Shell's Fuel Rewards Network programs. He believes this program and the technology it involves will be accepted and used by the majority of the public within the next five years.
"I think this will be a game-changer in the loyalty field," he says. "Not only will it help us maintain loyal customers, but we will gain new loyal customers because they will be using this program to earn the ability not to pay for gas.
"I will continue to embrace these next-generation ideas going forward, and we will continue to add more locations," Pamperin explains. "I want to continue to build these brands and enhance what we can offer so that when customers pull into one of our lots, they can take care of as many of their needs as possible – car and body. Our growth is really unlimited if we continue to focus on using the best technology, committing to our customers and delivering the best service."