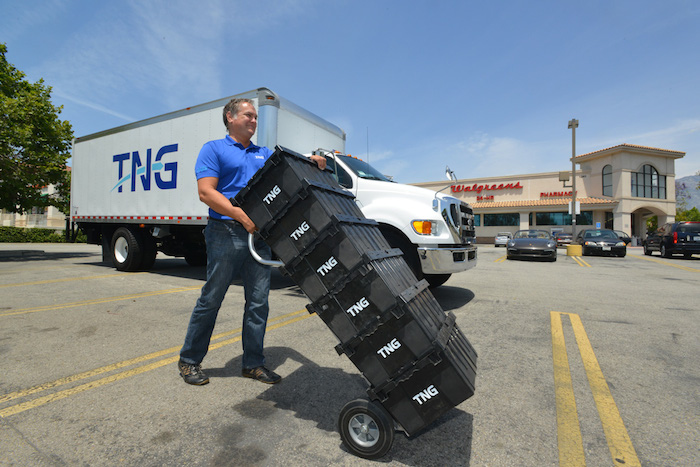 TNG aims to grow its services beyond magazine wholesaling.
By Alan Dorich
When people go to a grocery store checkout lane, they often look at the magazine rack for that last impulse buy. There's a good chance that those magazines were put there by TNG, the largest magazine wholesaler in the United States.
"We have 70 percent of the market share," Chief Revenue Officer Mike Carter says. "We deliver to 70,000 doors every week in the United States and Canada."
But magazines are only the tip of the iceberg for the company. Smyrna, Ga.-based TNG also provides merchandising and logistics services, and the distribution of general merchandise, beverages, packaged foods and snacks.
The company also sells its own line of housewares and clip strip items, which were designed for grocery retailers and are merchandised in the appropriate categories across the entire store. "We have 300 items that fit in seven brands, [including] kitchen gadgets, bar ware, pet, cleaning, coffee accessories, and bath and spa items," he says.
TNG also provides front-end management services, which include building checkout racks, data collection analysis, surveys and audits. Additionally, "We're now buying and selling top selling nationally branded items for [other] manufacturers, like OXO, Sistema and Blender Bottle," Carter adds.
He credits TNG's success to multiple factors, including its owner, The Jim Pattison Group. The Vancouver-based holding company operates primarily in the United States and Canada in multiple industries, including automotive, advertising, food and beverage, and entertainment.
"We've got a strong owner with a good financial balance sheet," Carter says. "We're committed to our long-term strategy and we're able to withstand hurdles."
Looking to Grow
TNG is focused on diversifying, Carter says. Although the company was solely a distributor of periodicals for many years, the magazine newsstand industry is in decline. This can impact TNG in some unexpected ways.
"If our sales are declining in a category, some people will attribute it to customer demand, but some may attribute it to our company's performance," he explains. "We realized we couldn't have just a dedicated supply chain for magazines."
TNG also is willing to adopt new technology, Senior Vice President of New Business Development Jim Deighan adds. "In some ways, we're catching up operationally, but we're striving to deliver creative innovation solutions as part of our complete package," he says. "We are in the process of solidifying strategic partnerships with organizations that will propel our value contribution to retailers and CPG customers alike."
A Good Fit
TNG is enjoying success with its work beyond magazines, which includes providing distribution services for a major beverage company, Carter says. Previously, the beverage company used a quilt work network of local beer distributors for its products, but has found more satisfaction with TNG.
"They've found in TNG a national solution with more consistent execution and streamlined communication," he says. "We're a big player and they're a big player, so they see us as a good fit."
The company is currently rolling out a checkout program for a dominant regional grocer. "They haven't had new checkouts in their stores for over 10 years," Carter says. TNG also recently completed the largest checkout rollout in another national grocery chain's history. "We just finished placing 14,000 checkout racks in a 12-month period."
Doing It Right
Pattison Group has nurtured TNG's philosophy of being focused on the customer, Carter says. "The owner, Jim Pattison, says he doesn't want us to do anything that we wouldn't want printed on the cover of our hometown newspaper," he says. "We also are able to operate autonomously from the parent company and do what's right for the customers."
Deighan adds that the Pattison Group has created an entrepreneurial culture, as well. "We have to be thinking all the time about how we can change [or about] something that's going to make us successful," he says.
He also praises Carter's leadership in assembling the members of TNG's team, who each have their own individual strengths. "Mike's been great at putting that team together," he says.
Carter notes that the company has been able to add new team members each year. "What we are looking for are people that are entrepreneurial and experienced in the areas that we are looking to grow," he says. "They [give us] the credibility to effectively compete in these new areas."
He adds that TNG plans to keep expanding so that its magazine services become just one of several specialties. "I see us being a full-service retail solutions provider," he predicts.