Touch by Alyssa Milano to Launch Maternity Line in Fall 2015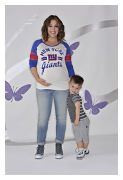 Touch by Alyssa Milano, the premiere women's sports-licensed fashion brand, will launch its first ever line of maternity wear in fall 2015.
Touch by Alyssa Milano – which launched in 2007 under G-III Apparel Group – is the only women's fashion brand licensed by all major sports leagues, NCAA and NASCAR and currently consists of clothing, jewelry, and eyewear offerings. The launch of Touch by Alyssa Milano Maternity will include NHL, NCAA, NFL and NASCAR licensed merchandise.
Milano, who recently gave birth to her second child, identified an opportunity to address the needs of expectant sports fan moms. The line will consist of six unique items such as tee-shirts, long-sleeve shirts, and hoodies that reflect sports team colors. While the line will cater to expectant mothers with comfortable fabrics and soft washes, it will maintain the Touch signature style with stone detailing, embroidery, and stylish prints.
"I know how hard it is to show off your baby-bump, while staying fashionable and comfortable," said Milano. "We wanted to expand our clothing options so that women at all stages of life could enjoy the Touch brand and still cheer on their favorite teams."
Touch by Alyssa Milano Maternity will be available at sports specialty stores, sports arenas, stadiums, department stores, and through e-commerce partners. Touch by Alyssa Milano also will debut a plus-size line next fall. Please visit TouchbyAJM.com for additional information.