Toy Fair 2016 Preview: 113th North American International Toy Fair to Host Global "Play Date"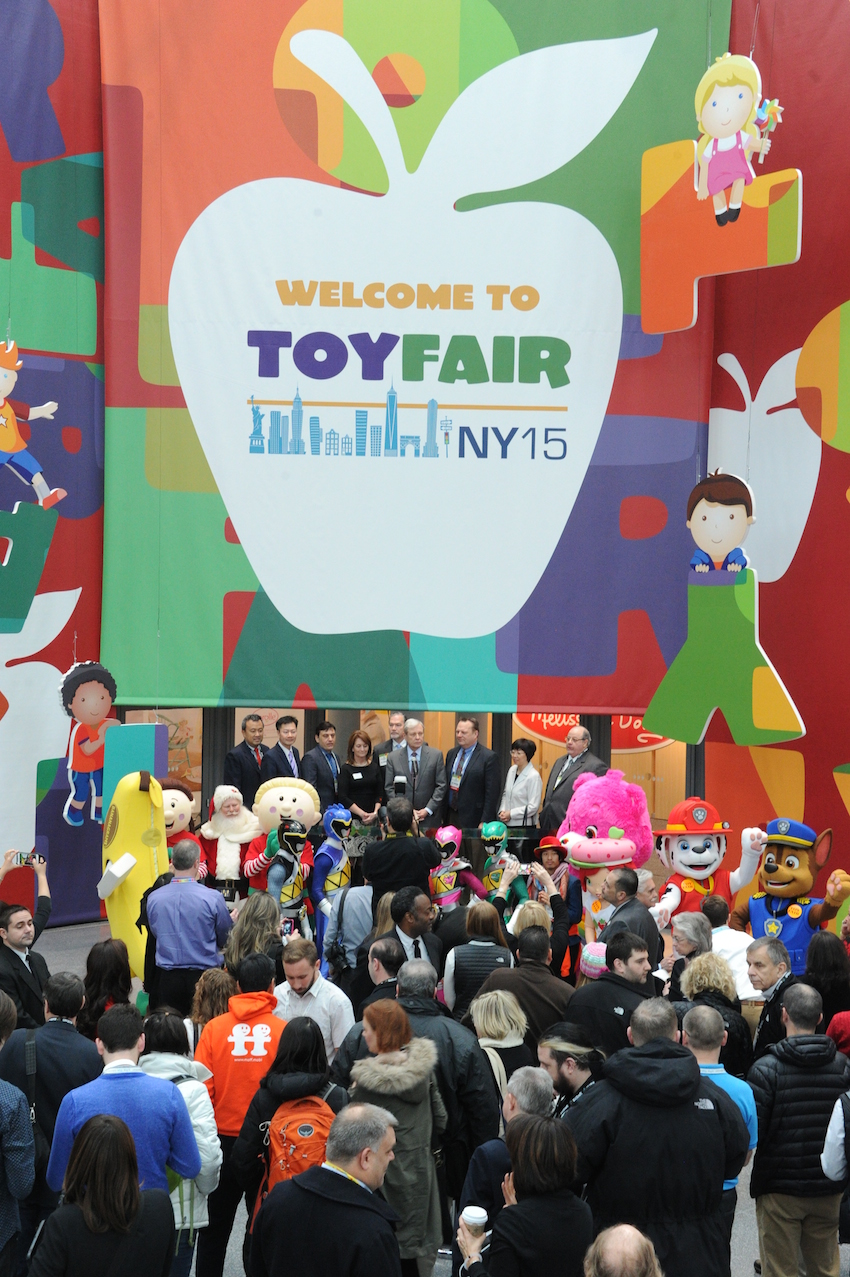 This February, hundreds of thousands of the world's most innovative children's playthings will fill the vast aisles of the North American International Toy Fair™. Owned and operated by the U.S. Toy Industry Association (TIA), the show will take place at New York City's Jacob K. Javits Convention Center from Saturday, February 13 through Tuesday, February 16, 2016.
Established more than a century ago, Toy Fair has evolved into the largest toy and youth entertainment product marketplace in the Western Hemisphere with an ever-growing domestic and international audience that includes nearly 30,000 manufacturers, distributors, retailers, licensors, entertainment executives, inventors and trade guests. Last year's show was the largest in its 113-year history, setting a new record with 421,300 net square feet of exhibit space filled with brand-new, skill-building and cutting-edge toys and games.
To date, more than 1,050 exhibitors have already signed up for Toy Fair 2016, including big names such as Mattel, Spin Master, LEGO, Crayola, ALEX Brands, Melissa & Doug and TOMY, as well as 217 first-time exhibitors who are eager to make their mark on the international toy industry. About 10,000 global buyers from powerhouse retail outlets and 1,000 members of the press are expected at Toy Fair, where they will scope out specialty and high-end toys, innovative tech toys, educational games, dolls and plush, outdoor ride-ons, active toys and everything in between. The marketplace offers plenty of opportunities for "hands-on" fun, with many exhibitors allowing buyers to test and play with their latest product lines right on the show floor. Year after year, visitors say they spot more trends and creative, cutting-edge products at Toy Fair than at any other toy show in the world.
On top of being a critical business hub for the international toy, game and youth entertainment community, the four-day marketplace is a world-class learning and networking event with seemingly endless opportunities for building new contacts.
"Toy Fair 2016 will offer something new and exciting for every type of guest," says Marian Bossard, senior vice president of global market events at TIA. "Whether you are a manufacturer, mass or specialty retailer, brand owner, inventor or other play professional, be sure to plan to attend one or several of our special events in between meetings."
To help retailers, media and other guests home in on what's expected to make waves next year, TIA will unveil the hottest toy trends of 2016 during a presentation on Sunday, February 14th, which is free and open to all attendees. This year's trends are expected to have a strong emphasis on toys that promote classic family play, as well as playthings that incorporate cutting-edge technology and encourage STEM / STEAM learning.
Additional educational programs slated to take place throughout the event include Independent Thinking, a free series tailored to independent and specialty retailers; TIA's Licensing Content Connection, offering seminars for licensors and licensees; Global Trade and Market Expansion sessions to help companies identify strategic export opportunities; and the 10th annual Digital Kids Expo, bringing together toy companies, media brands and mobile developers to strategize and collaborate on the ever-changing nature of the children's entertainment and educational industries. TIA's Toy Safety Update will also be held to provide industry stakeholders with updates on important changes in state, federal and international toy safety requirements and introduce emerging issues under consideration by legislators around the globe.
For a complete breakdown of educational programming planned for the show, as well as details on registering, exhibitor listings, after-hours activities, hotel reservations, and more, visit www.ToyFairNY.com or download the Toy Fair Mobile app on iTunes or Google Play.
By Kristin Morency Goldman, Toy Industry Association