Toy Fair Announcements Already Flying Ahead of the Big Event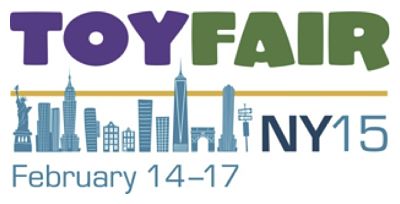 Feb. 8, 2013 – The much anticipated NYC Toy Fair – the largest toy and youth product marketplace in the Western Hemisphere – is coming up Feb. 10-13. The annual event brings together more than 1,000 exhibiting manufacturers, distributors, importers and sales agents from around the globe to showcase their toy and entertainment products, and participants are already flooding the airwaves with news about their various product launches and happenings that will coincide with the fair. Here are a few tidbits, courtesy of ThinkGeek, Sbyke USA, Monkeez Makes a Difference and Goofballz.

ThinkGeek has sent an Away Team to NYC for Toy Fair, Feb 10-13, where they will talk with wholesalers, meet with press, and more importantly, bring even more awesome to the world with three brand new products from the company's GeekLabs department. Each of ThinkGeek's newest creations will be on display at Toy Fair and viewable on the website as well. The latest creations are:
Ringtone Annoy-a-tron: Much like ThinkGeek's small, hide-able original Annoy-a-tron that emits random beeps, the Ringtone Annoy-a-tron is the perfect prank device for people who want to torment their target—but this version emulates six popular ringtone sounds to drive friends and coworkers bananas hunting for the missing cellphone that won't stop ringing.
Titan Sword: Forged out of EVA foam and measuring over 5′ in length, the light-up Titan Sword with LED details is the perfect accessory for cosplay shenanigans. The sword collapses into two easily transported pieces thanks to a built-in handle in the box.
Build-On Brick Mug: Tired of playing with your food? Play with your morning coffee mug instead. The Build-On Brick Mug is compatible with many major construction brick brands and allows for a bit more three-dimensional color and creativity in your morning cup of joe. Just don't step on any of the pieces while barefoot.
GeekLabs' Master of Ceremonies, DJ Ty "The Guy" Liotta is at the core of ThinkGeek's R&D and states, "Unveiling the Ringtone Annoy-a-tron, Titan Sword, and Build-On Brick Mug at Toy Fair is a tremendous opportunity for ThinkGeek. We're always working hard to bring our customers what they can't find anywhere else, and this is exactly what Toy Fair is all about."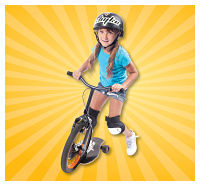 Sbyke USA announced that its highly anticipated P-16 kick scooter is making its debut spin at Toy Fair 2013 in New York. The P-16 rolls all the fun of a bicycle and skateboard into one, yet offers a totally unique experience. That's because its patented rearsteer technology makes it an entirely new type of ride.
The scooter's unique self-standing design helps kids learn to ride it and cultivate essential balance skills. The handlebars aren't there to steer; they're instead designed to offer stability. The riders need only lean their body weight from side to side to make the scooter glide in the direction they choose. "It provides kids good, clean, active fun that they can enjoy hour after hour with friends and family," said Bart Wilson of Sbyke USA.
The P-16 was designed for kids ages five and up, weighing up to 110 pounds. It's a smaller version of the original sbyke P-20, which is ideal for riders ages 8 through 80 and up to 220 pounds.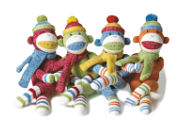 MVP Group International, Inc. is turning philanthropy into child's play at Toy Fair and beyond with its new educational, charitable program, Monkeez Makes a Difference. The innovative program empowers children to help others and teaches the importance of compassion and giving back through kid-friendly tools including adorable sock monkey characters, online games, real-life Do Good challenges designed to prevent bullying, a Monkeez Runner app and a special 10 percent donation on each child's behalf to one of three nationally renowned charities of his or her choice.
There are more than 100 knit and plush characters in multiple sizes to choose from, each featuring a unique name and personality as well as magnets in their hands and feet for hugging and playing. Characters include monkeys, owls, bears, lions, dogs, cats, pigs, cows, octopuses, panda bears, kangaroos, turtles, koalas, alligators, hedgehogs, elephants, hippos, zebras, frogs, bunnies, raccoons, penguins, parrots, polar bears and flamingos. Each character comes with a unique online game activation code on the tag. With an adult's help, children follow the instructions on the tag and visit www.MonkeezAndFriends.com. There, they can enter the code and watch videos about each charity partner, including Alex's Lemonade Stand Foundation, Samaritan's Purse and Best Friends Animal Society.
Children can select which charity they would like to contribute to, and the Monkeez program donates 10 percent of the wholesale cost on their behalf. Children can revisit www.MonkeezAndFriends.com as many times as they'd like to play educational games and learn more about what they can do to help others. Thanks to popular demand, Monkeez Makes a Difference recently donated $67,000 total to the three charity partners.
"There are so many children, families and animals in need not only around the world, but in our own communities," Propes says. "Parents are looking for ways to teach the values of thinking of others and believing every person can make a difference, and Monkeez Makes a Difference fulfills that need in a unique and interactive way. We believe that even though they may be small, kids can make a big difference and by creating opportunities like Monkeez Makes a Difference, we can instill philanthropic values to last a lifetime."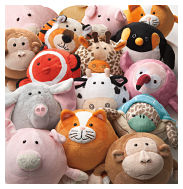 New Goofballz plush animals are on a roll, as round, huggable, collectible stuffed animals are the stars of the new Goofballz collection, available to retailers for the first time at Toy Fair 2013. Created and licensed by Pawpaint Designs, Goofballz are available exclusively from MVP Brands.
The collection features 17 round animal characters including Phoebe the pig, Haley the horse, Cody the cow, Calli the clown fish, Toby the turtle, Kat the kitty, Dash the dog and more. Each animal features a unique name and tag that features a fun trivia fact about the animal character. (For example – "Ping-Pong the penguin: Penguins LOVE the snow. Instead of walking on their feet, they fall on their bellies and slide like a sled. Whee!!") Made of soft fabric, super plush filling and round as a ball, each playful animal is destined to become a favorite, making a great gift for any age. Goofballz are also infant-safe.
"Whimsy, fun and value continue to drive plush stuffed animal sales, and retailers are utilizing plush and children's segments within their stores to grow daily and repeat customers," says Scott Wehrs, president of MVP Brands. "The Goofballz line is fun and clever, and each animal in the line is unique, making it stand out in the market."