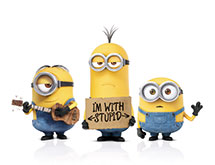 This February, hundreds of thousands of the world's most innovative children's playthings will fill the vast aisles of the North American International Toy Fair. Owned and operated by the U.S. Toy Industry Association (TIA), the 112th iteration of the show will take place at New York City's Jacob K. Javits Convention Center from Saturday, Feb. 14 through Tuesday, Feb. 17, 2015.
Toy Fair has evolved into the largest toy and youth entertainment product marketplace in the Western Hemisphere with an ever-growing domestic and international audience that includes manufacturers, distributors, retailers, licensors, entertainment executives and inventors. Last year's show welcomed an 11 percent surge in international buyers, an 8 percent rise in exhibitors and a 5 percent increase in total attendance, bringing the total number of show visitors to nearly 27,000.
Toy Fair 2015 will feature a record- breaking 420,000 net square feet of exhibit space filled with brand-new toys and games from worldwide exhibitors. About 10,000 global buyers from powerhouse retail outlets and 1,000 members of the press are expected to attend the show, where they will scope out specialty and high-end toys, innovative tech toys, educational games, dolls and plush, outdoor ride-ons, active toys, and everything in between. Many exhibitors allow buyers to test and play with their latest product lines right on the show floor.
"Year after year, visitors say they spot more trends and creative, cutting-edge products at Toy Fair than at any other toy show in the world," says Marian Bossard, senior vice president of global market events at TIA.
To help retailers, media and other guests home in on what's expected to be make waves next year, TIA will unveil the hottest toy trends of 2015 during a presentation on Sunday, Feb. 15th.
Boost Your Business Savvy
Toy Fair attendees don't just get to see innovative new product – they enjoy ample opportunities to learn innovative solutions to their evolving business needs.
TIA's Licensing Content Connection, with sessions on Feb. 14-16, will offer education geared toward licensors, licensees, brand owners and entertainment executives. A "Licensing 101" session will be presented by Advanstar, while another session will feature speakers from the Licensing Industry Merchandisers' Association (LIMA). Ira Mayer, former publisher of the Licensing Letter, and Karen Raugust of Raugust Communications will present a seminar about the world's hottest preschool properties.
Independent Thinking, a free series for independent and specialty retailers, will include two sessions this year: 20/20 Ads: Improve Your Average Daily Sale up to 20 percent in 20 Days (Feb. 14th), and Customer Service is NOT Enough (Feb. 15th). Other complimentary educational offerings include Creative Factor, as well as TIA's Toy Safety Compliance Update.
TIA's Market Research Program will unveil TIA-commissioned research examining toy and youth market opportunities and economic indicators in Mexico and Australia, as well as market trends and influencers, demographics, economic growth and consumer behavior in the United States. These sessions will take place throughout the morning on Feb. 15th.
And for the fifth consecutive year, the popular Digital Kids Conference (Feb. 16-17) will co-locate alongside Toy Fair, and will address important new strategies and tools for youth-focused media professionals who create digital toys and games for kids.
For a full schedule of educational sessions and after-hours events and activities, visit www.toyfairny.com.
Experience Toy Fair 24/7
Participants can get a jump-start on their Toy Fair experience before the doors open with ShopToyFair365.com (STF365), a free B2B e-commerce platform for all buyers and exhibitors registered for the show. It allows toy companies to create virtual product showrooms at no cost, which retailers can browse online or from a mobile device to spot product of interest and submit purchase orders directly, every day of the year, and without transaction fees.
For complete details on registering, exhibitor listings, educational seminars, hotel reservations or to learn more about Toy Fair, visit www.toyfairny.com.