ToyLabs launches the world's first solar motorcar powered by a flexible polycrystalline silicon solar cell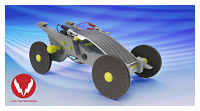 March 21, 2013 – ToyLabs, Inc., a Silicon Valley start-up, today announced the launch of the Volta Racer, the world's first solar motorcar powered by a flexible polycrystalline silicon solar cell. ToyLabs specializes in toys and devices that teach kids the fundamental principles of science, electronics, and engineering through fun and play. The Volta Racer is packaged with all the prefabricated components necessary to build and power the vehicle. The racer can be assembled in as little as fifteen minutes with no special tools.
By assembling the Volta Racer, kids will learn basic concepts and principles of solar electricity and mechanical engineering. The Volta Racer operates at normal and high speeds and can traverse various surfaces and terrains. The vehicle has a very unique feature: a flexible polycrystalline silicon solar cell. The curvature of this solar cell allows the car to capture more of the sun's energy from numerous angles. The car also employs super-lightweight, eco-friendly, recyclable materials. The Volta Racer solar motorcar received the Good Design award for its unique industrial design as well as for its educational value and eco-friendly components.
"We're extremely excited to launch our very first product, the Volta Racer," said Tim Curley, ToyLabs' Founder. "The launch is a culmination of many discussions and ideations with my seven year old son who pushed me to complete the design and to ready the product so he could start playing and sharing the Volta Racer with his friends. I was inspired by my own kid's enthusiasm and desire to learn about solar energy and how it can be applied to power toys. The Volta Racer is the first of many alternative energy powered devices being developed at ToyLabs. Our goal is to create products that will capture the attention and imagination of kids in a way that helps them learn about the basic principles of science."
The Volta Racer is available for purchase online at www.toylabs.com or at Talbot's in San Mateo, CA and Cheeky Monkey Toys in Menlo Park, CA.